Fabulous Fabio Book Covers
*DON'T MISS THE RAFFLECOPTER GIVEAWAY*
BY LINSEY HALL
I grew up reading the romance novels of the 70's, 80's, and 90's. I'd filch them from my mom and read them in secret long before I had any idea what that shaft business was all about (you probably guessed that it's a penis – took me a while to figure that one out!). I think there are a lot of readers and writers with a similar story. In middle school, I bought a purse just big enough in which to hide my Jude Deverauxs' and Nora Roberts'. Tiny purses were in, but I needed a way to sneak my secret habit from algebra to language arts. By the time I was fifteen, I worked in a used bookstore, surrounded by the Technicolor glory of the Fabio book covers.
Though I know why I felt the need to hide my illicit reading material, in hindsight, I wish I'd been brave enough to flaunt my books with abandon. From the flowing hair (on both heroine and hero), to the rainbow eye shadow and Fabio's lavender tights, those covers are beautiful and evocative and covered liberally in crazy sauce – but that's what I love about them. Here are some of my favorite covers, along with the first thing that popped into my mind when I saw them again after so many years.
Defy Not the Heart, by Johanna Lindsey. "I matched my lavender tights to your eyeshadow, my love."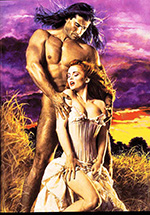 Man of My Dreams Stepback, by Johanna Lindsey. "Let me massage your back with my manhood, my love. Wow! This hay is itchy."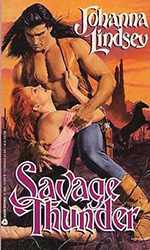 Savage Thunder,by Johanna Lindsey. "Help! I'm expiring from passion! & PS- I love your Ugg boots!"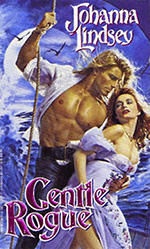 Gentle Rogue, by Johanna Lindsey. How would you caption this one, or any of the others?
Thanks for having me, Romance Divas! It's been super fun to share my favorite covers!
---
Linsey Hall is the author of the Mythean Arcana, a sexy paranormal romance series. Before becoming a romance novelist, Linsey was an underwater archaeologist who studied shipwrecks in all kinds of water, from the tropics to muddy rivers (and she has a distinct preference for one over the other). Her books draw upon her love of history, travel, and the paranormal elements that she can't help but include. Several of her books may or may not feature her cats.
Website: www.linseyhall.com
Twitter: https://twitter.com/HiLinseyHall
Facebook: https://www.facebook.com/LinseyHallAuthor
GoodReads: https://www.goodreads.com/author/show/8588556.Linsey_Hall
Pinterest: http://www.pinterest.com/HiLinseyHall