Where Do I Find Paradise?
BY GEMMA BROCATO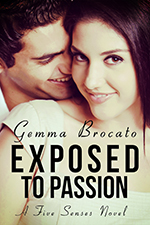 Thank you so much for inviting me to visit this blog today. I'm excited to share the top seven places I consider paradise today.
Every body has their own definition of paradise. Ask five random people and you'll get five very different answers. I checked on Merriam-Webster online for the official definition before I started writing about where I find it. Oh mighty Webster defines it as:
par·a·dise noun \ˈper-ə-ˌdīs, -ˌdīz, ˈpa-rə-\
: a very beautiful, pleasant, or peaceful place that seems to be perfect
: a place that is perfect for a particular activity or for a person who enjoys that activity
: a state of complete happiness
A place that seems perfect, a state of complete happiness. For me, paradise can be a place, or a feeling. Here's a list of my definition of paradise:
My mom's kitchen. My mother sings in the kitchen all the time. She might never get the words right ( I think that is deliberate), but the very act of her singing was she cooks makes me happy. I love to work alongside of her whenever I can.
A chairlift heading up the side of a mountain. I don't ski anymore, so my trips to the top of lift are limited to summertime. But the peaceful quiet of rides to the top suspended above ground, sitting next to a family member is sheer delight.
Sitting on my deck and enjoying nature. Whether I'm working, or socializing, there is something completely prefect about relaxing in my backyard.
The library. Any library will do. The hushed, expectant environment never fails to soothe. All those wonderful books. Doesn't matter if I'm in the non-fiction, reference, A-V or Fiction section. Just touching any book containing knowledge or entertainment is heaven.
My brother's pool. Spent a couple of weeks in his neck of the woods this year while on a writing retreat. Five days of hard work writing, rewarded by two days of floating in his spa-like pool with great tunes on Pandora and an adult beverage or two.
Butchart Gardens in Victoria, B.C. The view stole my breath the first time I glimpsed this reclaimed rock quarry. It was a misty in April and the light was clear and perfect.
This one is most important: in my husband's arms or by his side. I'd follow him to the ends of the earth and no matter where we were, it would be paradise.
What's your idea of paradise?
---
ABOUT THE AUTHOR:
Gemma's favorite desk accessories for many years were a circular wooden token, better known as a 'round tuit,' and a slip of paper from a fortune cookie proclaiming her a lover of words; some day she'd write a book. All it took was a transfer to the United Kingdom, the lovely English springtime, and a huge dose of homesickness to write her first novel. Once it was completed and sent off with a kiss, even the rejections addressed to 'Dear Author' were gratifying.
After returning to America, she spent a number of years as a copywriter, dedicating her skills to making insurance and the agents who sell them sound sexy. Eventually, her full-time job as a writer interfered with her desire to be a writer full-time and she left the world of financial products behind to pursue an avocation as a romance author.
www.Gemmabrocato.com
https://www.facebook.com/gemma.brocato
https://twitter.com/GemmaBrocato
https://www.goodreads.com/author/show/7229886.Gemma_Brocato
http://www.wattpad.com/user/GemmaBrocato
https://plus.google.com/+GemmaBrocato/posts