The Way Magical Things Often Do
BY HEATHER HEYFORD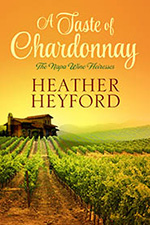 Book 1 in the Napa Wine Heiresses series, A TASTE OF CHARDONNAY, launched on—lucky OCT 13! It's been a barrel of fun writing about how Char and her strong-willed sisters find their life's work—and of course, fall in love with equally strong men along the way.
Until two summers ago this East Coast girl had only dreamed of visiting the Napa wine country. We usually plan trips months out, but to my surprise, this one evolved without much thought or talk…the way magical things often do.
Almost before I knew it we were hopping off the plane, driving north along Highway 29, spotting all the big wineries whose labels I was familiar with—some might say too familiar—and others I'd yet to discover. Luckily for the California economy, when times are good, we drink wine. When they're bad? We drink more wine!
See that star on my facebook banner? https://www.facebook.com/pages/Heather-Heyford I shot that at the entrance to Napa's Domaine Möet-Chandon. It reminds me of when I was eight years old, living in our rented house near Épernay, France, where Möet-Chandon was founded in 1743. My mom, a closet hippie, upcycled her champagne bottles as candleholders. I can still see them on the kitchen table, multi-colored streaks of wax streaming down their shoulders.
Sipping our way through our vacay, I imagined a whole series of love stories about the daughters of the most notorious vintner in the Napa Valley. I'm so thrilled to be able to share them with you!
---
ABOUT THE AUTHOR
Born in the Northeast, Heather Heyford learned to walk and talk in Texas, and then moved to England. ("Ya'll want some scones?") While in Europe, Heather was forced by her cruel parents to spend Saturdays in the leopard vinyl back seat of their Peugeot, motoring from one medieval pile to the next for the lame purpose of 'learning something.' What she soon learned was how to allay the boredom by stashing a Cosmo under the seat. Now a recovering teacher, Heather writes love stories, feeds hardboiled eggs to suburban foxes, and makes art in the Mid-Atlantic. The first book in her Napa Wine Heiresses series from Kensington Publishing, A Taste of Chardonnay, is available OCT. 13, 2014 in print and digital. See more at HeatherHeyford.com.