Five Fun Facts about Online Dating Granny Style
BY KELSEY BROWNING and NANCY NAIGLE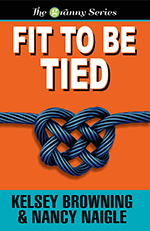 The second book in The Granny Series, Fit to Be Tied, tackles the topic—and sometimes hilarious pitfalls—of online dating. Which meant Nancy and I had to poke around to find out more about these dating sites.
So today, we want to share a few fun facts about online dating, granny-style! 🙂
Online dating isn't just for the young, but also the young-at-heart! Older age groups are almost as likely to use online dating sites as the youngsters. According to Pew Research, roughly the same percentage of 45-54 year olds as 18-24 year olds have registered for online dating. No stats for the 55+ group, but after writing Fit to Be Tied, we know that number increased by three—Maggie, Sera and Abby Ruth.
The overall stats for online dating are a little mind-boggling. According to StatisticBrain.com, over 41 million Americans have tried online dating. The yearly revenue for online dating is approximately $1 billion (that's a lot of moolah for love). And the eHarmony survey includes over 400 questions. I'm pretty sure I've never asked Tech Guy, my husband of 21 years, that many questions during our entire relationship! But Abby Ruth will be relieved to know she was lucky to only fill out twenty. Um…and then another 20. 😉
Online daters aren't always on the up-and-up with one another. Bet you didn't see that coming. Pew Research says over half of online daters believe others have "seriously misrepresented themselves in their profile." Hmm…wonder if those out-of-date pics the Grannies used qualify as misrepresentation?
Online dating is kind of like a potty posse. About 30% of women who register for an online dating service ask someone else to help them fill out their profile, says Pew Research. Sounds like the Grannies did this just right, sometimes even filling them out behind each other's backs!
Sometimes online dating works. About 10 million Americans have found their honeys through online dating which is apparently better odds than drumming up a future spouse at the normal haunts—like bars, work and school (via Huffington Post). Wonder if any of the Grannies found their Happily-Ever-After guy in Fit to Be Tied??
What Nan and I enjoyed most about this writing book was researching some of the crazy questions registrants must answer. For example:
If people were thrown in jail for bad habits, what would you be thrown in jail for? (Is wearing pajamas all day considered a bad habit?)
Do you have an aversion to bathing/deodorant/cologne? (If I did, would I answer this question truthfully? Doubtful.)
If you were a stalker, would you be really good at it? (Um…Nan claims she'd be a great stalker.)
 Where Nancy and I drew the line, however, was actually registering ourselves for any of the sites. Somehow, I don't think Tech Guy would've been particularly amused.
 —
 Do you have any experiences with online dating—either serious or funny?
---
ABOUT THE AUTHORS
Kelsey Browningwrites sass kickin' love stories and co-authors Southern cozy mysteries. She's also a co-founder of Romance University blog, one of Writer's Digest 101 Best Websites for Writers. Originally from a Texas town smaller than the ones she writes about, Kelsey has also lived in the Middle East and Los Angeles, proving she's either adventurous or downright nuts. These days, she hangs out in northeast Georgia with Tech Guy, Smarty Boy, Bad Dog and Pharaoh, a (fingers crossed) future therapy dog. For info on her upcoming single title releases, drop by www.KelseyBrowning.com.
Nancy Naigle writes love stories from the crossroad of small town and suspense. Born and raised in Virginia Beach, Nancy now calls North Carolina home. She's currently at work on the next book in The Granny Series, and a new women's fiction novel. Stay in touch with Nancy on Facebook, twitter or subscribe to her newsletter on her website ~ http://www.NancyNaigle.com