Dream A Little Dream
BY ELLA QUINN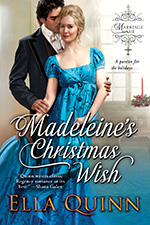 Do you have a dream? It doesn't matter if it's a job, a trip of a lifetime, or a place you'd like to live. Over thirty years ago, I told my boyfriend, now my husband, that I wanted to retire on a sailboat. He said he did too, and the long, long, journey began.
He was in the Army at the time, and I'd gotten out of the service and gone back to school before reentering the Army. Well, I'll tell you that there are very few places in the Army where you are anywhere near water, and definitely not for any significant period of time. I had been stationed on Guam, but the unit was no longer there, and it wouldn't have been an option for my husband at any rate. Then, of course, we had a child. It is amazing how much money they cost to raise. One house gave way to another as we traveled around the world. But eventually the child grew up, and went into the Army, we moved back to the States, and bought the house that we were going to be able to sell to buy the boat. Unfortunately, the housing market crashed, taking all of our boat money with it. And, although, we still talked about the boat, the dream still looked far away.
Then in June a series of incidents occurred, and we made the decision that my husband would retire, I would continue to write, and we would buy the boat. But I had the strange feeling that if we didn't execute the plan in very short order, it and we might become derailed again.
At the end of September, a mere ten days prior to his retirement, and us having to move out of his apartment, the deal on the boat we'd been looking for months fell through, as did the next offer. Then we found it, and four days after my husband retired, we were living on the boat.
If you have a dream, have you achieved it yet? If not, what are you going to do to make it happen?
---
ABOUT THE AUTHOR
Ella Quinn lived all over the United States, the Pacific, Canada, England and Europe before finally discovering the Caribbean. She lives on a sailboat St. Thomas, Virgin Islands with her wonderful husband of over thirty years, two bossy cats and a loveable Portuguese Water Dog. Ella loves when friends connect with her.
Website: www.ellaquinnauthor.com
Facebook: www.facebook.com/EllaQuinnAuthor
Twitter www.twitter.com/ellaquinnauthor
Blog http://ellaquinnauthor.wordpresscom