A Case of Identities
BY STACY FINZ
Thank you for having me on Romance Divas. This is my first blog tour and I wanted to tell you a little bit about myself. I'm an identity thief. I admit it. I steal annoying personality traits, bad habits and funny eccentricities from my friends, family members, even strangers and give them to my fictional characters. Sometimes it gets me into trouble, especially when the characteristic is easily identifiable, like my mother's propensity to start every sentence with "This is interesting," even when it's not (luckily she won't be reading this, because she's not a fan of "the Internets").
But most of the time people don't recognize themselves at all—seriously, you didn't know the Yiddish-cursing  cookbook agent was you?—which probably has kept me from losing a lot of friends. A writer pal of mine was not so fortunate. Then again she wrote a tell-all.
Of course, there are people who actually want me to use them in one of my books. I'll be at a party and someone will say something he thinks is amazingly pithy, nudge me in the shoulder and announce, "You can use that." I have to quickly turn my head before he sees me rolling my eyes. For two of my novels, I have borrowed the phrases– "His ambition is pornographic" and "She's a bottomless pit of need"–from one of my best friends, Wendy Miller. Wendy's a magazine editor who regularly drops little pearls like those. But before taking them and shamelessly passing them off as mine, I get explicit permission from her. That's why we're still friends.
In GOING HOME, the first book in my Nugget series, the townsfolk go nuts for an upside-down pear cake one of the characters makes. I stole the cake from my pal Amanda Gold as an inside joke. The cake is legendry in our circle of friends, the food and wine staff at the San Francisco Chronicle (here's her recipe, which is not in the book, but I bequeath to you because I'm a giver). In exchange for her cake, I named the book's character after her. People seem to be okay with me using their names, especially if it's for a good character. I've used a couple of my friends' names for villains, too. Those books haven't been released yet, so they may not be my friends for much longer. Time will tell.
I stole my nieces' dog's name for a dog in one of my other Nugget novels. They're too young to read my books, so we're cool. And the character with the freakishly large butt? That's uh … ha, ha, ha, as if I would tell.
---
ABOUT THE AUTHOR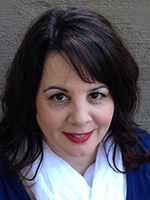 Stacy Finz is an award-winning former San Francisco Chronicle reporter. After more than twenty years covering notorious serial killers, naked-tractor-driving farmers, fanatical foodies, aging rock stars and weird Western towns, she figured she finally had enough material to launch a career writing fiction. In 2012 she won the Daphne du Maurier Award for unpublished single-title mystery/suspense. She lives in Berkeley, California with her husband.