Writing the Small Town Series
BY AMANDA BERRY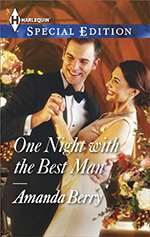 When coming up for a series concept for Special Edition, I went back to my roots. (Not the ones that are sprinkled with grays, but the where I came from type) I grew up in a small town in the Midwest. Population 14,000 and shrinking. In the middle of corn fields and built around the railway system. A large enough size that I didn't know everyone in town, but I was in the paper often enough (as a good student, not in the police blotter) that people recognized me or when asked I'd say who my parents were. See my great-grandparents lived in the neighboring town and had 12 children (10 of which were boys), so there were quite a few of us Berrys running around. The thing about small towns that makes them interesting (at least to me) is the type of people that live there. Many people in small towns are eccentric. I could go on for days about the mayor that punched out Santa or the podiatrist who got caught sucking toes or the odd people that seem to always be part of a small town. Of course, when writing a shorter novel, such as a Special Edition, I couldn't flesh them out entirely, but their presence brings the story of a small town to life. In Father by Choice, Brady's story, I had the mailwoman who knows all about Brady and his brothers. In One Night with the Best Man, Luke's story, I got to create an antique shop called What Goes Around Comes Around (Thanks to my writing friend, Kate Miller, for letting me use her idea for a store name) and the town busybody, Bitsy. I try to bring back familiar names and people from book to book. Some of them even make it into Sam's story, His Small-Town Sweetheart (out in Feb 2015). The nice thing about the small town is that even though all three brothers have gotten their stories, I still have this wonderfully drawn town where I could easily bring in new characters or give some of the secondary characters a chance to shine on their own. After all, the heroine from His Small-Town Sweetheart happens to have twin brothers… it would be a shame to let them go to waste.
What's your favorite part about small town romance? Do you have a certain setting that's your favorite, like office romances or big city romances?
---
ABOUT THE AUTHOR
Between walking her Jack Russell-Beagle mix, petting her two cats and driving her two kids all over creation, Amanda Berry writes contemporary romance novels (thanks to a supportive husband). A Midwest girl stuck in the wetlands of South Carolina, she finds inspiration in her small-town upbringing. A list of her current releases and backlist can be found at amanda-berry.com.