Monsters Versus Men
BY MAGGIE MAE GALLAGHER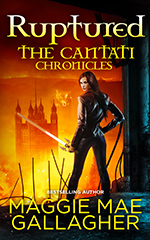 The worlds of urban fantasy and paranormal romance are where I truly found my writing niche. I'm a geek at heart. Most of the books I read and TV shows I watch have paranormal elements, like Kresley Cole's Immortals After Dark series, and Shannon Butcher's Sentinels series. When it comes to TV, The Walking Dead, Sleepy Hallow, Haven, and Supernatural are on my DVR list. If it has fangs, fur, artificially intelligent robots, and mystical creatures, I am there.
When you write monsters, I love the double reflection it creates within these stories. Whether the hero and heroine are battling aliens, in the midst of a shifter war, or contemplating immortality as one of the newly undead, the outer plot mirrors their internal struggle against their own personal demons. One of the things I have missed is when the monsters are truly monsters. That is one element during the creation of this series that I decided to infuse my bad guys with. I didn't want huggable demons but the down in your gut, these things will keep you up at night ones. The demons my heroine hunts with her Cantati Squad are evil, look like your worst nightmare, and have no chance of redemption.
I think that is something we are starting to see once again in film and literature. The monster no longer taking on human qualities or if it does inhabit a human form, the human no longer exists as we see in The Walking Dead. An element this type of storyline creates is the human counterpoints begin to question their humanity. They question whether they are civilized, and if society still functions when the world stands upon the brink of destruction.
Ruptured is a prequel to the first book in The Cantati Chronicles series. In Ruptured, Alana faces bone-chilling terror as demons invade her home. But it is not just the flesh-and-blood monsters she has to contend with, but the men hiding a monster within.
Which do you prefer, the monster or the man?
---
ABOUT THE AUTHORÂ 
Bestselling Author Maggie Mae Gallagher doesn't remember a time when she wasn't writing. When she was a kid she acted out her favorite scenes, only better, with her brother and cousin. As a teenager, she wrote reams of poetry, but realized her true love lay with creating characters and stories. A former music and history major, Maggie is a total geek at her core. When she is not writing, she adores attending the latest comic con or spending time with her family. She lives in St. Louis, Missouri, with her two furry felines. She can be reached at her website, her Facebook page, or on Twitter.