The Things You Learn
BY ELLA QUINN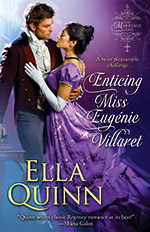 I'm so glad to be back on Romance Divas!! Thank you for having me.
The research for my latest book, Enticing Miss Eugénie Villaret was a challenge on different levels.
The largest difficulty I faced was the lack of institutional knowledge about the area or even documents. It seems that that everyone remembers up to 1780 and after 1830, but nothing during the Regency. During a conversation with the historian on Tortola, BVI, I was told that the information I found dating St. George's church to the mid-19th century was incorrect. A St. George's church has stood on that site since the early 18th century. The problem is that due to hurricanes and fires, most of the documents have been lost. Also, they kept building over the same site.
Fortunately, for information on St. Thomas I was saved by a good friend whose family has been here for over a century. She had old books. Other help came from my muse. If you followed any of my blog tours you'll know that my muse is an intelligent being who knows much more than I do at times. For example, I have freed slaves I must re-locate. My muse immediately told me to send them to the British West Indies. I, however, had to study all the manumission laws for the Caribbean islands only to discover she was right. Even stranger was a phrase that kept coming to mind, "St. Thomas is a salubrious island." This seemed odd to me, after all Hassle Island was a leaper colony. But wait! Hassle Island didn't exist in 1816. At that time the harbor consisted of one contiguous coastline. So I asked my friend if St. Thomas had ever been considered the healthy island. She ticked off all the bad things that had occurred and said no. Then, in one of her books, we came across a paragraph describing how St. Thomas had been considered the healthiest island in the Caribbean until around 1840.
---
ABOUT THE AUTHOR
Barnes & Nobel and Amazon bestselling author Ella Quinn's studies and other jobs have always been on the serious side. Reading historical romances, especially Regencies, were her escape. Eventually her love of historical novels led her to start writing them.
She is married to her wonderful husband of twenty-nine years. They have a son and granddaughter, Great Dane and a Chartreux. After living in the South Pacific, Central America, North Africa, England and Europe, she and her husband decided to make St. Thomas, VI home.
Ella is a member of the Romance Writers of American, The Beau Monde and Hearts Through History. She is represented by Elizabeth Pomada of Larsen-Pomada Literary Agency, and published by Kensington. Her debut novel The Seduction of Lady Phoebe, released in September 2013.
Website: (Up soon) www.ellaquinnauthor.com
Facebook: www.facebook.com/EllaQuinnAuthor
Twitter:Â www.twitter.com/ellaquinnauthor
Blog:Â http://ellaquinnauthor.wordpresscom