Two Heroes, One Book
BY JENNA JAXON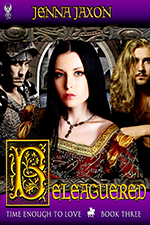 When I was writing my very first romance novel, I started in an organized manner with a detailed story outline.  I still have that outline saved and it is amazing how different it is from the book that was finally written.  And those changes are all due to one character who decided he wanted to be a hero.
My story was about a knight, Sir Geoffrey Longford, who was betrothed to Lady Alyse de Courcy, whom he had never met. They are both courtiers in the service of Princess Joanna of England. Geoffrey falls in love with Alyse and therefore vows he will win her heart before they are married. Pretty straightforward.
Then my muse whispers, "You need more conflict." So I create a best friend for Geoffrey, Thomas Knowlton, Lord Braeton, with whom the 17 year old heroine is infatuated.  Nice addition to the conflict. And Thomas is a fun, secondary character who will be part of the courtiers of the court, but not much more. He will only be in the first third of the book.
Then, just after what I call in my head, Book One, ends and Geoffrey is called home, I realize I need someone to bring Alyse a message from Geoffrey.  The next thing I know, Thomas is waving his hand and saying, "I'll do it." And in that moment, the entire rest of the outline was thrown out. Because I suddenly re-envisioned the whole novel as a love triangle brought about by the treachery and ambition of Geoffrey's father. That became Book Two.
But now I had a big conflict of my own, because I had two heroes, Geoffrey and Thomas.  And Book Three is the story of who gets the girl and why and how.  It was incredibly hard to write.  I had two very different but very likeable heroes who both love the heroine and whom the heroine loves.  If that sounds familiar, it's a common trope in romance.  The most popular one in recent memory has to be The Twilight Saga.
So I now have Team Geoffrey and Team Thomas.  And who the hell gets the girl?
Geoffrey is the big, brooding, bruiser of a knight, whose major character flaw is jealousy over Alyse's attitude toward Thomas.  Thomas is suave, the playboy of the medieval world type, much more the wit, whose jealousy surfaces, but who manages to control it.  His major flaw is his jaded attitude toward everyone and everything.
This all made the book harder to write because while there is an HEA as there must be, it is not a ménage a trois.  So someone has to lose the girl.  Jacob did not get Bella.  And in Beleaguered, someone will get the girl and someone will not.  Who will it be?  Only time, and the book, will tell.
---
Jenna Jaxon is a multi-published author of historical and contemporary romance.  She has been reading and writing historical romance since she was a teenager.  A romantic herself, she has always loved a dark side to the genre, a twist, suspense, a surprise.  She tries to incorporate all of these elements into her own stories. She lives in Virginia with her family and a small menagerie of pets.  When not reading or writing, she indulges her passion for the theatre, working with local theatres as a director.  She often feels she is directing her characters on their own private stage.
Jenna is a PAN member of Romance Writers of America as well as a member of Chesapeake Romance Writers. Her debut novel, Only Scandal Will Do, is the first in her House of Pleasure series, set in Georgian London.  Her medieval novel, Time Enough to Love, is a Romeo & Juliet-esque tale, set at the time of the Black Death.
She has equated her writing to an addiction to chocolate because once she starts she just can't stop.
http://jennajaxon.wordpress.com
---