Love Divas!
BY DEBRA HOLT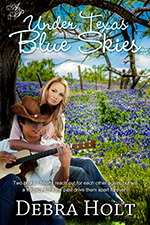 I love the term 'diva'. Some people think of it as a negative connotation. Not so. Divas in the true sense are experts in whatever they create and are secure in their person and their abilities…likes and dislikes. They are content in their own skins and stand up for what they love. They can be termed feisty if they hail from the south. I write feisty heroines. Being born a Texan and living here all my life, I can tell you that I am proud to be a feisty female and I welcome the term diva…in the best sense, of course.
When you read my books, you will find plenty of feisty females. They have backbone…although it might take someone reminding them of that once in a while, notably a hero. It takes a special type of hero to be worthy of such a heroine. People ask me where I get the ideas for these sexy cowboys I write about. Well, I am lucky to come across such a type now and then in the country towns I like to explore along the back roads of Texas. I also grew up with quite a few of them.
Choosing a hero for one of my heroines, I draw upon those experiences but also I find some of their attributes in other places such as old movies. If I had to write the perfect contemporary western hero, he would be a mixture. Begin with John Wayne…steady gaze, ready to fight for the underdog or a just cause, failure is not an option. Then add a dash of Jimmy Stewart…soft spoken with the ability to laugh at his own faults and a gentle strength to wrap around a special heroine. Can't leave out Clark Gable…those eyes, the dimples, the swagger…sweeping his woman off her feet. Now finish up with George Strait…a slow, crooked smile and a physique that makes a pair of jeans sizzle…and he can sing you a love song too. Put those four icons together and what a hero you would have for a contemporary western romance!
In my latest book, Under Texas Blue Skies, my hero, J.D. Sterling, has many of the above attributes. He was a poor boy from the wrong side of the tracks with little except a talent for singing and a dream to escape and make a better future. That future also included the love of his life, Amanda Lawson. However, life has twists and turns and tragedy can strike without warning. It can make or break a person. J.D. returns to his roots to find that life changed Amanda, and he faces the toughest battle of his life for the woman he loves.
I hope you find my heroes worthy of their heroines and their romances bring you smiles and sighs as you read them.
---
Born and raised in the Lone Star state of Texas, Debra grew up among horses, cowboys, wide open spaces, and real Texas Rangers. Pride in her state and ancestry knows no bounds and it is these heroes and heroines she loves to write about the most. She also draws upon a variety of life experiences including working with abused children, caring for baby animals at a major zoo, and owning a wedding planning business (ah, romance!).

Debra's real pride and joys, however, are her son, an aspiring film actor, and a daughter with aspirations to join the Federal Bureau of Investigation. (more story ideas!) When she isn't busy writing about tall Texans and feisty heroines, she can be found cheering on her Texas Tech Red Raiders, or heading off on another cruise adventure. She read her first romance…Janet Dailey's Fiesta San Antonio, over thirty years ago and became hooked on the genre. Writing contemporary western romances, is both her passion and dream come true, and she hopes her books will bring smiles…and sighs… to all who believe in happily-ever-after's.
The Seymour Agency represents Debra and she is soon to have two contemporary romances published by Spencer Hill/Tulip Romance and Astraea Press. Debra invites you to visit her website at www.debraholtbooks.com. She loves to hear from other aspiring authors or readers via email at [email protected].
---