Why I Love Historicals
BY ELLA QUINN
One of the things I love about historical romances is the differences between now and then. When I discovered my fourth book would be set in Europe I felt confident writing about areas I'd either visited or lived in. After all, even now, Europe hasn't changed as much as the US has. Yet, even with my masters in international relations, I'd forgotten the damage the Napoleonic wars caused, not only in physical damage, but in political re-alignments.
What we call northern Italy, is what Europe calls South Tyrol. The entire area of Tyrol consists of the western part of Austria and northern Italy, and was part of the Austrian Empire. After the war, the Austrians were given control of an additional part of Italy extending from Verona to Venice, or the Veneto, as well as what they already owned. Venice itself didn't become politically part of Italy until 1866, when the new Kingdom of Italy was founded.
Although Venice didn't suffer much damage, other areas were not so lucky. As I moved through Italy to Ulm, Germany, a route I'd driven many times, I learned that the city walls of Ulm, which had been a free city, had been bombed to rubble, and the famous spire of the Ulm Minster which had been scheduled to be completed earlier, was not finished until 1890.
The next major city I wanted to have my characters visit, is Avignon. These days, the Palace of Popes, had been wonderfully restored. However, in 1817 it was being used as a stable.
Have you ever revisited someplace that changed so dramatically you hardly recognized it?
---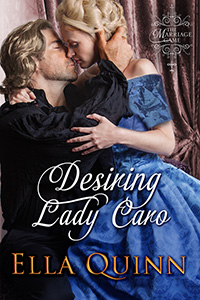 Barnes & Nobel and Amazon bestselling author Ella Quinn's studies and other jobs have always been on the serious side. Reading historical romances, especially Regencies, were her escape. Eventually her love of historical novels led her to start writing them.
She is married to her wonderful husband of twenty-nine years. They have a son and granddaughter, Great Dane and a Chartreux. After living in the South Pacific, Central America, North Africa, England and Europe, she and her husband decided to make St. Thomas, VI home.
Ella is a member of the Romance Writers of American, The Beau Monde and Hearts Through History. She is represented by Elizabeth Pomada of Larsen-Pomada Literary Agency, and published by Kensington. Her debut novel The Seduction of Lady Phoebe, released in September 2013.
Website: (Up soon) www.ellaquinnauthor.com
Facebook: www.facebook.com/EllaQuinnAuthor
Twitter www.twitter.com/ellaquinnauthor
Blog http://ellaquinnauthor.wordpresscom