Book-Love in Any Language
BY TRACY MARCH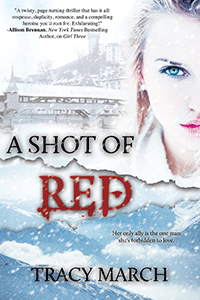 It's hard not be romantic about books. From antique tomes to e-books, paperbacks to hard covers, books have a way of sneaking into your heart and settling there. I get the book-love rush every time I step into a library, a big brick-and-mortar bookstore, or a quirky indie shop. The air just feels different, as if countless tales are holding their breath, waiting to be told.
Whether I grab a favorite classic off my shelf—The Scarlet Letter is my go-to—or fire up my e-reader for a new digital release, I get a ripple of excitement knowing I'm about to discover a new story, meet new characters, or reunite with familiar ones. Who knows? I might visit a faraway place I've never been, root for someone I've never met, and fall in love until my heart soars or ends up broken. Either way, I'm up for the risk.
In this crazy world we live in, the love of books is nearly universal, our history steeped in storytelling. From hieroglyphics to campfire tales to digital books, we've found a way to slip stories into our lives. And the book world might be smaller than we think. People across continents could be reading the same stories we are, and falling in the very same way.
I hadn't given this much thought until I took an unexpected trip to Switzerland a couple years ago. In a remote town in the Alps, I came across an amazing array of books for sale in a convenience store at a train station. Scanning the bright covers, I recognized the names of some American authors, their books translated into German. American tales that had made their way across the ocean. And lots of them were romances. Contemporary, romantic suspense, historical. Love stories lined the entire top shelf and filled other spaces in the display. A good love story is a good love story, no matter where in the world you find it!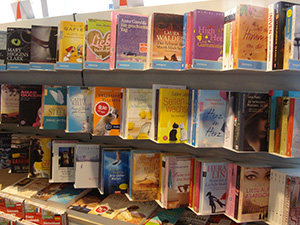 That book-love feeling came over me again…in a convenience store at a train station in Switzerland. And I couldn't even have read the books if I'd tried! But there they were like a welcome hug from a friend, a connection that grounds me wherever I go. As I turned to leave, several books in the far corner of the display caught my eye, and a big smile stretched across my face. Books in English…hooray! New friends that spoke my language, too!
While browsing for books in the Alps, I was also doing research for my sexy new romantic suspense, A SHOT OF RED. A breakup… A forbidden one-night stand… A murder. And all the clues lead to Switzerland. What intriguing places have you discovered through reading, and have you visited them as a result? Do you have a dream destination that you learned about in a book?
---
---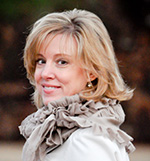 Award-winning author Tracy March writes romantic thrillers influenced by her interest in science and politics. She also writes lighthearted romances inspired by her real-life happily ever after.
Always up for travel and adventure, Tracy has flown in a stunt plane, snowmobiled on the Continental Divide, ziplined in the Swiss Alps, and been chased by a bull in the mountains of St. Lucia. She loves Nationals baseball, Saturday date nights, and Dairy Queen Blizzards—and rarely goes a day without Diet Coke and Cheez-Its.
Tracy lives in Yorktown, Virginia, with her superhero husband who works for NASA.