Cooking For A Country Singer
BY AVA MILES
So, hi there! I'm Ava Miles, the new contemporary romance writer who burst onto the scene with her book NORA ROBERTS LAND, which kicked off my acclaimed Dare Valley series. Now, I'm delighted to announce the first book in a connected series called Dare River, set in the deep South, titled COUNTRY HEAVEN. Thanks to Romance Divas for hosting me!
This story is pretty special to me since it combines my love for food (former chef here) and my love for country music, specifically Tim McGraw, Carrie Underwood, and the hit TV series, Nashville. COUNTRY HEAVEN is about a down-on-her luck cook who uses food's magical properties to tame a beastly country singer after he hires her under false pretenses to restore his image. My hero, Rye Crenshaw, is larger than life, a mega country star and a total bad boy. And his heroine is so the girl-next-door.
I wrote thirteen country music songs and a dozen cookbook entries for this book, which is a record in romance, I think. And since I love sharing my love for food, I decided to share one of the cookbook entries from the novel:
When I was little, I watched Gone with the Wind with my grandma. The movie captured my imagination. The women seemed so elegant in their hoop skirts, dancing the Virginia Reel with men sporting wickedly handsome slim mustaches. Houses like Twelve Oaks with their curved staircases seemed a dream. Being an only child, I frequently imagined friends like Scarlett or Melanie for my tea parties. Using my grandma's lace–edged napkins, I'd serve what we termed French éclairs. They were actually cream puffs, but again, we used our imagination. Scarlett wouldn't eat cream puffs. Depending on how much time my grandma had, sometimes we'd serve the éclairs with vanilla pudding, which we called French custard. Other times, I simply settled for French Chantilly cream. Back then, I used Cool Whip with a dash of ginger. Now, I can make all these things from scratch. But as a child, those cream puffs were magical. And my imaginary friends in their fine gowns were always pleased.
 Cream Puffs (or French éclairs a la Tory)
1 cup water
1 stick of butter
1 cup flour
4 eggs
Boil the water and butter until the latter melts. Add the flour and mix, forming a yellow paste. With a wooden spoon, add 4 eggs, one at a time, and beat well. Drop with a tablespoon onto a greased cookie sheet. Bake at 400 degrees for 30 minutes. Slit the cream puffs and fill with custard or cream, depending on your preference. Or fill with something else that sounds good to you. These airy, golden brown pastries work well with many fillings.
Tory Simmons' Simmering Family Cookbook
So, what do you think? Sounds decadent, right? What's one of your favorite desserts and have you ever done the whole cream puffs/éclair thing? If not, I highly recommend it.
---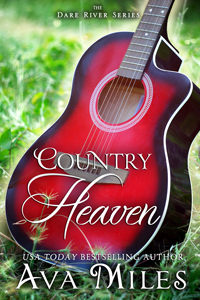 USA Today Bestselling Author Ava Miles burst onto the contemporary romance scene after receiving Nora Roberts' blessing for her use of Ms. Roberts' name in her debut novel, NORA ROBERTS LAND, which kicked off The Dare Valley Series and brought praise from reviewers and readers alike. Much to Ava's delight, USA Today Contributor Becky Lower selected it as one of the Best Books of the Year. Ava continued The Dare Valley Series in FRENCH ROAST, which Tome Tender says "raised the entertainment bar again" and then THE GRAND OPENING, which reviewer Mary J. Gramlich says "is a continuation of love, family, and relationships." The next books in the series, THE HOLIDAY SERENADE, was met with high praise and her ode to the early 1960s, THE TOWN SQUARE, what she calls Mad Men in a small town with a happy ending, melted reader's hearts. Ava based her original series on a family newspaper, modeled after her own. Her great-great grandfather won it in a poker game in 1892, so Ava is no stranger to adventurous men and models her heroes after men like that—or like Tim McGraw, her favorite country music singer. Now Ava shares the Dare River series, set in the deep South, telling the story of a country singer and a beautiful cook. A former chef herself, Ava used her culinary background to infuse the story with family and personal recipes, but she also used her love for music to write country music songs to set the stage in the novel, creating a unique book experience. Ava—a writer since childhood—now lives in her own porch-swinging-friendly community with an old-fashioned Main Street lined with small businesses. 
www.avamiles.com   www.facebook.com/AuthorAvaMiles   www.twitter.com/authoravamiles   www.pinterest.com/authoravamiles