Writing and Balance
BY CHERYL BOLEN
GIVEAWAY: Comment for a chance to win an autographed copy of Marriage of Inconvenience or a choice of any title from her ebooks.
One of the questions I've been asked most since my first book was published in 1997 is how many hours a day do I write. It used to depend on the deadline specified in my contract. When racing toward a deadline (and more advance monies released), I would write six or seven days a week, eight hours a day. I have turned in every contracted book before my deadline.
Back in the nineties I produced a lot more pages a day than I do now, and now I sit in front of my computer not eight hours a day—but 11 or 12! The reason my production is down? I'm not writing those 12 hours I'm in front of the computer. I'm reading hundreds of emails a day and trying to drop in on Facebook. I won't even go to Twitter or Goodreads. I'm on internet overdose. I need to get better at restricting my email reading until I've met my daily quota. That will have to be a 2014 resolution.
Over the years I've devised a system that works for me. I keep a log for each book, and I enter the number of pages written each day. If something prevents me from meeting my goal, I'll make it up during the week.
Other related questions I'm often asked are "Do you work on one book at a time?" and "How long does it take to write a book?"
For most of my writing years I've worked on one book at a time. The most successful authors (I don't put myself into that group) are those who are running a new proposal by their editors while finishing the previous book. I've never been good at that. I tend to have tunnel vision with the book-in-progress and am no good at plotting a whole other book while working another novel. Therefore, I've had a lot of gaps in my career. Three books one year, none the next. Those most successful authors never have gaps.
An exception occurred with my new Brides of Bath Regency novel, Love in the Library. I was about half way through when it occurred to me I wanted to get out a Christmas novella in 2013. Not just a generic Regency Christmas novella. I'd been getting oodles of fan mail requesting a new Regent Mystery in my lighthearted series which then consisted of two novels. Since it takes me an average of five months to write a complete novel, I knew I couldn't produce a complete book in a timely fashion, but I could (hopefully) satisfy my Regent Mystery fans with a novella, which I could write much more quickly than a full-length novel. I could, in essence, kill two birds with one stone: I could get out a Christmas novella (which my fans have come to expect) as well as a new installment in the popular Regent Mysteries.
So I stopped writing the fan-requested Love in the Library (the first new novel in ten years in my Brides of Bath series) and began my Christmas novella, The Theft Before Christmas. I love to write novellas, and I can do one in a month. (That's seven days a week, many hours each day.) It went well. I got it edited and produced, and managed to get it out in time for Christmas sales. Readers seem pleased with the lighthearted secondary romance that went along with the mystery solved by my continuing hero and heroine, whose love story was told in the two previous books.
Before I returned to Love in the Library, I reread every word I'd written, to refresh myself. And to keep from getting my characters mixed up with those in The Theft Before Christmas!
Now that those two projects are complete, I'm madly racing ahead with a proposal for a second book in my (contemporary) Stately Homes series of lighthearted mysteries. That, too, is to satisfy fans' demands.
One of these days I hope to return to my Brazen Brides series with a book for the third Birmingham brother, and I'd love to do a new series around my present stand-alone A Lady by Chance, my bestselling book (currently available at a reduced price in the Scandalous Brides boxed set with three other bestselling Regency authors and soon to be available in German).
Maybe if I lived on an uninhabited island with no internet. . .
---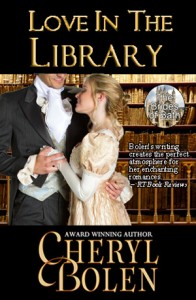 Cheryl Bolen is the acclaimed author of more than 20 romance books, both historical and mystery. Many of her books have placed in writing contests, including the Daphne du Maurier for romantic suspense. They have been translated into 11 languages and have become Barnes & Noble and Amazon bestsellers. She was named Notable New Author in 1999. In 2006 she won the Holt Medallion (Honoring Outstanding Literary Talent) for Best Historical, and in 2012 she won Best Historical in the International Digital Awards for ebooks published the prior year. Her 2011 novella was named Best Novella in the Romance Through the Ages competition.
A former journalist, she holds a dual degree in English and journalism from the University of Texas, and she earned a master's degree from the University of Houston. She and her professor husband are the parents of two sons, one who is an attorney, and the other a journalist. Her favorite things to do are watching the Longhorns, reading letters and diaries of Georgian Englishmen, and traveling to England. She invites readers to her website, www.CherylBolen.com, or her blog, www.cherylsregencyramblings.wordpress.co.