Sex in the Regency Era
BY ELLA QUINN
I'm very excited to be back on Romance Divas. Today I want to talk about sex. Specifically sex during the Regency era. But wait you cry out, Jane Austen didn't discuss sex, nor did Georgette Heyer! Well yes, but they both alluded to it in most of their books.
Just because both authors wrote during a time where if they'd written about sex, they wouldn't have been published, didn't mean no one was engaging. Heyer mentions it more than Austen. For example in her book, Venetia, she gives you Rake Demeral. A man so dissolute that he's scandalized the neighborhood by having orgies.
What Heyer and Austen did was either by pass gently-bred young ladies engaging in sexual congress or showing the evils for doing it. Yet the plain fact of the matter is that over fifty percent of babies born during that time were delivered less than nine months after the marriage, and since the recording of births was not mandatory, the only people keeping consistent records were the ton and possibly wealthy merchants.
How, you ask, was that possible when young ladies were chaperoned, and the risk of pregnancy was so great? In the same way it was possible for a lady to sneak out of her house and elope to Scotland to marry a man her parents didn't want her to. Also, once a lady was betrothed, she and her intended were allowed a great deal of time alone. Which was one of the reasons engagements were relatively quick, and a man could not break an engagement.
Young ladies were kept in ignorance of the act of intercourse, until usually just before their wedding. Imagine having no TV, radio, magazines, newspapers, books, or other media exposing you to relations between men and women. In the country they were kept away from areas where animal breeding occurred, and it was illegal for a woman, even a married one, to by erotica or pornography.
Think then how easy it would be for a rake to take advantage of a young lady. Which is what happens in The Temptation of Lady Serena. When Robert, Viscount Beaumont decides he wants to marry Lady Serena Weir, whether he loves her or not, he arranges a situation where an immediate declaration of marriage is called for. Little does he suspect that by running rough shod over Serena's freedom he'll set not only her family against him but his as well.
In these days of over exposure, what do you think of a time when young ladies were purposely kept ignorant?
---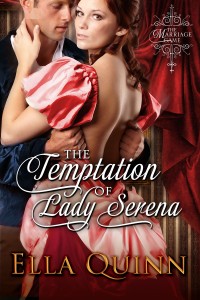 Ella Quinn lived all over the United States, the Pacific, Canada, England and Europe before finally discovering the Caribbean. She lives in St. Thomas, Virgin Islands with her wonderful husband, three bossy cats and a loveable great dane. Ella loves when friends connect with her.
Website:Â www.ellaquinnauthor.com
Facebook:Â www.facebook.com/EllaQuinnAuthor
Twitter www.twitter.com/ellaquinnauthor
Blog http://ellaquinnauthor.wordpresscom