Jumping into Korean Mythology: Mystical Monsters in Repossessed
BY SHAWNTELLE MADISON
This is my first time here on Romance Divas with a blog post and I'm excited to talk about one of my favorite parts of writing: research, research, and research.
In my latest paranormal romance release, REPOSSESSED, my hero Rob Shin is a Korean warlock with an arsenal of magical tools in his magical satchel. For Rob's story, I wanted to jump in headfirst into Korean mythology and research the mythological creatures told in tales. I'd already performed this kind of research for COVETED and KEPT, two other books in the same universe. For those I explored Russian mythological creatures, in particular the vodyanoy and rusalka. The vodyanoy is a water spirit and the rusalka is water nymph. For REPOSSESSED I wanted to take things a step further since my story this time has a Korean spellcaster as the protagonist and not a werewolf like in COVETED.
So, where did start? I wanted to add depth to my story so I dived into the books first and then moved onto online sources. One of my first books was An Illustrated Guide to Korean Mythology by Choi Won-On. The book is a bit hard to find and around 300 pages, but your local university might have a copy like mine did. Be sure to check out the "Further Reading" section in the back of the book. There are some valuable references there.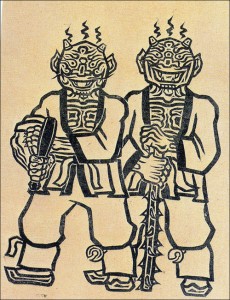 Dokkaebi
After exploring written materials, I moved online and found more information about Korean goblins (dokkaebi), fire-breathing beasts like dragons, and vengeful ghosts like gwishin. There were so many pictures to feed the imagination. Rob could face many deadly adversaries and even have a few comedic moments if I chose. I could bring the past into the present and have it be a driving force to create conflict. Why not have the beasts that challenged heroes in the past come to life in the present and cause just as much trouble?
As far as Harabeuji, the talking satchel with a trapped spirit from medieval Korea, that idea came from connecting the past with the future. He was also a fun addition I couldn't resist adding. During my research, I read a lot about ghosts and how they are driven by revenge to right the wrongs of the past. I won't go into detail, but Harabeuji plays such a role in the series. He is also a mentor and guide for Rob.
If you want to add mythological monsters to your work, I'd definitely suggest trying your local library first as a starting point. Start your series bible and create a page for the creatures that will exist in your world. You'd be surprised what is out there.
---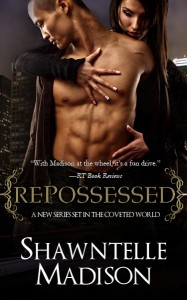 Shawntelle Madison is a web developer who loves to weave words as well as code. She'd never admit it, but if asked she'd say she covets and collects source code. After losing her first summer job detasseling corn, Shawntelle performed various jobs—from fast-food clerk to grunt programmer to university webmaster. Writing eccentric characters is her most favorite job of them all. On any particular day when she's not surgically attached to her computer, she can be found watching cheesy horror movies or the latest action-packed anime. She lives in Missouri with her husband and children.
Website Information:Â http://www.shawntellemadison.com
Social Media Links:Â http://www.twitter.com/shawntelle
http://www.facebook.com/shawntellemadisonauthor
https://plus.google.com/+ShawntelleMadison