What Makes THE TOWN SQUARE like Mad Men?
BY AVA MILES
Happy holidays! I'm Ava Miles, a contemporary romance writer of The Dare Valley series, which kicked off this summer with NORA ROBERTS LAND. I'd like to thank Romance Divas for hosting me during this holiday season.
I'm excited to be here today, talking about my newest release, THE TOWN SQUARE, which came about because readers have adored Arthur Hale, the wonderful grandpa character and journalistic legend in my series, and wanted to know his story. Well, I did too, and Arthur really likes to tell stories, so I pulled up my rocking chair and my laptop and pretty much wrote down what he told me.
It took me back to 1960, when Kennedy had just become president, and women were wearing pill-box hats. I love the TV show, Mad Men, so here I was, writing a story set in that timeframe—and in an office situation no less—but I knew I had two differences on my side: my story is set in the small town of Dare Valley, Colorado and mine would have a happy ending (since Mad Men really isn't about all that).
So here's how my book is like Mad Men:
My heroine, Harriet Wentworth, comes to Dare Valley under an assumed name—very Don Draper-like—and she has an agenda. A newspaper article ruined her father and sullied her family name, and now she's out for revenge on the journalist who wrote it: Arthur Hale. Sound interesting yet?
Harriet takes a job as his secretary, and to Arthur, she's just a mysterious redhead named Harriet Jenkins. I love the whole office intrigue and all of the relationships in Mad Men, and I have to admit I had the image of Joanie, their redheaded secretary in mind when I thought of Harriet.
Arthur and Harriet end up having an office romance just like a few of the couples on Mad Men. The attraction between them is undeniable. Yet, Arthur is nothing like Harriet expects, and Arthur knows there's much more to Harriet than she lets on.
The clothes! It was so much fun to research fashion from that time and outfitting my heroine in the gloves and hats and coats of the time. Men's fashion was so less interesting.
Then there's the setting. It's the 1960s. Arthur is a newspaper man, so I chronicle the news events of the time—just like Mad Men. Contemporary history from that time is so interesting, and many of you will remember where you were when certain events occurred.
I loved writing my own Mad Men in a small town with a happy ending, and hope you'll enjoy reading it.
So, what do you love about the TV series and the 1960s?
---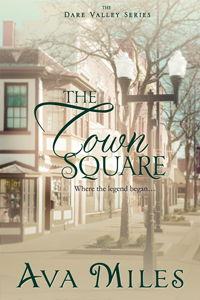 Ava Miles burst onto the contemporary romance scene after receiving Nora Roberts' blessing for her use of Ms. Roberts' name in her debut novel, NORA ROBERTS LAND, which kicked off The Dare Valley Series and brought praise from reviewers and readers alike. Much to Ava's delight, BlogCritics says "It [NORA ROBERTS LAND] captures the best of…a Nora Roberts novel," while USA Today's Happily Ever After blog praises the series noting its "wonderful, idyllic setting… [and] great characters." Ava continued The Dare Valley Series in FRENCH ROAST, which Tome Tender says "raised the entertainment bar again" and then THE GRAND OPENING, which reviewer Mary J. Gramlich says "is a continuation of love, family, and relationships." The fourth book in the series, THE HOLIDAY SERENADE, was met with high praise, and now Ava shares her ode to the early 1960s, THE TOWN SQUARE, what she calls Mad Men in a small town with a happy ending. A descendant of generations of journalists, Ava—a writer since childhood—now lives in her own porch-swinging-friendly community with an old-fashioned Main Street lined with small businesses. Much like Dare Valley. 
www.avamiles.com   www.facebook.com/AuthorAvaMiles   www.twitter.com/authoravamiles   www.pinterest.com/authoravamiles