Everything Is Copy
BY LIA ROMEO
Nora Ephron was undeniably one of the greats of both romance and comedy, the intersection of which is where I find myself writing most often.  One of her well-known quotes – and something she originally learned from her mother – was: "Everything is copy" … meaning everything that happens to you is potential eventual fodder for your writing.  To me, this is one of the most wonderful things about being a writer.
When I started working on my first novel, Dating the Devil, I'd just broken up with a long-term boyfriend, moved out of the comfortable apartment we shared together, and into a room in a fifth-floor walkup with two "eccentric" roommates.  One of them liked to sleep on the living room floor with her boyfriend "because it was too hot in her room," and the other liked to come home in drunken rages, break mirrors in the hallway, and pound on our doors demanding that we let him in "to talk."  I was also dating – a lot – for the first time in several years, which was mostly awful.  So … it wasn't an easy time.
But it was an exciting time – I was making new friends, meeting new men, and discovering new places – it's amazing how many restaurants, bars, and museums you find out about when you're going on a couple of dates every week.  And probably most important, I was working on a book, which gave everything else a sense of purpose, or at least of possible purpose.  Every bad date was a potential piece of backstory for my heroine, every bar I ended up at was a potential setting, every time I walked down the street I was taking in sights and experiences that just might make it into the story.
I'd been a playwright for years, but my plays tend not to draw so directly from my own experience.  My novel, though, was about a girl a lot like me, living a life a lot like mine (well, ok, except for the falling in love with the devil part), and so my life fed directly into my writing in a way that was exhilarating.  Everything was copy, and so nothing was useless, and nothing was a waste of time.
This feeling was part of what got me hooked on writing in the romantic comedy/chick lit genre, and it's part of why I hope to continue doing so for many years into the future (though the main reason is just that it's a lot of fun!)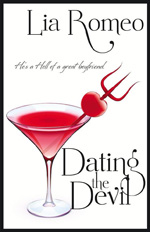 ---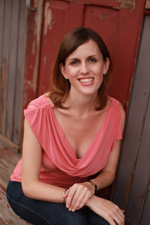 Lia Romeo's debut novel, Dating the Devil (BelleBooks/Bell Bridge Books, 2013) is a story about love, romance, and what it's like to date the ultimate bad boy … the Prince of Darkness himself.  She is also a playwright and the author of the humor book 11,002 Things to Be Miserable About (Abrams Image, 2009).