Five Reasons Romance Divas Rule
BY SIERRA CARTWRIGHT
You're sexy, smart, sophisticated, adventurous, and, oh, did I mention, charming and optimistic?
Now you're wondering how I know all this about you, right? No, I don't have a secret camera, and I'm not following you around like a paparazzo. I didn't ask your family to tell me about you. But I understand why you might think I did since I just described you perfectly. C'mon, admit. You're all that. And more.
When I looked around recently, I realised all my closest friends shared common characteristics, including the belief that better moments were ahead, even if they were going through a difficult time. They all have a truly wicked sense of humour. Some are so rapier sharp, I think they should be in a pirate movie. (Did someone mention Johnny Depp?)
Have you heard the Anne Morrow Lindbergh quote that goes something like this, Good conversation is as stimulating as black coffee and just as hard to sleep after? That's the experience I have when I hang out with my friends.
They're fabulous conversationalists, and spending time with them inspires me. They take trips, some are wild adventures, and some are just into the backyard with a picnic for the kids. (A few brave ones even have encounters with security guards at airports that are almost as funny as my experiences!)
These friends all have something in common: like you, they're romance divas.
I've been reading romances almost from the time I was old enough to hold my own books. I was a nerd who hid under the covers with a light so I could keep reading past bedtime. And yes, I named my daughter after one of my favorite heroines!
Over time, as I started to write, I found myself becoming friends with other writers. I was inspired by our mutual passion for the written word. Some of us love suspenseful reads, while others enjoy a sweeping saga. A few prefer short, sexy reads with cowboys, bachelors, and billionaires. Whether the book was emotionally riveting or offered a few hours of quick fun, we love romances.
That doesn't mean we don't love other fiction. It does mean, though, that we fall in love with characters and root for their happy ending.
So, here are my five reasons I think you, my fellow diva, rule:
You're Smart: You read. My (un)scientific research shows proves you have a higher IQ than nonreaders.
You're Inquisitive: You read. You want to know about other places. You have a natural and insatiable curiosity that makes you naturally interesting. And interesting people are, by default, divalicious.
You're an Optimist: This doesn't mean you have your head in the sand. (Especially because you've learned that if you bury your head, a bigger target sticks up.) It doesn't mean your life is perfect and free from drama. In fact, especially through books, drama adds to the thrill of being alive. What it does mean is you innately believe in another sunrise. You do the things you need to do to cope with reality—including reading a good book.
You're Adventurous: I once had an elderly retired neighbour who wanted to read one of my books. I tried, quite desperately, to talk her out of it. I warned her it was quite racy and that she didn't know what she was in for. This woman was determined, and she pried the novel from my fingers. A few days later, I ran into her. I nervously asked what she thought. Was she scandalized? She shook her head at me. "Not at all," she replied. "Been there, done that."
And the best for last… You're Sexy. Every once in a while (including yesterday), I hear from men whose wives or girlfriends read romances. They express gratitude for the fact she has her nose in a book (or against a screen) all the time. So, hey, your man told me you get your sexy on.
So, girlfriend, what's not to like? You're all of those things listed above. And that means you're definitely divalicious.
---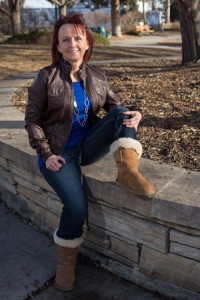 Sierra Cartwright's erotic romance novels are as untamed as the Colorado Rocky Mountains she calls home. She's currently writing six books in the Mastered series for Total-E-Bound Publishing. The first is With This Collar, out now and the second in the series, On His Terms is out on the 22nd April. Her deliciously dominating heroes and complex heroines go on a physical and emotional journey where limits are shattered and lives are transformed. She invites you along…
www.sierracartwright.com
https://www.amazon.com/author/sierracartwright
www.facebook.com/SierraWrites
http://devilsden-mastered.tumblr.com