The Working Author–How to Be Super-Human
BY ANNIE ADAMS
For the working writer, the production of a published novel seems a Super-Human endeavor, with the fear the piece of work won't turn out to be acceptable or dare I even say, good.
There are a select few who have the luxury of writing whenever they choose, at any time of day or night, whenever works best for "the muse." Then there are the rest of us, the vast majority, who are holding down full-time jobs, sometimes more than one job, raising children, running a business, or all of the above.
As working writers, there are so many times when we feel alone, as if we are the only people who are faced with the challenges that don't allow us to write in the way we would like to, when we want to. But, after surveying several of my author colleagues, I've come to the realization that all of us are faced with a multitude of challenges, and there are simply those who manage to publish books, and those who don't. Once I determined that these successful colleagues had it just as difficult as I, I naturally had to ask them for the secret to being so Super-Human.
It turns out there are common tools connecting the habits of these Super Authors. These tools fit into four main categories.
Be Master of the Calendar Universe
All of these folks are super savvy schedulers. They are organized and they have a plan. Specifics are important. They say you must have an overall goal—like finishing a novel by a certain date, for example. Then, each week you plan specific goals that will contribute to reaching the bigger goal. It isn't enough to say, "I'll get some writing done," or "I'm going to edit this week." You must make specific goals, i.e., "I will edit Chapter 15 of xyz manuscript," or "I will outline Chapters 1-6 of the new book."
These organizational techniques apply to all aspects of authorship. Writing isn't the only part of the job, there's marketing and communications, research, and making time to set goals. One idea that has worked for me is doing certain tasks on the same day of the week. So, for example, author blog on Monday, phone calls to editor, cover designer, business card printer, etc. on Wednesdays, writing on Tuesday and Thursday evenings, editing on Sunday mornings, and so forth.
Remember how Wonder Woman would deflect those bullets with her indestructible bracelets? Redirecting things she wanted into the places she thought they should go? As a writer, you must wield your magic outsourcing bracelets. Send away any task that will take up too much of your precious time. Hire experts to do things they are expert at, such as cover design or editing or creating websites. You are the expert at writing the novel.
Are you a terrible typist—extremely slow with lots of typos? Consider purchasing voice- recognition software that will type it up for you. One author I spoke with finds himself traveling in a truck all over the country. He uses this software to produce all of his novels
Every author surveyed said they keep writing materials with them at all times. It's amazing how many words can be put down on a pad of paper, a Notebook, IPad, Alphasmart (love), or laptop while sitting at the doctor's office or the kids' soccer practice. Thor always has his hammer, and so too should you have your mighty author's pen.
Form a Super-Hero Alliance
This isn't just about joining a professional writing organization—which is essential—but also finding beta-readers and critique partners or groups. Share your weekly or monthly goals with your critique groups and set deadlines. These partners will hold you accountable for the work you said you would complete. This is a fantastic way to help stave off the evil procrastinator villain.
Other members of your League of Heroes include your family. Help them to better help you by sharing your author schedule or even planning it with them. If everyone knows that Tuesday nights from 8-10 pm are do not disturb hours, it's a lot less likely that you will encounter interruptions.
When You Flex those Super-Muscles, Remember to Stretch
 All of us face unexpected obstacles. We couldn't achieve Super status if there were no blockades. There's nothing Super about taking a cake-walk. Our alliances matter most, when the stuff of life happens. When we need a little grace period, our friends and family understand, and they can help us get back on our feet again. Illness and extra-busy times at the office can delay our daily or weekly progress, but when we have support from others, we are able to catch up and keep the overall goal from falling off the rails.
 Oftentimes, we are the least flexible people when it comes to accepting inevitable delays. Our critique partners understand when we get sick and miss our deadlines, but how often do we give ourselves that understanding? You have to account for real life when you're making your goals, and you have to allow yourself some flexibility when you are unable to achieve those goals in the planned time frame. Remember to take care of yourself and readjust your goals when life happens.
Use Your Freakish Laser Beam Focus and Step Away From the Electronic Device!
Juggling is the greatest Super-Power of all. Masterful focus is the only way to keep all those goals in the air and there are a multitude of villainous distractions that would like nothing better than to grab your attention and knock that next best-seller of yours into the Lake of Lost Hopes.
Enemy number one is the Electronic Device Evil Underground. Several of the surveyed authors suggested turning off the Internet while writing. There are software programs that will literally block you from using the Internet for the time frame you set. Also, they didn't call it Crackberry for nothing. Leave the Smartphone alone. You do not need to see the next earth-shattering email from one of the thirty-seven blogs you follow (present company excepted J) until after you've finished your writing goal for the afternoon.  Many of us (especially myself) feel withdrawals if we can't hold the device in our hands for longer than 30 seconds. Put the phone down.
One last thing. For most of us, waiting for "the muse," is a luxury we cannot afford. If you sit down to write and the words won't come, check to make sure you're not succumbing to the siren's call of one of the distractions listed above. If it's still not happening, stand up, do 5 jumping jacks or walk outside to the front porch of the Fortress of Solitude and take a deep breath. Then, go back in and get to work. You might write 5 words or 47 or even 500. They might not be great words; in fact they'll probably be worthy of the junk heap. But you will have written them and that is all that matters. Because you will have succeeded at working toward your goals and you will have kept on the path of your Super-Hero's Journey.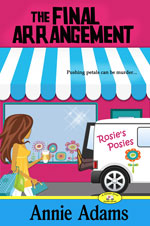 ---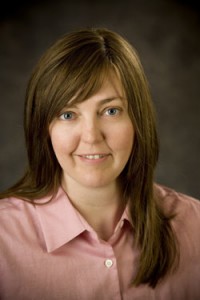 Annie Adams is the author of THE FINAL ARRANGEMENT, book one in The Flower Shop Mystery series. She lives with her husband, two giant dogs, and two too giant cats in Northern Utah at the foot of the Wasatch Mountains. When not writing she can be found teaching workshops to authors about the business of being a writer, or arranging flowers and delivering them in her own Zombie Delivery Van.