Write What You Know…And Then Some
By K.M. JACKSON
"Mika Walters is a normal woman working in the not so normal world of New York Fashion…" that is the beginning of my blurb for my debut Crimson Romance novel THROUGH THE LENS. Now we writers have long heard the saying, 'write what you know' but is it something we should really apply to our writing? Well in the case of THROUGH THE LENS, I did just that. Sort of.
Now, before anyone who has read TTL goes getting ideas, no, I've never been to a nearly deserted tropical island, and no, I don't have or know of a real life Alejandro. Believe me, if I did I'd find a better way to make money than selling books (how fast can you say Hung?).
What I took from my real life and brought to TTL and I hope to the follow up books in my Creative Hearts Series for Crimson is some of the realism of my own 10 year experience from working in the New York design industry.
I adore fashion and have since I was a young girl. As I was growing up there were two things that I dreamt of being. One was to be a fashion designer and the other was a writer. I'm so happy that after spending years working in the fashion worlds as a designer I was able to realize my dream of becoming a published writer with TTL.
I started reading and collecting Vogue magazine at around the age of 11 right around the same time that I feel in love with romance. I guess in some ways the two worlds held an intertwined connection for me for me. When it came to romance I was always was pulled to the stories with the glitz and the glam and the most fantastic costumes and lush locals. Give me a billionaire, although at that time a millionaire would do, nicely thank you very much. And when it came to fashion the more over the top and opulent the better. Make it Lacroix, or Gaultier or Chanel please. I remember how I'd pour over my monthly copy of Vogue over and over, marveling at the beauty and the brilliance of it all.
Now I know from the outside, the wonderful world of fashion may seem quite glamorous, but trust me, for every A list New York Fashion Week tent show star there are countless other small, practically, no name, houses trudging along in tiny office spaces on and off Broadway for their piece of the pie. And in those spaces there is usually some hopeful girl or guy with wide-eyed dreams of making it out of the background to see his or her name in the spotlight.
All that said it was fairly easy for me to lose myself in the head of my heroine, Mika, the every woman assistant to a sexy photographer. The one who in most cases as the only person above a size 2 in a land of stick figure Glamazons. Now my story is not a put down on the skinny girl (I used to be one- weren't those the days?), but more of a check on how women view themselves in comparison to others and how constant comparisons can lead to a warped view of one's self. To me it's much more of a beauty truly is in the eye of the beholder tale. We see it all the time with eating disorders in both adults and young people. That it may not matter how often someone else tell you that you look beautiful, but until you start to truly see it and believe it yourself the words of others will not matter.
I hope I not only bring emotional realism to TTL and my following Creative Hearts stories, but that I also bring my love of fashion, art, beauty, color and romance to the worlds that I create. Â So write what you know? I say sure, but more importantly, write what you feel.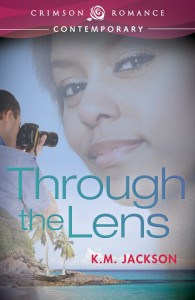 ---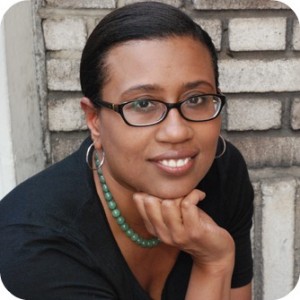 K.M. Jackson is a writer of women's fiction and contemporary romance. Her debut novel Through the Lens is on sale now. She lives in a suburb right outside of New York City with her husband, teen twins and precocious terrier named Jack. K.M. can be found on most days at her blog kwana.com and at any moment on Twitter talking about everything and nothing at all under the handle @kwanawrites