The Anti-Cougar
BY LAURIE GRAFF
At a dinner party with college friends – four couples: two straight, two gay, and me – I'm asked if I'm seeing anyone. When I tell them my last date was with a thirty year-old the room goes silent, as they silently do the math. Realizing my date was born the year we all graduated, the 'you-go-girl' reaction I half-expected is replaced with a tremulous… why? Because he asked me, I tell them, prompting another… why?
How preposterous for them to think their sons might date women the likes of me. For even worse than a date with a boy twenty-two years younger, is that I receive Instant Messages on an online dating site from a boy just twenty-two. It's way past your bedtime young man, I respond. And if you're not fast asleep in the next fifteen minutes, I want you to go out to your local bar and hookup with a woman your own age! Hey, there's robbing the cradle and then there's building it.
But younger men have been approaching me more and more the last two years. And they've been getting younger and younger.
If a man was less than five years my junior, I considered him a peer. Hovering around the ten-year younger mark seemed like a boy I may have babysat, growing up. It got tricky as the age difference climbed well into the double-digits; I could have been a teenage mom. However, when last summer I thought there might be actual potential in a thirty-five year old lawyer, I allowed Demi and Ashton's upcoming anniversary to blaze my trail. But the date was a dud, youth hardly a lure. Most of the younger men just younger versions of men I don't like.
But lately men to whom I could be a young (but legitimate) mom are consistently writing me online. Always confident, sometimes brazen, and unabashedly direct, this is different. This is something else.
What is this? I ask B., my twenty-something male friend. He laughs that I've never heard of a cougar, the term for an attractive older woman that young men find hot. If you give me hot I'll take it, but I'll tell you right now. Neither rich nor on the prowl for younger guys, I hardly think of myself as a cougar. Like the agent in Tootsie, I just field offers.
"So how old are your kids?" my date asks when we go out, surprised I don't have any. Thirty years old, "Stefan" still looks like one. But he's a bright man with a good job, a co-op in the city, and a gentleman. He called me up, picked out the place, and picked up the tab. I like that. Older or younger, I'm still the girl. And the oldest one he's ever asked out.
"So let's say your mother walked by now and saw you with me, would you get in trouble?" I ask. I also ask him the allure of dating a woman who could be his mom. A couple of compliments later, "Stefan" tells me that he likes older women for starters, he feels they have confidence, they don't play games and, of course, they are experienced and sexually attractive.
Of course.
While I aspire to be the object of someone's heart, not hookup, let me state the obvious. Whenever a much younger man writes to me, I assume he feels an older woman is just easy sex that will be easy to get out of. When I asked one hunky, but cocky thirty-one year old if that was so, he told me that sex (in general) is easy, but there's nothing to "get out of" if there's a mutual understanding that an actual relationship is a long shot, if not impossible. To enjoy the ride for however long it lasts. Then he emailed a topless photo of the fifty-nine year old neighbor he'd been shtuping the last six months, asking if I thought she had incredible breasts.
That man was not taking me on a date! Nor was the twenty-nine year old who wrote at two in the morning. In the middle of a short IM exchange I practically fell out of bed when I heard him ask, can you hear me? Unbeknownst to me, he clicked an A/V button. It was as if he was in my room, his onscreen image inching closer, face pushed up against my computer screen. His body lowered. I feared any second he was going to reach down, whip it out, and show me.
Now, over drinks at the bar in a nearby Mexican restaurant, "Stefan" and I, both originally from Queens, find we have similar backgrounds and family dynamics. Similar experiences with loss, we share a sensibility. We both attended SUNY schools. We're Jewish.
Later, at my apartment, he teases about how Jewish women store food when I take a Ziploc bag with assorted cookies out of the freezer. He sees a picture on the fridge of me with my brother. Taken when I was twenty-eight. He tells me I look cute; that I'm still cute. I think that girl should be on the date with him tonight. But she still is, in this one.
He kisses me. Tentative, we break away, look each other in the eye and giggle. Now we are both fifteen. Doing something that inherently feels taboo.
"It's part of what makes it so exciting," says "Stefan" of this unexpected moment.
"Well, I guess we are both adults," I say, each kiss pushing the envelope a little farther. How far? We would not know. But we did find out.
A few days later we speak for two hours when he calls, "Stefan" apologizing for not calling right away. He didn't know what to do. If he never called it could seem it was all about whether or not there was sex. And he is attracted to me and finds me interesting and so he is calling, but… then what?
He lays out his fears of being with a woman my age. Genuine and honest, "Stefan" is amazing. I tell him that. And I let him know he is right, we are on the same page, and we are friends. He tells me I'm the anti-cougar. Then he tells me he was disturbed that night, by two twenty-something girls at the table behind us. Do I remember them? Yes. I remember them laughing. And he says it was at us. Staring the whole time we were there.
"So who do you think they judged more harshly? You or me?
He thinks him, but unlike "Stefan" I was once a girl in my twenties, and I think me. But here's the thing. Who cares?
Age isn't something anyone gets to keep. It's only about how we keep ourselves as we approach our different ages. Those ages inform everything about us. And everything will always change. An authentic pairing between two people is a very personal thing. So if you ask me what goes on between a younger man and an older woman…? Well, I'll tell you. But first, how young, how old, who's the man, and who's the woman?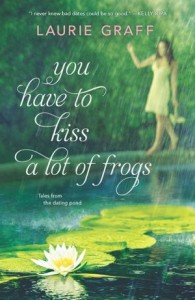 ---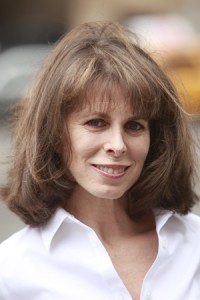 Laurie Graff, author of the bestselling You Have to Kiss a Lot of Frogs, currently reissued having received multiple printings here and abroad, has also written the novels Looking for Mr. Goodfrog and The Shiksa Syndrome. She is a contributor to the upcoming No Kidding (2013). Laurie lives in New York City.
Facebook:Â http://www.facebook.com/lauriegraffpage
Twitter: @LaurieGraff
Website:Â www.lauriegraff.com
Available on Amazon