Two Sisters. Two Minds. One Story.
BY MAY NICOLE ABBEY
Think of your favorite flower. Go ahead. Picture it in your mind.
There.  There you have it.  A small peek into your soul, your personality, your essential you.
My sister, Shawnette, was on a walk with her three children one day and she noticed some flowers growing wild and free in a flowerbed. Amazing. Not just the flowers, but the fact that she noticed anything at all while on a walk with three rugrats. She came home and promptly called me (we talk at least an hour a day… okay, more than that, but don't tell our husbands). "The African Daisy," she proudly announced, "Is my favorite flower." I asked her why. "It's natural and wild and rowdy," she explained.
"Tulips are my favorite," I answered back. And then I laughed as I thought of the reason why: they look perfect, prim and proper. Even when they're drooping, they're still perfect, like a beautiful woman who's given all she has and now lacks the strength to stand.
If you're thinking of writing as a team, think carefully. Because this is the formula that worked for us: be totally the same. And be totally different.
Growing up, just like our favorite flowers, we had different interests. I liked to sing in the choir, look nice and keep my nails clean. She wrestled, rode her bike too fast, worked in my cousin's pig farm and didn't think twice about her nails. And now, almost 1,000 miles away from each other, we've grown closer and closer. We love the same books, full of real, meaty characters who learn and grow, help and heal each other, goaded and urged along by a compelling storyline. You wouldn't believe how much we agree.
And you wouldn't believe how different we are from each other. Yin and Yang doesn't quite cut it. We are not exact opposites. We are two slices of bread, opposite each other, held together by a sticky delicious center called literature. We are the same, but we are different. Shawnette is structure and framework, the scaffolding. I am plaster and paint, the molding and the fabric.
We agree on the final picture, we just need both of us to achieve it. A spark, an idea begins, usually from Shawnette, and it is wrapped in trimming, usually by me. We build, we discuss, we disagree on very little. Something is missing, yes, but what? It is answered and we move on. Our conversations are injected with comments about our day, mild crises in our lives, disciplining our insane children, then back to the story again. One of us, we never know which, will say, "Yes, I've got it. I know just how to begin." And she does. The other reads, edits, deletes, embellishes until it's massaged out, sometimes painfully like childbirth. Until we step back and say, "It is finished." Or rather, "It'll do." (I think every writer knows a work is never really 'finished.')
If you want to write as one, perhaps you have to be one to some extent. We couldn't simply write together and nothing else. The process is a success because if we never published another work again, we'd still call each other every day and dissect and create together, be intimately involved in the other's lives. God not only gave me a sister and a best friend, he also gave me a business partner. And our phone bills prove it.
For a free ebook giveaway, go to May Nicole Abbey fan page on Facebook. Just read the blurb, leave a comment and "like" the page to be entered into a raffle for the ebook! Raffles will be held once a week starting on December 13, 2012 until December 27, 2012. One winner per week. Come and see us! Come read about Rachel, our university professor who, against all odds, learns to travel through time. Pirates, treasure and love are all waiting for you in "The Dreamer."
---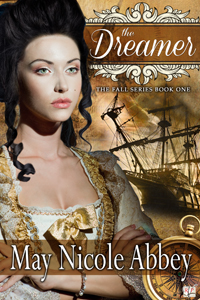 Caroline Gregory and Shawnette Nielson (aka May Nicole Abbey) are a sister writing team who, despite the incongruity of their very different characters, always seem to be on the same page when it comes to their passion for reading and writing. The difference in their personalities create a well rounded vision of what life should be; stable yet chaotic. College, construction, motherhood, wrestling, management experience, or traveling the world as a nanny, all fall under the experiences of this duo.
Twitter: @maynicoleabbey