Authors Give Back
BY STACEY JOY NETZEL
No, I'm not talking the traditional gift giving, but the gifts to charity giving. My friend Rhonda Hopkins has a series called Authors Give Back, where she gives authors a day on her blog to spotlight their favorite charity. Here's what she had to say:
"I'm very proud of the Authors Give Back series. It's been even more well received than I had hoped. Authors are some of the most generous people. I know this from all of those that have given me a hand and walked me through all the obstacles of writing and publishing – those that are still helping me, like the wonderful members of the WG2E Street Team. I knew that my fellow writers' generosity expanded beyond just helping other authors and I haven't been disappointed. They give of their time and resources to help out others and I enjoy helping them highlight their favorite charitable organizations."
Besides the wonderful authors Rhonda has already hosted, one of the most well-known cases I know of is Brenda Novak's online auction for diabetes research. Every year hundreds of authors and industry publishing professionals offer items to be bid upon, and thousands of dollars are raised.
On a smaller scale, in my family, we stopped exchanging gifts with my sisters and parents about five years ago, and instead donate the money we would've spent, and then share at dinner what charity we chose. Back when we were on a tighter budget and couldn't give as much in dollars, the kids and I would donate our time ringing the bell for the Salvation Army.
What I don't currently have in my life are wants, not needs, so last year I took the royalties from my Christmas title Dragonfly Dreams and donated 100% to family friends who needed help with medical bills. This year, December royalties for one of my Christmas books will be donated to the Happily Ever After Animal Sanctuary, Inc.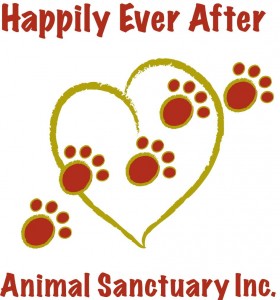 Their mission: Through the work of the sanctuary and its education, adoption, and spay/neuter programs, the mission of Happily Ever After is to provide both temporary and lifetime care to animals and bring about a time when all the companion animals born into this world will be guaranteed a quality of life in a loving home.
The heroine in my book Mistletoe Magic (Romancing Wisconsin Book 2) runs an animal rescue shelter just like Happily Ever After Animal Sanctuary, Inc., so the two are a perfect fit.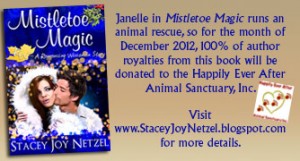 I'm a fan of any organization that rescues and/or helps animals. In fact, you can help donate food for animals at the following sites for FREE just by clicking daily: The Animal Rescue Site, FreeKibble Meow Trivia, FreeKibble Bow Wow Trivia. (Fun tip: on FreeKibble, if you hover over the dog or cat on the screen after you answer the trivia questions, they bark and meow their thanks to you. Makes me smile every time.)
If you'd like to donate to the Happily Ever After Animal Sanctuary, Inc., you can purchase a copy of Mistletoe Magic for yourself, or gift one to a fellow animal-lover, at any of the following locations: Amazon, BN, Apple, ARe, Kobo, SW
And my THANK YOU: book 1 in the Romancing Wisconsin series, Mistletoe Mischief, is FREE through the end of December. You can download your copy at any of these venues:Â Amazon, BN, Apple, ARe, Kobo, SW
Wishing you all a very Merry Christmas!
Stacey Joy Netzel
---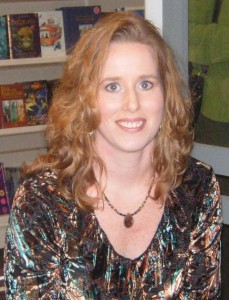 Award-winning author Stacey Joy Netzel fell in love with books at a young age, so for her the graduation to writing them was natural. An avid reader and fan of movies with a happily ever after, she is thrilled to call herself a full-time writer after 20 years as a travel agent. She writes romantic suspense, contemporary romance, and the occasional paranormal romance short story. Colorado is one of her favorite settings for her books, followed closely by Wisconsin and Italy.
She lives in her native Wisconsin with her husband and three children, a couple horses and some barn cats. In her limited free time she enjoys gardening, canning, and visiting her parents in Northeastern Wisconsin (Up North) at the family cabin on the lake.