Suspiciously Significant
BY LEXXIE COUPER
---
GIVEAWAY: Lexxie  is giving away a copy of  SUSPICIOUS WAY to one lucky commenter. Winner will be chosen through a random drawing. Please provide your email address if it's not linked to your account. Winner will be notified via eMail.
---
Romance has been in my head and heart for as long as I can remember. The first romance novel I read was a Silhouette Desire, way back in the 80s when I was just fifteen. It changed everything for me. Having existed on a diet consisting mainly of Stephen King, the romance novel given to me by my future sister-in-law opened my eyes to a world so wonderful I didn't know what to do.
I read and read and read. And imagined myself writing romance books just like I was reading. It was a dizzy time.
In my second year of university, I met a boy. This boy would, six years later, become my husband. We connected over a conversation about apple pie (of all things). One thing lead to another and, after about three hours of conversation, I mentioned I used to want to be a writer. His answer was, "Why 'used to'? Don't you like writing any more?"
That night, spurred on by the words of a boy who seemed capable of knowing my soul straight away, I pulled a new notebook from my notebook stack (I have a thing for stationary, I have to confess) and began to write a book. No, not just a book. The book. The first full-length novel I had ever written.
It took me a good year to pluck up the courage to actually do anything with it. Finally, after listening to me go on and on about wanting to walk into a bookshop and see one of my books there, the boy, now the man I love, threw up his hands and told me to do something about it. I'd written the book, let someone read the damn thing (I actually think those were his exact word). A few months later I found a romance writers group in my area, joined and on the first meeting, promptly handed over the bestest romance book ever written for their reading pleasure. The Design Prodigy.
Four weeks later, at the next meeting, they handed The Design Prodigy back to me, covered in red pen and told me it was terrible. Horrible. Atrocious. It cut me to the bone. I sat in my little kitchen (the one I was now sharing with my future husband) and sobbed my eyes out. I swore I would never write another word. Future husband hugged me and told me I was right to cry and sob and bawl and admit defeat. Writing was obviously too hard and beyond me, he said. I glared at him and told him to go away (I actually used far more inappropriate language). He laughed and said, "See, you do want to write another word." He was right of course. I did.
The next month's romance writers group meeting I went back, ready to learn what these other writers could teach me. They dissected The Design Prodigy chapter by chapter. I walked out of that meeting not just glad I'd written such an atrocious story (and it was. Really. I still have it in a drawer and every time I doubt I am evolving as a writer, I pull it out and laugh myself silly. Can you say cliché? Passive writing? Telling not showing? TSTL heroine?) but knowing I was going to write more.
Yes. More. That was the first real lesson I learnt about writing. You will write many a terrible book before or even amongst books you are so proud of it hurts. Not everything that sounds like gold in your head will read like it in print (or on an ereader screen).
In 2001 I put aside one entire Christmas school holiday period (the summer break Down Under that runs for five weeks) and wrote a new romance, a contemporary tale of high seas, a destitute heroine and an alpha male hero with green eyes to die for. I took it to the next writers group and, heart in throat, handed it over. This was the first full-length manuscript I'd shared with anyone since The Design Prodigy. To say I was nervous is an understatement. It took four months for everyone in the group to critique that book, titled Suspicious Ways. Four long, agonizing, nerve-wracking months. When it finally came back to me, there was red ink…but not a lot. There was work to be done, but it wasn't DOA like The Design Prodigy. This was good. This was wonderful. This was the beginning.
Suspicious Ways has gone through a lot of rewrites since then. As I learned my craft, it kept coming out of the drawer and I kept working on it. It evolved as I did.
Last year, after many years establishing myself as an erotic romance author in the romance reading world (see here for all the erotic romances I have released) I decided to do the unimaginable: I decided to send my editor at Samhain Publishing my non-erotic romance.
Non-erotic.
She loved it. She contracted it. She scheduled it for release. And on the 6th of November, Suspicious Ways will be available for all to see. It is, essentially, the book that told me I could. The book that told me I will.
A romance about a girl and the boy who pushes her to be everything she can and more.
I hope the romance reading world is ready for it. Â 🙂
---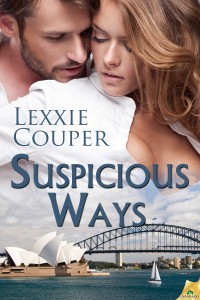 Lexxie Couper started writing when she was six and hasn't stopped since. She's not a deviant, but she does have a deviant's imagination and a desire to entertain readers with her words. Add the two together and you get erotic romances that can make you laugh, cry, shake with fear or tremble with desire. Sometimes all at once.
When she's not submerged in the worlds she creates, Lexxie's life revolves around her family, a husband who thinks she's insane, a indoor cat who likes to stalk shadows, and her daughters, who both utterly captured her heart and changed her life forever.