Firefighters As Romance Heroes
BY KAREN ERICKSON
As beginning writers, we're always told to write what we know. Of course, not all of us take that advice now, do we? For instance, from the time I was five till my early twenties, I knew firefighters. My dad was one. My, ahem, ex-husband was one. Heck, even my mother worked for CAL Fire when I was growing up (back then she was called the personnel clerk—now they'd call her human resources).
I was surrounded by firefighters, fire engines, chasing after fires (hey, Dad spotted smoke on his day off, off we'd go!), hanging out at fire stations and yet…when I started seriously writing, I didn't want to write about them. I was sitting on a goldmine and completely resistant to it!
Well, I finally came around. Fire Captain Christian Nelson from Jane's Gift, my first book with Entangled Publishing's Bliss line, isn't the first firefighter I've written about (that would be Brett, the hero from my novella Under His Umbrella). But he won't be my last. In fact, there's a certain arson investigator who appears at the very end of Jane's Gift who is going to get his story eventually if all goes as planned. And I have the perfect source for research: my dad, the retired battalion chief/arson investigator. Oh yeah…
Let's have a contest! One lucky winner will receive a $10 gift card Amazon or B&N gift card (winner's choice) and a 2013 Dance on Fire! Calendar (featuring the Sacramento Ballet and the Sacramento Area Firefighters), which benefits the Firefighters Burn Institute in Sacramento. Just answer this question in the comments:
Firefighters as romance heroes (or heroines!) – what do you think?
The contest held on Romance Divas is open today through Wednesday, November 14th. Please leave your email addy in your comment! I will contact the winner on Thursday, November 15th. Good luck!
ANOTHER CHANCE TO WIN
Enter Karen's contest for a chance to win the grand prize – a beautiful gift box necklace by JOL Creations  and a Kindle Paperwhite! Plus, follow Karen during her virtual book tour for Jane's Gift for chances to win prizes along the way. 
Click the Rafflecopter link to enter the book tour grand prize giveaway:Â Rafflecopter Giveaway
---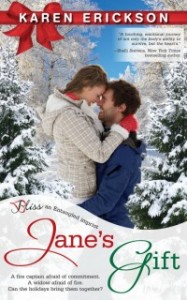 A fire captain afraid of commitment. A widow afraid of fire. Can the holidays bring them together?
A devastating house fire cost Jane Clark nearly everything: her husband, her confidence, and her looks, with the physical scars marbling her body. Now, two years later, she's living and healing back in her childhood hometown of Lone Pine Lake. The upcoming holidays are the perfect opportunity to bring some Christmas cheer into her young children's lives, starting with a visit to the firehouse, where her brother's best friend has offered to help quell their residual fears.
Lone Pine's resident playboy, fire captain Christian Nelson is happy with his single-guy lifestyle. He's an everyday local hero, so he's never wanting for attention around the holidays. But when Jane Clark shows up, Chris is immediately drawn to the beautiful widow–even though kids and commitment have never been his style.
Despite her brother's warnings about his friend's playboy status and dangerous occupation, Jane can't help but fall for the gorgeous fire captain. The holidays are a time of new beginnings, but can two scarred people find the strength to let go of their pasts to live in the present, when a lifetime together might be the sweetest gift of all? 
You can find JANE'S GIFT at Amazon | B&N | Kobo 
Where you can find Karen: Website | Facebook | Twitter | Goodreads | Pinterest
---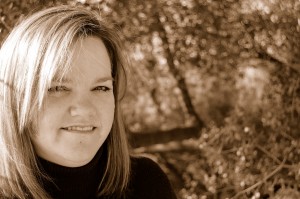 Bestselling romance author Karen Erickson writes what she loves to read — sexy contemporary romance and sensual historical romance. Digitally published since 2006, she currently writes for Samhain Publishing, Entangled Publishing's Bliss Imprint, Avon Impulse and Carina Press. A native Californian, she lives in the foothills below Yosemite with her husband and three children. She is represented by Jill Marshal of Marsal Lyon Literary Agency LLC.