Fairy Tales
By BONNIE DEE & MARIE TREANOR
Bonnie: First, we'd like to you thank you, Divas, for hosting us on your blog and giving us the opportunity to take about the series of adult fairytales we've co-authored.
Marie: Why fairytales? Well, everyone loves them. The whole romance genre is based around the idea of living happily ever after with a handsome prince (or princes) of one kind or another. And it seems to us that every woman, including ourselves, has a special place in our hearts for the stories we were told as children. Only we're not children; we have more adult expectations and understandings of emotions, trust, respect and, of course, sex.
Bonnie: So, for our first Fairytale Fantasy, Cinderella Unmasked, we explored what happens when Cinderella grows up a little and learns that "happily ever after" isn't as easy as a kiss and a walk up the aisle. Several years into her marriage, King Charming has abdicated the throne and run off with someone else, leaving Queen Ella to rule the kingdom. She's exhausted from the chore and relies heavily on her chief steward and best advisor, Sebastian. Ella is ready to live again and to experience the sexual pleasures Charming had never been able to give her. She decides to hold a masquerade ball where she'll indulge herself with a stranger. One ball turns into three with escalating levels of sexual exploits. But are these dalliances enough to satisfy her? And who is the masked man, or men, who've fulfilled her wildest sexual fantasies?
Marie: Demon Lover is a darker story, a combination of the Rumplestiltskin tale and the myth of Persephone. To an adult, the behavior of the king, who's supposedly the "happy ever after" of the poor miller's daughter, is greedy and unattractive in the extreme. How could anyone be happy with him? And then, what motive might Rumpletiltskin have had to help her spin the roomful of straw into gold? Why did he want her child?
Faced with the impossible task of spinning a room full of straw into gold by morning, Gwyneth despairs until a black-garbed figure appears and says he can solve her problem for a price. One kiss. For three nights the stakes escalate and Gwyneth's attraction to her mysterious visitor deepens. But when he claims the ultimate price of her child, she realizes she's made a deal with the king of the underworld and Gwyneth journeys to the land below and makes a new bargain to free herself and her daughter.
Bonnie: In Awakening Beauty, our Beauty fell asleep not for a hundred years but a thousand! And woke up not to the kiss of a handsome and romantic prince but to the shake of a decidedly unromantic and down-to-earth workaholic "prince of industry" in something very like our modern, egalitarian world. The hero, Joel Thorne feels as if he's been sleepwalking through life. Wealth and success are his; now he's at a crossroads. During a mountain hike to clear his head, he discovers a castle overgrown with thorns and, inside, a beautiful sleeping woman. When Princess Aurora opens her eyes, Joel's face is imprinted on her heart—then she's swamped with grief and loss. An evil fairy tried to take her pure blood to gain power and she's been erased from history and from the memories of all she loved. What future does she face?
Marie: Sex and the Single Princess is our latest release. It's based on a less familiar fairytale about female empowerment, The Twelve Dancing Princesses. In the tale, royal sisters escape their fathers' autocratic rule to have nightly adventures with handsome elf princes. The original story has a poor soldier following the girls and reporting back to the king, eventually winning the hand of one of the young ladies. Our tale has a little different twist.
Bonnie: Court cobbler Will is going to lose his job if the shoes he creates for the princesses keep wearing out so quickly. Incensed at the destruction of his handcrafted works of art and fearful of losing his position, he's also crushing hard on Princess Iris, a woman as untouchable as the stars for a lowly shoemaker.
Poor Iris just wants to have some fun before being entering a loveless marriage of convenience. She doesn't expect her and her sisters' nightly dancing with elf princes in a magical kingdom to last forever. Under a lively, fun-loving veneer, she's already mourning her lost youth and it's as if only Will's serious eyes can see the true self she keeps hidden. Without giving too much of the story away, there's danger and conspiracy afoot as well as a very tender and powerfully sexual romance between two polar opposites.
Marie: These stories are the result of our collaboration, but we thought we'd talk a little about how our joint writing process works. When Bonnie first suggested the collaboration, I was decidedly nervous because I've always worked alone – I don't have crit partners or beta readers, and the first person who usually reads my work is the editor I submit it to. I was a little worried Bonnie and I would want to take the story different ways or that we'd annoy each other with criticisms the other didn't think were valid.
But I'm happy to say none of that actually happened! In fact, rather to my surprise, collaborating helped the creative process – I found it both novel and inspiring to discuss characters and plot developments with someone who cared for them as much as I did. And I found any "criticism" was not only valid but a necessary part of our joint effort to make our story as good as it could be. In fact, I've learned a lot from the way Bonnie works as well as the way she writes – she's a very experienced as well as an extremely talented writer.
So, how do we write together? In each case, Bonnie has come up with the basic idea and written the opening pages. We bat various old and new ideas back and forward between us to see which work best for both of us, and the story begins to grow like magic J. We take it in turns, writing a chapter or two, either until we run out of steam or until it seems a natural place to stop, and then send it to the other, who goes over what's just been written, gives her views on it and writes the next section.
Of course, some stories have flowed faster than others, and we've had to fit writing them around our own solo commitments, but I admit I'm really proud of the way they've turned out. I like to think that far from taking the magic out of these well-loved tales, we've added a new layer of our own.
Bonnie: Marie always has an innovative idea for working the plot past a sticking point. It's a great relief to have another brain hammering out the details of a story. Together you can throw out dozens of ideas, no matter how outlandish, and see what works. Sometimes a direction you would never have thought to take the story on your own is exactly the right thing to do. And it's such a pleasure to receive the document back in your inbox and simply be able to read a chapter that seems to have spun out all on its own. I'm able to enjoy it as a reader, thinking "oh, so that's why she's like that" or "what an exciting action scene I wonder what happens next." Then I remember I have work to do and I'm usually inspired to drop whatever else I've been working on and carry on with "our" story.
My feeling is, if I'm very attached to an idea, I'd better write it as a solo project. But once I've begun collaboration, I must give up control and be willing to let things evolve—the secret to any relationship romantic or otherwise. 🙂
Marie: Many readers have told us how much they've enjoyed our fairytale fantasies and eagerly await something new from us. We hope Sex and the Single Princess will entertain. Thanks again, Divas for hosting us at your blog today.
All of the Fairytale Fantasies are available for direct sale at Samhain Publishing and at many other distributors.
---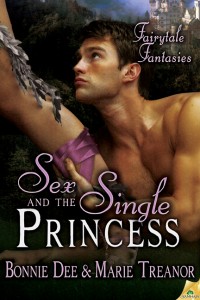 Bonnie Dee is a multi-published romance writer. She began telling stories as a child as the designated ghost tale teller at sleepovers, guaranteed to frighten and thrill with macabre tales. She still has a story printed on yellow legal paper in second grade about a ghost, a witch and a talking cat. Writing childish stories for her own pleasure led to majoring in English at college. She dreamed of writing a novel but didn't have the necessary focus at that time in her life. It was only in 2000 that she resumed writing. Bonnie enjoys reading stories about people damaged by life who find healing with a like-minded soul. When she couldn't find enough books to suit her taste, she began to write them. You can see her back list of titles at http://bonniedee.com, or join her Yahoo group for updates on new releases, http://groups.yahoo.com/group/bonniedee
You can also find her on Facebook and Twitter.
Marie Treanor lives in Scotland with her eccentric husband and three much-too-smart children. Having grown bored with city life, she resides these days in a picturesque village by the sea where she is lucky enough to enjoy herself avoiding housework and writing sensual stories of paranormal romance and fantasy.
Marie is an award-winning author who has published well over twenty books, via epublishers, traditional publishers and herself. Catch up with her using the links below – she loves to connect with readers!
 Website: http://www.marietreanor.com
Facebook:Â http://www.facebook.com/pages/Marie-Treanor-Paranormal-Romance/105866982782360
Newsletter:Â http://groups.yahoo.com/group/marietreanornewsletter
Blog: Marie Treanor's Romantic Theme Party: http://romanticthemeparty.blogspot.com