Changing Genres
By JAMIE QUAID
*GIVEAWAY: Leave a comment  and include your email to  be eligible to win an autographed copy of BOYFRIEND FROM HELL. One random winner will be chosen and contacted . *
Changing genres from Cinderella to vampires might be a stretch for some writers, but my journey from romance to urban fantasy was probably closer to Beauty and the Beast to Alpha Female. If one isn't able to conform to genre standards, it's always best to disguise the fact!
So if you're thinking about making a switch, consider your strengths. Do you write strong heroines and alpha males? They play right into fantasy genres. If you need the male/female dynamic and sex to inspire you, you might want to go for paranormal romance. I've been writing romance for thirty years, and I don't think there's a couple or a position I haven't done, so I was ready to go with a different strength—characterization and plot.
In fantasy, I'm not limited to the hero/heroine carrying all the scenes. I can create any number of characters and give them all starring roles. I can have invisible teens save the day and not wait around for the hero. I can have women with tattoo problems that involve snakes and not propriety. My heroine can kill her boyfriend and cry at his funeral, then torment an alpha cop the next day. Staying safe from bad guys and still acing the law finals replaces scenes leading up to "does he love me?"
One of the factors working for me in changing genres is that I've never been fond of the romance Alpha Male. Most of them would probably be arrested in real life, and the historical heroine in particular doesn't have a lot of defense against him. In urban fantasy, however, I can actually make the alphas evil and have my heroine kick their asses! Genre shifting can relieve a lot of frustration by removing the confining limits of the old market niche.
Even though I've written every type of heroine conceivable, I've always preferred the strong ones. In historical romance, strong heroines have limited outlets, but with urban fantasy, writers have free rein to unleash their imaginations. In the case of Tina in BOYFRIEND FROM HELL, I've taken my strong heroines, rolled them into one angry law student rebelling against injustice, and given the result weird superpowers. The dynamics aren't all that different from my historical heroine learning to stand on her own two feet, I'm just not as confined by reality.
The one major drawback to changing genres is the marketing aspect. Reader expectation is not to be trifled with. If your readers expect romance, then it's best not to disappoint them with a dead hero! Although my Saturn's Daughters series might include a kiss or two, plus a slew of alpha males, there is no romance. Rather than mislead my audience, I created Jamie Quaid. Which, of course, requires a new website, Facebook, and Twitter page. It's been entertaining having my two "personalities" talk to each other online, but it's twice the work.
I do hope you enjoy the result of my efforts to bring my kickass heroines to a new genre!
---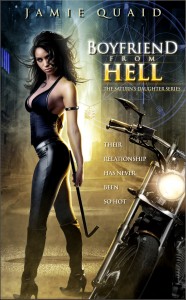 As a fan of urban fantasy and kick-ass heroines, I've often wondered why we're drawn to fangs and fur when there are so many grim realities our heroines can conquer. While pondering the possibilities of fighting evil in a real world, I created Justine Clancy, a woman who has fought the bullies of the world all her life, without realizing she was pre-destined to be an arbiter of justice—until she accidentally sends her lying boyfriend to hell. And the devil handsomely rewards her.
But along with power must come knowledge—and for Tina, that includes learning not only the difference between good and evil, but all the shades of gray in between. Because sending the wrong people to the Underworld could have grave consequences, literally. But not doing her job can hurt the people who have taken her in and accepted her. For the first time in her life, she has a home, but it's going to require a whole lot of housecleaning to drive out the demons hiding there.