Double Advantage
By KATIE PORTER
There is something freeing about sitting down and telling yourself, "We're writing this for fun. Who knows if it'll go anywhere, but we're going to have a grand time at it." No expectations. No weight around your neck about how you're going to feel during revisions or goodness, what happens when you send it out fifty times trying to entice someone to love your book the way you do.
Carrie Lofty and I were at a double advantage when we sat down to write Double Down and the other books that we have since written as Katie Porter, our co-writing name. We were operating from a state of faith in each other's writing, since we were both multi-published, though in historical romance. Best of all, we already had someone else who loved our shared ideas like cupcakes and sprinkles—the built in advantage of a co-writer.
It got even better. When we decided to write the "Vegas Top Guns" series of erotic romances about fighter pilots stationed outside Las Vegas, Nevada, we just wanted to have fun. Neither of us cared about tropes or markets or which publisher we wanted to end up at. This project? For us and us alone. We'd talked about a buttoned-down fighter pilot who was holding a boat load of shame about his particular fetish, and his adorable waitress who needed an infusion of backbone, so we wanted to make them real. We'd figured out exactly how to give Major Ryan Haverty and Cassandra Whitman what they needed. Why did we need to think past that?
Carrie and I were able to write the story exactly the way it needed. Not thinking about publishers or editors meant that we could do whatever we wanted, which included playing around with a kink that was seldom seen. Roleplaying fit Ryan and Cass perfectly. In turn, that meant it was right for the story we needed to tell.
I don't think this collaboration would've happened if Carrie or I had bit our nails, wondering about the results. It's different! Our creative freedom led to an erotic romance built around a novel theme. The second book in the "Vegas Top Guns" series, Inside Bet, is even more difficult to explain. Captain Jon Carlisle and Heather Morris play power games, where sexual dares are their turn-ons. That includes the use of toys and breath play. The last in the trio is Hold 'Em, where Captain Michael Templeton and Captain Leah Girardi find their true selves through femdom.
So very not New York publisher friendly.
But Carrie and I believe the books work. They're right. They're the stories that needed to be told to make those characters happy. And the very process of writing them was such a blast. It was confirmation that we were doing the right thing.
Even better? We did find a home for our slightly unconventional and yet still-very romance-at-heart books! Sasha Knight at Samhain Publishing is our biggest, best champion and the woman who's offered us a safe haven. She and Samhain are exactly what we would have wanted had we bothered to articulate our hopes for the future of Katie Porter.
Now we hope readers will love them as much as we do. (Which is an entirely new set of worries we never expected to have!)
---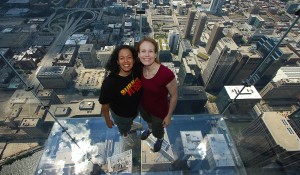 KATIE PORTER is the writing team of Carrie Lofty and Lorelie Brown, who've been friends and critique partners for more than five years. Both are multi-published in several romance genres. Carrie has an MA in history, while Lorelie is a US Army veteran. Generally a high-strung masochist, Carrie loves running and weight training, but she has no fear of gross things like dissecting formaldehyde sharks. Her two girls are not appreciative. Lorelie, a laid-back sadist, would rather grin maniacally when Carrie works out. Her three boys love how she screams like a little girl around spiders.
Facebook:Â https://www.facebook.com/samhainpublishingltd
Romance Book Club:Â https://www.facebook.com/pages/Samhain-Romance-Book-Club/154453094690451
Samhain Page:Â http://www.samhainpublishing.com/