What is "Emotional Punch" and Why Do You Need it in Your Romance Novel? Part 2
By LISA WHITEFERN
To intensify emotional punch you must steadily increase the emotional problems of your protagonists in a story.
Think about your current heroine and hero. Are they troubled by internal doubts? Do they face self image problems? Do they have reasons for feeling they don't deserve unconditional love?
 My story is a ménage so we have two heroes. The back-story wound for the more Alpha of my heroes is that when he was a tiny boy his mother often left him to go on adventure holidays. She was an adrenaline junkie who died in a sky diving accident when he was seven. So he has some bitterness and abandonment issues.  My other hero has a scar on his thigh and the reasons for this are left a mystery that I hope has some emotional punch on reveal.
In order to achieve emotional punch you need to drop you guard when writing about your character's backstory wounds or any other emotional event in your novel. Before you can share the characters emotions you really need to be in touch with your own most intense emotions and feelings. Analyze your own most painful memories.
Australian romance writer Valerie Prav even suggests that if you are a writer who has never visited a professional counselor, that you do so now in order to have a deeper understanding of your own emotions so that you can understand your hero, heroines and even your villain's emotions in more depth.
New York agent Donald Maass gives similar advice when he comments that "Novels that change lives do so because their authors are willing to draw upon their deepest selves without flinching. These authors hold nothing back making their novels the deepest possible expression of their own experience and beliefs."
To ensure your story is emotion based you need to look at the role each scene or chapter is playing in the development of the romance.
The emotional structure of a romance might go through the following steps
Step 1—The heroine and hero either have a first meeting in which they feel strong attraction for each other coupled with the warning signs of conflict or the hero and heroine are reunited and back-story revealing emotional conflict from their past is carefully woven in.
Step 2—-The hero and heroine begin to feel  admiration for each other but this is complicated by conflict.  Or in the case of a reunion story – memories of the past rear their heads which  increases emotional tension. In a mainstream romance sexual tension will be on the page, but they will not be making love yet because of the conflict. In contrast, in an erotic or very sexy romance the hero and heroine may move quickly to sexual intimacy, but they will both probably be trying to keep their emotions under wraps. The heroine may tell herself that she is capable of having casual sex like a man without emotion as she shies away from what is really true love.
Step 3—-Hero and heroine meet several more times and one or both of them fight their desires and/or their feelings for each other because of both internal and external conflicts.
Step 4—-They are thrown together repeatedly by the plot, but conflict grows between them. In a sweeter romance they may fight their sexual desire for each other, in a sexy romance they fight their emotions and feelings.
Step 5—-In a sweeter romance this may be the stage where the couple finally make love and lovemaking is later regretted when the conflict seems stronger than before. In a sensual, spicey or erotic romance this maybe a point when the conflict grows and becomes so great that they do not make love for awhile, as all focus is now on the conflict. The Grey moment may occur. This is the moment when the couple confront some important issue that seems like the main crisis but they pass through this crisis and it is not as black and devastating as The Black Moment coming up.
Step 6—-The hero may declare his love but the heroine suspects his motives.
Step 7—-The Black Moment.  Your story should have a heart wrenching black moment. How do you go about creating that?
AÂ Â few tips on creating a heart wrenching black moment from Donald Maas include making one of your protagonists face his or her greatest fear. Working out what your protagonist would never sacrifice and forcing him or her to sacrifice it, and making your protagonist do something the reader would think they would never do. Using one of these moments can lend tremendous emotional power to your black moment.
Step 8—-Because of the black moment a future together seems impossible. Decisions are made in an attempt to solve the conflict.
Step 9—-The decisions made prove to be the right one. All loose ends are tied up and the couple are free at last to make a commitment to each other.
Throughout your novel you may want to concentrate on one consistent emotional theme. Make sure the emotions your character feels are consistent. They may go on a roller coaster ride of emotions but you still need a dominant theme for you book to be a coherent read. You need to decide on the main emotion you want your readers to feel in each scene and also the main emotion you want your reader to feel reading your book. There should be an emotional theme to your story overall.
Readers read romance for the emotional journey. The more complicated your plot is the more you run the risk of losing the emotional theme running through the book so you must always remember to come back to that theme. Your heroine and hero relationship must be central to everything and more important than other details.
Kate Walker comments that in a romance you have to concentrate on a central relations and because of this of you need to make sure that what you are describing is a very special, deep, and heartfelt sort of emotion. My own novel Wicked Wonderland is a ménage but it is an erotic romance and so I took care to make sure that I portrayed a once in a lifetime love of the sort every romance should be. In the fantasy world I created the fae live in ménage relationships with their fated mates. The three protagonists in my novel are half human and half fae and so they are unsure if a fated threesome even exists for them.
The romance relationship in your novel should have real depth and real value. The romance should be so much more than a crush.  They need to be someone of real value to one another, someone you would want to spend your life with. Someone without whom the other protagonist or in the case of a ménage protagonists would feel hollow and empty if they didn't have them in their lives. The relationship needs to be the ultimate in true love.
Think back over books you've read in the past –the ones you've enjoyed most and the ones that made your heart beat faster or made your eyes sting with tears. What emotions did they awaken in you? What is it about the story that appealed to you the most? What did you remember the most? It was probably an emotional moment.
For example in Wuthering Heights Heathcliffe's outrage  at the way he'd been treated as an outcast. The passion and desperation between him and Cathy when Cathy is torn apart by misery because she didn't follow her heart.
Personally I also feel emotional punch listening to the lyrics of Eminem's songs. And considering how well they sell I think a lot of other people must feel that emotional punch too. Eminem's fury at having been abandoned by his deadbeat Dad, and his angst about being brought up by a poor drug addicted mother. His anger about being bullied as a child and very poor as a young adult. His passionate love for his daughter and his fury at his ex-wife.
Nora Robert's stories often pack a powerful emotional punch. For example in Nora Robert's book Birthright thirty year old Callie Dunbrook finds out that she she was kidnapped from her stroller when she was only three months old.
In Public Secrets Emma McAvoy gets whisked out of poverty and into the glamour of rock-music at the age of 3, But when her baby half brother is tragically kidnapped, Emma's new world changes again, and she must live with the guilt and the uneasy sense that she knows more than she remembers.
Think about novels, songs, and movies that really made you feel. This should help you concentrate on putting emotional punch into your own stories.
Then  give your characters' wounds, make your black moments really big ones, and be utterly ruthless to your characters then pull them out of that black hole with a happy ending that arises realistically from the choices your characters made.  That is what emotional punch is all about.
---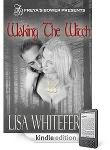 LISA WHITEFERN had her first short story published in the New Zealand Herald at age 10. She has a Masters Degree (hons) in English Literature and is a member of Romance Writers of New Zealand. She has had several short stories published and has a novella Waking the Witch available from Freya's Bower. Follow Lisa on Twitter @LisaWhitefern
You can buy her paranormal erotic romance novella Waking the Witch from the Freya's Bower website. Or you can buy it for kindle from Amazon.com
Lisa's erotic fantasy romance novel Wicked Wonderland has a release date of December 4th 2012 from Samhain Publishing with trade paperback to follow at the end of 2013.