Author of the Month, Rachel Kramer Bussel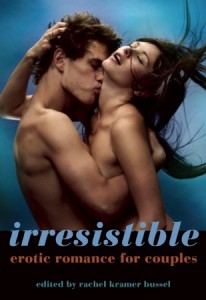 This Irresistible read features stories of couples turning their deepest fantasies into reality for uninhibited and imaginative sex. You'll delight in discovering all the exciting erotic possibilities, and ways of getting and staying turned on. It all starts with a little sexting in A.M. Hartnet's sizzling "Safe fro Work" office tryst and Cole Riley's moving "Same As It Ever Was" shows that makeup sex can be the start of something new and better. Dirty talk leads to lustful surprises and inspiration for the neighbors in "The Mitzvah" by Tiffany Reisz. Editor Rachel Kramer Bussel notes that the lovers in this daringly romantic anthology are "able to open up in the ways they do is precisely because they have another person to rely on, coax them, challenge them, tease them and seduce them into traveling down a new sexual path. Whether that means outdoor sex, kink, a trip to a strip club or a very sensual massage, we get to see how the layers of trust that have been built up get used to stoke the fire that burns between them."

You're an author, editor, blogger and event organizer—but what's fascinating is that you have a love of cupcakes and have created a blog devoted to them. How did this come about?
Thank you! Well, I started Cupcakes Take the Cake back in December 2004, before cupcakes were quite as big as they are now. At the time, I had a personal blog (which I still write, Lusty Lady), and a cupcake blog seemed like fun. Little did I know! What started on a whim grown into a site with over 15,000 posts, and has become a part-time job that's led me to meet some amazing people and eat cupcakes all over, including 17 states and 3 countries, so far! It's the perfect antidote to writing and I wake up each morning and am instantly cheered up by all the amazing cupcakes people are creating. We're planning a cupcake cruise to Bermuda this summer – more info on that is at http://www.cupcakecruise.com – I blog every day and it's always fun and delightful to see what people have cooked up.
How many books did you write before you sold?
I've yet to write an entire book, but I had sold a few short stories before being asked to co-edit an anthology back in, I believe, 2002, which led to editing my own anthologies, which I've been doing for the past 7 years. Irresistible is my 43rd anthology, and I love the process because it's a break from writing and gives me the chance to connect with so many other writers.
Can you tell us a little bit your current release? How did you come up with the idea?
Irresistible: Erotic Romance for Couples is a collection of short stories about a range of types of couples and how they relate to each other, sexually and otherwise. For those who like longer short stories, this has them, and a lot of emotional depth along with very hot sex. I'm always looking for new ideas for anthologies, and I find that with erotica a lot of times authors write stories about people who've just met; it makes sense, because there's instant drama there. But there's also plenty of drama within relationships, whether long-term or not, and I wanted to explore that; how does sex change over time? How do couples get over ruts? How does their passion change and grow? What do they learn about themselves and each other? This book looks at couples dealing with military life, campaign politics, makeup sex, overcoming fears, sexual frustration, along with dirty talk, office sex, an erotic massage, sharing fantasies, and friends who make a pact to get together romantically if they're still single by a certain age (they are). Delilah Night writes in "Renewal" a line that I adore: "That touch sent a long-missing ripple through my body. I hesitated, hoping he'd remember what I love." They explore real-life issues that real couples and real people face, and show that sex can be healing and empowering, and the authors take the time to really dig in to that notion and explore it fully. "Repaint the Night" by Janine Ashbless is one of the best erotic stories I've ever read, and it deals with a woman who's afraid to go out at night, even to the mailbox or the bus, after she'd been mugged, but ten years later she does, along with her partner. It's not always wham-bam-thank-you-ma'am or about fulfilling an outrageous fantasy all by yourself, so instead of, say, the protagonist in my story going to a strip club by herself, she takes her husband. It's about couples working through their jealousy and desires and fears as a team. So this is a great Valentine's Day book to read alone or with a lover. You can read excerpts at http://irresistibleanthology.com/2011/12/26/16-sexy-story-excerpts-from-irresistible-erotic-romance-for-couples/
Being an erotic author, do you have the support of your family and with friends? Or have you faced any negativity about your choice in writing genre?
For the most part, almost all my family are supportive, as are my friends. They don't all read my work but they know what I do, and I think that's a fine tradeoff. While I've received the occasional hate mail, by and large my career has been helped by writing erotica and nonfiction about sex. If it has closed some professional doors, it's opened infinitely more. Sometimes I won't tell someone about my erotica and they find out and generally are super supportive; people feel they can tell me things about their personal life because of what I do, and that has led to countless fascinating conversations, which sometimes lead to topics to write about in fiction or nonfiction.
How do you balance writing and family? What are some things you do to get your writing back on track?
I'm single, so my biggest challenge is balancing writing and my social life. Recently, I became self-employed, so that's become an extra challenge because I need to conserve my time all the more. I try to set aside more time than I might actually need for my fiction because it almost always takes longer than planned. I usually write in public at cafes because it keeps me more accountable and also gives me things and people to look at to prod my writing when it's going slowly. I also visit photo and fashion blogs for inspiration; sometimes when I zoom in on a detail, whether a piece of clothing or a certain aspect of someone's appearance, I can get back to what I'm trying to say.
Do you have a daily ritual to get you in the "writing zone"?
I wish I did, and am trying to cultivate one. I get my best ideas in the morning and that is when I try to throw myself into writing, ideally first thing when I wake up, before I've even left my bed, before the world has fully invaded my mind. Usually I go to my local coffee shop, drink a very large coffee, do some cupcake blogging and emailing and then dive right in to either editing other people's stories or working on one of my own. When I write, I tend to write very fast, but it's getting to that point that's the hardest part.
What do you like to do on your spare time outside of writing? How do you stay inspired?
I love people watching and talking to people and traveling. I travel a lot, which helps me stay out of a rut and explore and learn, and I'm almost always inspired when I visit a new place. Maybe I get a setting for a story or a scenario; I think the act of going somewhere new rattles something in my brain and forces me to be more observant, because everything seems new, even if it's just Starbucks.
What is the most difficult part of your writing journey? What is the most exciting part?
This might be a total cliché, but the writing is the hardest part. I love and hate writing about equally passionately, and I think for me I love the idea stage the most, when a brainstorm hits and I think, "That would be a great plot for a story." Even a great plot doesn't write itself and I got lucky in the first few years I was writing erotica because it seemed so easy; now I often struggle more, even when I'm 75% of the way through a piece. One day I sat for 10 hours (with a few breaks for stretching and food) at a café and finally at the end got up and had a 4,000-word story completed. Sometimes that's what it takes. The most exciting part is still getting a huge package of my books in the mail. That is always such a thrill, even when I'm expecting them. It feels like such a reward for all my hard work and I love getting to touch and savor the books for the first time, before anyone else.
Will you be making any New Year's resolutions for 2012?
No, because I get too disappointed with myself when I don't live up to them!
Tell us one thing or habit that you have that no one knows!
Hmm…I'm such an over-sharer that that's a tough one! I know lots of people think I'm a big baker because of my cupcake blog but I don't bake and can barely cook, though I do plan to try to get a few dishes into my cooking repertoire this year. Baking I will leave to the experts for the most part; I'm much better at eating cupcakes!
Any last words for your readers?
I've been reading romance since I was a teenager and am honored to be here. Happy 2012!
What should we expect from you in the future?
I've got a lot more erotica coming at you, with Curvy Girls: Erotica for Women out from Seal Press this spring, plus Going Down: Oral Sex Stories and Suite Encounters: Hotel Sex Stories out from Cleis Press, along with a separate hotel erotica ebook I'm doing with Cleis. I'm also finishing up my first solo short story collection, which will contain a mix of favorites I've written over the last decade and a lot of new stories. I'm having fun with that one. And I'm hoping to have some new calls for submissions for anthologies up soon!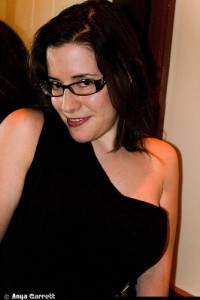 Rachel Kramer Bussel is a New York-based author, editor, blogger and event organizer. She's edited over 40 anthologies, including Women in Lust, Passion: Erotic Romance for Women, Obsessed, Fast Girls, Orgasmic and the nonfiction Best Sex Writing series. She writes a sex column for SexIs Magazine and writes widely about sex, dating, books and pop culture. Her work has been published in over 100 anthologies, including Susie Bright's X: The Erotic Treasury and Best American Erotica 2004 and 2006, Zane's Succulent: Chocolate Flava II, and she has written for The Fix, The Frisky, GOOD, Mediabistro, Penthouse, The Root, Salon, Time Out New York, The Village Voice, xoJane, Zink and other publications. For five years, she hosted In The Flesh Reading Series. She blogs at Lusty Lady (http://lustylady.blogspot.com) and Cupcakes Take the Cake (http://cupcakestakethecake.blogspot.com), and she has appeared on The Martha Stewart Show, The Gayle King Show and Throwdown with Bobby Flay.