Author of the Month, Gemma Halliday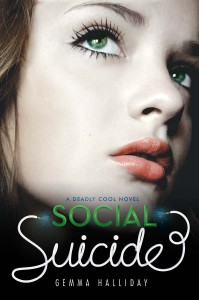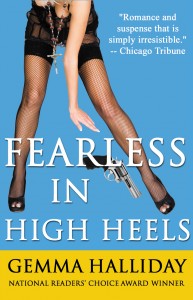 Gemma is giving away an print ARC of SOCIAL SUICIDE. To get your name in the drawing, all you have to do is leave a comment. A winner will be chosen at random and will be notifiied via email. Please leave an email addy if it is not available on your profile.

You're best known for your SPYING IN HIGH HEELS mystery series and now you've added Young Adult fiction to your resume. How difficult was it to transition between genres?
Actually, it wasn't that difficult.  I just had to tap into my immature side (which was embarrassingly easy) and away it went.  My teen books are a lot like my adult mysteries – the tone is very similar –  it's just that the subject matter and content is more geared to a younger audience.
Did you have any concerns when you worked on your first teen mystery series or did it come naturally for you? Did you have help with the teen lingo and mental angst in your storytelling?
My biggest concern was sounding "fake teen" or using lingo that real teens don't actually use anymore.  Things change so fast in the teen world!  Luckily, my son is a tween himself, so he helped me out whenever I had lingo questions.
How many books did you write before you sold?
I wrote five books before number six finally sold for me.
Can you tell us a little bit your current release? How did you come up with the idea?
I'm totally thrilled about my new release (coming out December 1st at Barnes & Noble and January 1st everywhere else)!  It's the sixth installment in my High Heels Mysteries, titled FEARLESS IN HIGH HEELS.  I had planned on ending this series with book #5, so it's been a few years since I've had a chance to revisit these characters.  Writing about them again was so much fun, that I plan to continue the series indefinitely now.
Here's a short blurb about the book:
FEARLESS IN HIGH HEELS
Morning sickness sucks. Which is why fashion designer turned amateur sleuth Maddie Springer has spent the last six weeks being a couch potato and Moonlight movie devotee. But when Maddie's best friends finally convince her to venture out, Maddie stumbles on a dead body of a girl who has been bitten on the neck, and life imitates art in the most deadliest of ways. Now Maddie is smack in the middle of a murder investigation involving a deadly dance club and a coven of Hollywood "vampires". Not to mention navigating the world of baby showers, diaper genies and Lamaze classes with her LAPD Homicide detective husband who would rather his pregnant wife not continue popping up in his murder investigation. Between the hormones, the homicides, and a flurry of fangs, Maddie and her gang work to track down the deadly truth… before the killer bites again!
Out of an ocean of published authors, you've done very well for yourself in the self pub market. How does it feel to be a sort of leader in this new publishing direction? 
I'm not sure if I'm a leader, since there are so many authors I look up to who are doing very well also.  But it does feel great to have other publishing options.  I'm actually doing a series of blog posts at Killer Fiction this month on self-publishing, my numbers, and what's worked for me.  So if anyone else out here is thinking of giving it a try, please stop by with questions in hand!
Barnes and Noble has been a big supporter of your writing endeavors. How does it feel to write a sequel to your popular SPYING IN HIGH HEELS series and being asked to release exclusively through them for the first month? That's a big honor, so what was your reaction to this?
I'll admit, I was actually a little nervous at first. Lol!  I know a lot of my readers are Kindle based, so I was worried about what their reaction to having to wait a month longer to get the book might be.  But so far, it's been fine.  And I've actually heard from quite a few people who plan to download the free Nook app to their computer for the first time in order to get the book when it first release.  So I hope this means lots of extra business for Barnes & Noble, too!  They've been wonderfully supportive of me, and I really think they have excellent system in place for self-publishers with their PubIt! program.
What personal goals have you made for yourself this year?
Oh, I have a lot of them for the new year, but my top three are:
1) Slow down!  I've been writing at a break-neck speed for the past two years and am ready to take it more slowly and really enjoy writing again, as opposed to worrying about the deadlines.
2) Read more!  I think I've managed to read one book all year other than my own.  So I really need to carve out some time to read again.
3) Self-publish more!  Even from the time I first started self-publishing (18 months ago) to now, technology has gone so fast that some of my methods are outdated.  I definitely want to put more focus into this aspect of my career in the near future.
Tell us one thing or habit that you have that no one knows! 
I keep chocolate candy in my desk drawer.  Shhh, don't tell my kids!
What should we expect from you in the future?
I have a new series debuting in hardcover called PLAY NICE, March 14th, that I am super excited about.  We're fielding some film offers for this project now, so I hope to have more good news to share on that front as the release date gets closer.
I also have the second book in my young adult series, SOCIAL SUICIDE, coming out in April 2012, which I'm thrilled about as my oldest son insisted I write him into it as a character.  Ten points to anyone who can pick him out!  😉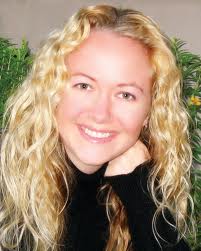 Gemma had a hard time figuring out what she wanted to be when she grew up. She worked as a film and television actress, a teddy bear importer, a department store administrator, a preschool teacher, a temporary tattoo artist, and a 900 number psychic, before finally selling her first book, Spying in High Heels, in 2005 and deciding to be a writer.
Since then, Gemma has written several mystery novels and been the recipient of numerous awards, including a National Reader's Choice award and three RITA nominations.
Gemma now makes her home in the San Francisco Bay area where she is hard at work on her next book.
To learn more about Gemma, visit her at: