Author of the Month, Kristen Painter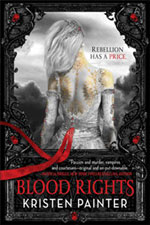 Rebellion has a price…
Born into a life of secrets and service, Chrysabelle's body bears the telltale marks of a comarré — a special race of humans bred to feed vampire nobility. When her patron is murdered, she becomes the prime suspect, which sends her running into the mortal world…and into the arms of Malkolm, an outcast vampire cursed to kill every being from whom he drinks.
Now, Chrysabelle and Malkolm must work together to stop a plot to merge the mortal and supernatural worlds. If they fail, a chaos unlike anything anyone has ever seen will threaten to reign.
BUY NOW: Amazon |Â Target |Â B & N

Kristen is giving away an print ARC of BLOOD RIGHTS. To get your name in the drawing, all you have to do is leave a comment. A winner will be chosen at random and will be notifiied via email. Please leave an email addy if it is not available on your profile.

You've just released BLOOD RIGHTS, your first book in the House of Comarré vampire series, how does it feel to finally see your years of hard work coming to fruition?
It's pretty freaking awesome. Like a literary Christmas!
Writers encounter a gambit of emotions on their journey to New York publication, what was it like during your darkest hours? Your most happiest?
Well, my darkest hour is probably what led to me writing Blood Rights in the first place. I was close to quitting writing altogether. My happiest involved celebrating the sale of Blood Rights with spaghetti and meatballs. LOL
We love stories about "the call". What were you doing at the time and do you remember how you felt when it happened?
I think I was working on my computer. I don't really remember. I know that's weird. It felt…surreal. And I wasn't sure how to feel. In fact, I think my agent actually said to me, "Aren't you excited about this?" I was! But I'd been so close to a sale before that my excitement was tempered with a healthy dose of skepticism. When she told me it was really happening, I let myself freak out.
How do you feel about the self-pub/indie explosion and are you concerned about the impact it is having on the publishing world?
I think it's a mixed bag. On one hand, it's great that established authors can put their backlist up or publish books that New York couldn't find a home for, but there's a glut of work out there and a good percentage of it shouldn't have been published. Just because you can doesn't mean you should. I firmly believe a writer needs to go through the editorial process before they publish.
As far as how it's impacting the publishing world, I don't think the sky is falling. Pieces of it might be coming down, but self-pubbed books aren't going to replace traditionally pubbed books anymore than Youtube videos are going to take the place of Hollywood. Things will change because they have to change, but traditional publishers aren't going away.
Do you have a daily ritual to get you in the "writing zone"?
Just a good firm talk with myself about how it's time to stop fooling around on twitter and get some freaking pages done.
What do you like to do on your spare time outside of writing? How do you stay inspired?
I read, I watch movies and tv and I really try to get outside and breath some fresh air once in a while. Other than that, free time isn't always readily available when I'm on deadline. Also, I travel a lot, so I try to have a little fun when I'm away. Helps make it seem less like work.
What personal goals have you made for yourself this year?
Crap. I was supposed to make personal goals?
Tell us one thing or habit that you have that no one knows!
I snap my gum. Drives my husband crazypants.
Any last words for your readers?
Keep reading! I love that about you!
What should we expect from you in the future?
Books 4 and 5 in the House of Comarre series (OUT FOR BLOOD and LAST BLOOD) will be up next, followed hopefully/possibly/maybe by a spin off series.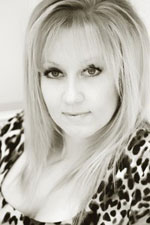 When the characters in Kristen Painter's head started to take over, she decided to exorcise them onto paper and share them with the world. She writes paranormal romance for Samhain Publishing and has the first of three books in her gothic fantasy vampire series, Blood Rights, coming from Orbit in fall 2011. She has also been published in non-fiction, poetry and short stories. The former college English teacher can often be found online at Romance Divas, the award-winning writers' forum she co-founded. She's represented by Elaine Spencer of The Knight Agency.
To learn more about Kristen, visit her at:
www.kristenpainter.com
www.houseofcomarre.com