Author of the Month, Jeannie Lin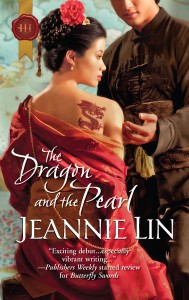 The Most Beautiful Courtesan of Them All
Former Emperor's consort Ling Suyin is renowned for her beauty; the ultimate seductress. Now she lives quietly alone–until the most ruthless warlord in the region comes and steals her away…
Li Tao lives life by the sword, and is trapped in the treacherous, lethal world of politics. The alluring Ling Suyin is at the center of the web. He must uncover her mystery without falling under her spell–yet her innocence calls out to him. How cruel if she, of all women, can entrance the man behind the legend…

Jeannie is giving away an print ARC of THE DRAGON AND THE PEARL. To get your name in the drawing, all you have to do is leave a comment. A winner will be chosen at random and will be notifiied via email. Please leave an email addy if it is not available on your profile.

You write historical romances that aren't set in the standard Victorian or Regency era but set during the Golden Age of China—specifically, the Wuxia period—do you feel that your stories have been well received by readers?
It's hard to say. It seems like there's a small and enthusiastic group of readers who are looking for something a little bit different who seem to really enjoy them, which has been really uplifting. Whenever I get a little note from a reader telling me how refreshing the stories are, it really makes me feel like I'm filling somehow filling a void.
Did you feel it was a risk that you took or do you think readers have been eager to discover something new and different?
I think writing in this setting is a risk and always will be one in terms of having a built in market. Readers need to take a bit of a leap of faith to try a new author let alone a setting and story that contains different elements from what they know they like. For me personally, I don't think I could have done it any other way, but every story is still a little bit of a risk. I don't really have an established cannon of similar works and settings to draw from so in a way, there are less perceived "rules" for me. That's both risky and freeing.
Can you tell us a little bit your current or upcoming release? How did you come up with the idea?
THE DRAGON AND THE PEARL, available September 20, is my upcoming release. The linked short story, THE LADY'S SCANDALOUS NIGHT, was released from Harlequin Undone on September 1st. THE DRAGON AND THE PEARL is a follow up story to my debut novel. What I really wanted to do initially was find a love story for the character of the courtesan Ling Suyin, who had appeared in all of my manuscripts. I had no idea who would be her match until the warlord Li Tao emerged as the villain in BUTTERFLY SWORDS.
From there, the story evolved. I tend to replay movie-style scenes over and over in my head while I plot and I'm very heavily influenced by the Hong Kong wuxia movies I used to watch as a kid. BUTTERFLY SWORDS was an homage to the swordfight and warrior culture in those movies. I always thought of THE DRAGON AND THE PEARL as a nod to the element of intrigue and the secret societies found in Hong Kong cinema. In those movies, it was never a clear battle of good versus evil. Rather the line between villain and hero became blurred.
So many authors are writing in different genres, do you plan on doing the same?
I'm trying my hand at a historical paranormal as well as steampunk and am keeping my fingers crossed. Everything I've worked on is still very historical in nature. It's really my muse for now.
How has your experience been with Harlequin since winning the Golden Heart and publishing?
Let me tell you, when I saw the cover for THE DRAGON AND THE PEARL, it nearly brought tears to my eyes. When so many other Asian covers were getting whitewashed and sales were low all over the board for new authors, I looked at that distinctive cover and felt that Harlequin was doubling down on me, for better or worse. I know it's a business and in the end it's about sales, but I feel that my editor is completely behind me and doing whatever she can to make me successful when it will likely be a long, long time before these books will enjoy the reach that more popular settings have. So far, I've contracted a total of three novels and six short stories with Harlequin.
What is the most difficult part of your writing journey? What is the most exciting part?
Since my release dates have been pretty far apart, I hadn't felt any deadline pressure until recently when I was struggling with pregnancy hormones and I had just contracted two new stories without a single idea in my head about what they would be about. So I guess the hardest part of the journey would be coming up with a suitable idea based on a timeline while life continues to roll on. My ideas have to percolate for a long time in my head before I start writing them so I'm always afraid the next idea won't come.
The most exciting part is just being able to execute these stories and to see them through from start to finish. With each release, I'm still in disbelief that I get to do this.
Who or what is your personal influence or inspiration?
My Little Sis continues to be my most important influence. My sister is my ideal reader and internal editor, all rolled into one. She never lets me get away with anything. Just okay is never good enough and she always challenges me to do better.
Where do you see yourself in 5 years in publishing? What do you hope to achieve?
In five years everyone will know my name, dahling. Â 🙂
Seriously, as a child, I dreamed of having a single book published before I die. I'm already there, so the rest is frosting. Whenever I forget this, my sister reminds me. You're living the dream, she tells me. You're really doing it.
Tell us one thing or habit that you have that no one knows!
To brainstorm or plot, sometimes I have to go and lie down and hug my pillow. I think it's because I was always a daydreamer. I used to take forever falling asleep at night, so when I was young I would lay there, hugging my pillow, and run through fantastic stories in my head. When I write a story now, I've already run through the movie in my head a hundred times, pruning and cutting and editing it already.
What should we expect from you in the future?
All I hope for is to get a little bit better of a writer with each book.
Any last words for your readers?
Thank you for all the encouragement and support.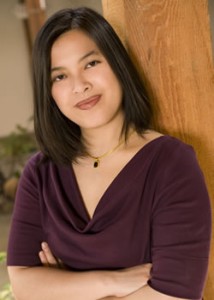 Jeannie Lin grew up fascinated with stories of Western epic fantasy and Eastern martial arts adventures. When her best friend introduced her to romance novels in middle school, the stage was set. Jeannie started writing her first romance while working as a high school science teacher in South Central Los Angeles. After four years of trying to break into publishing with an Asian-set historical, her 2009 Golden Heart Award–winning manuscript, Butterfly Swords, sold to Harlequin Mills & Boon. With several releases and more upcoming titles all set in the Tang Dynasty, she's keeping her fingers crossed that this hard-sell genre will one day be hard to resist.