Author of the Month, Natasha Moore


How long have you been writing before you sold?
I'm one of those writer's who've always been writing – almost as long as I've been reading. Life had a way of detouring me from time to time, but I'd say that I wrote seriously for a total of 10 years before I sold.
What has been the toughest obstacle you've had to overcome along the way? What was the best experience you've had from being published?
The toughest obstacle has been making time to write, along with family and a full-time day job. The best is knowing that people are actually reading my stories. Having readers enjoy my stories, that's the best!
You have written quite a few books for small press and ePublishers, how do you feel about the ePublishing explosion, and now the popularity of self-publishing?
I'm thrilled that ePublishing is growing and that reading ebooks is becoming more mainstream. There are so many more opportunities for writers, especially for stories that may not fit into the usual niches. The self-publishing trend sounds exciting and will offer more opportunities for stories to be available to readers. It will be interesting to see what publishing will be like in another few years.
Are you actively pursuing NY publishers in addition to being ePublished?
Right now I'm working on a manuscript I hope to submit to Harlequin Blaze.
Tell us about your latest book.
My next release will be coming from Samhain in late summer. Flaunt It is the first story in the Paolo's Playhouse series.
When it comes to sexy and sassy, Piper, the most popular waitress at Ben's bar, has it all going on. Now that they're dating, though, Ben wishes she'd dial down the skimpy clothes and flirty attitude, and her habit of dancing and flashing to her favorite song. Every teasing peek at her body, every a laugh at some customer's lousy joke, is certainly good for business—but it sends his jealousy meter into the red zone.
Sure, they're dating, but he's no muscled, tattooed stud with diamonds in his ears. How can he compete, especially when she refuses to even spend the night at his place?
Desperate, Ben books a room at his friend Paolo's fantasy club, hoping an erotic night in front of a two-way mirror will get her exhibitionist streak out of her system. Praying it won't prove his greatest fear—that she lives only to show off. And he's not that special to her at all…
What's up next for you? Are you currently working on a new book?
I'm looking forward to the release of the next three stories in the Paolo's Playhouse series, Taking Chance, Birthday Girl, and Plaything.
I just finished a single-title length erotic romance I'm excited about and then there's that Blaze manuscript I'm working on now – about a self-help guru who never loses control and the younger man who wants to be the one to make her lose that control.
What do you like best about the writer's life?
Sitting in my office (or on my back porch or in our RV), headphones on, feet bare, creating characters, giving them life – and love – and getting to do it over and over again.
If you weren't a writer what would career path would you choose?
In another life, I would have loved to be a Broadway musical star (yes, I love Glee) But…I'd have to be taller, thinner, and way more talented.
Who or what inspires you?
Other writers who don't quit. Who write amazing stories that I wish I'd thought of and keep me up late when I have to get up for the day job at 6am. Who raise children and love their spouses and still find a way to write the words that bring their stories to life. Every wonderful book out there inspires me to do better.
What are you reading right now?
Kiss of Snow by Nalini Singh.
What advice would you offer to the unpublished romance writer?
Keep writing. Keep reading. Keep writing. Keep learning. Keep writing. Keep submitting. Keep writing.
What would people be most surprised to learn about you?
I used to sing in a barbershop quartet. (The closest I could get to the Broadway stage, I guess) But I needed more time to write and I don't regret giving it up. (I still sing in the shower. And in my car.)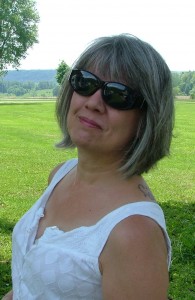 Natasha Moore fell in love with the written word as soon as she could read. As she grew up, she discovered romance and now enjoys the chance to add some extra sizzle to her stories. Now she writes contemporary and erotic romance for Samhain, Ellora's Cave and Red Sage. She lives in New York State with her real life hero, who is happy to tell everyone that he's her inspiration. They travel in their RV whenever possible. The great thing about writing is she can take it anywhere.
Want to learn more about Natasha? Visit her online at:Â www.natashamoore.com