E-Book for Charity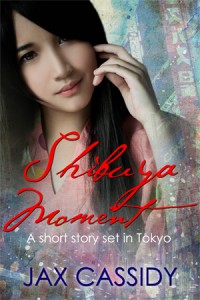 I've always loved writing stories set in exotic locales. In the back of my head, I had planned on using Tokyo for a backdrop in one of my romances.
When the Tsunami, earthquake, and nuclear crisis hit Japan, I was stunned and saddened. The media coverage was so heart wrenching that I was compelled to help in some small way. Besides donating personally, I knew I had to write a short story that was meaningful, while highlighting the beauty of Tokyo.
I was drawn to Shibuya for many reasons. It's 1 of 23 wards in Tokyo which is the central business district and most known for their busiest railway system, fashion center, and lively nightlife– particularly for the younger crowd. However, one of the most unique aspects of this area is the section where Harajuku street style reigns. If you've never heard of it, you might have gotten a glimpse of the influence it had on Gwen Stefani and her Harajuku Lovers fashion line.
But, Tokyo is much more than that. Some of my friends live in Japan so it was natural for me to pull elements of things from different people to bring this story to life. For instance, the Karatsu pottery idea was inspired by my friend Mike who is a very talented potter of–you guessed it–Karatsu pottery. As for the architectural elements, have you seen some of the incredible contemporary designs that's come out of Japan? They're not only one of the leaders in technology, but also renowned for their innovative architecture. I could go on an on but you'll just have to read SHIBUYA MOMENT to be able to get a glimpse of Tokyo through my eyes.
This is the first contemporary I've written with love scenes behind closed doors. It's more PG than my usual erotic romances. However, it does contain some very sensual kissing scenes and a whole lot of emotion. I hope you'll enjoy the short story mainly for the tribute to Japan and perhaps fall in love with the characters as much I have while writing it. Please spread the word because $2.00 is a great way to donate to a worthy cause and you'll also receive a quick romantic read. It's a win-win!
P.S. Since this is my first attempt at raising money for charity through writing, I've decided to do an awesome Japanese goody bag GIVEAWAY which details are provided on my website. In addition, I've spilled some secrets that may interest you. Please stop by and enter to win!


SHIBUYA MOMENT…
Freelance photographer Seren Takahashi wants to heal her wounded soul after a devastating loss. While embarking on a personal adventure into Tokyo's Shibuya district, she discovers a city rich in culture and vibrant in its exoticness. What she hadn't expected was finding closure and rediscovering the true person hidden inside. When she gives into destiny's pull, her journey awakens a need to live in the moment, embrace her fears, and open her heart to love.
Author's note: All author proceeds from the sale of this story will be donated to the Red Cross and ShelterBox for the relief effort in Japan.