Article! by Zoe Archer
Hot Sci-Fi Heroes
Confession time: I can be very shallow. As much as I love adventure set in the furthest reaches of outer space, one draw of science fiction is the extremely hot heroes. Maybe there's something about the hostile environment that seems to breed fine specimens of masculinity. Lack of oxygen? Low gravity? Whatever the cause, I can't complain. I just reap the benefits.
Let's start with the loveable and very sexy scoundrel, Han Solo.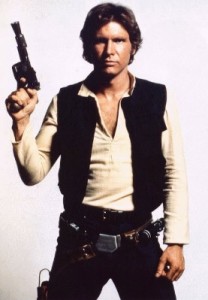 I would bet that, for many of us, we got our first "funny feelings" when watching this raffish pilot strut across the screen.
Then there's the original Battlestar Galactica's duo of hotness, Apollo and Starbuck.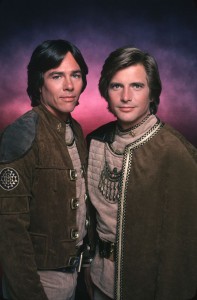 I would vacillate from one week to the next who I thought was cuter. (Ultimately, I chose Starbuck.)
Skipping ahead, there's the incomparable Captain Mal Reynolds.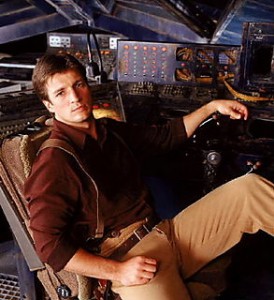 What can I say? I love a scoundrel.
The new Battlestar Galactica was a cornucopia of male hotness. How can you choose between these men?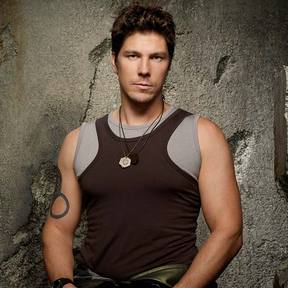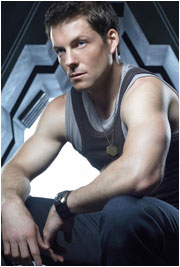 (Bonus of Lee Adama almost losing his towel. So glad gravity still works on a Battlestar:)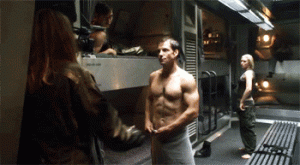 Now, many of you find the new reboot Captain James T. Kirk staggeringly hot.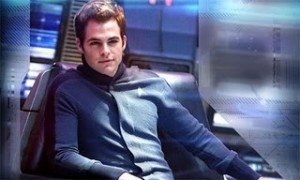 But, for my money, the man to watch was Sulu.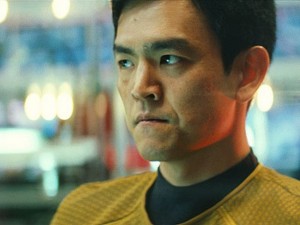 Sometimes, the one's who aren't flashy just grab your attention and never let go.
Now, with COLLISION COURSE, I've added my hot hero to the sci-fi pantheon. In my rather humble opinion, ace pilot Commander Kell Frayne of the 8th Wing is one sexy mo-fo. This is our heroine's first glimpse of him:
No way around it. He was one of the most physically attractive men she had ever seen, including the famed Halu pleasure slaves bred specifically to be the most aesthetically appealing creatures in the galaxy. Broad shoulders, powerful arms, long legs. His immaculate 8th Wing uniform brought into gorgeous display his lean, tight muscles. A plasma pistol was strapped to his thigh. Even simply walking, his movements radiated power and strength. His body was hard, lethal. A warrior, this one.
And his face. Far too rough to be considered handsome. He had the face of a man who had lived tough—and nothing appealed to Mara more. The clean delineation of his jaw contrasted the curves of his mouth. Thick, dark hair cut very short. Dark brows, dark eyes. Dark all over. And gazing intently at her as he strode toward her.
I absolutely adore the model that represents Kell on the cover, but when I was writing the book, I imagined him like the lethally sexy Joe Manganiello.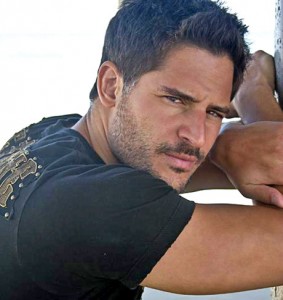 How can my heroine, scavenger Mara Skiren, resist that? She fights her attraction, but it's a battle she can't win. When a scavenger and a by-the-book pilot cross paths, an explosion is sure to follow.
Now here's your chance to tell me what sci-fi heroes get your thrusters firing. I'll pick a commenter at random to win a book from my print backlist. (US and Canada only) Good luck, and may the hotness be with you.


RITA Award nominee Zoë Archer has always loved stories of romance and adventure. She is the author of COLLISION COURSE, a sci-fi romance from Carina Press, as well as the BLADES OF THE ROSE paranormal adventure romance series from Zebra. In December, her new HELLRAISERS paranormal romance series will launch, also from Zebra.
For more information about COLLISION COURSE, including an excerpt and links to buy, visit her website. Follow her on Twitter, Facebook, and Tumblr.