Author of the Month, Lecia Cornwall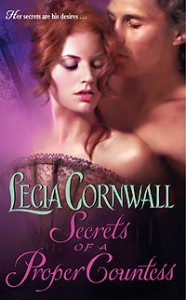 Some secrets we take to the grave. Others we just take to bed…
Lady Isobel Maitland cannot afford to be caught doing anything even remotely scandalous, or she risks losing everything she holds dear. But one night, in a dark garden at a masquerade ball, Isobel gives in to temptation and lets an innocent flirtation with the notorious Marquess of Blackwood turn into passion.
The Marquess is no stranger to seduction or intrigue, and his rake's reputation disguises a deadly mission. When his mystery lover flees before he can learn her name, he knows he must find her. But all clues lead toward the prim and dowdy Isobel Maitland. It appears the lady has secrets of her own, secrets that Blackwood would dearly love to uncover . . .

How long had you been writing before you were published? Was it everything you thought it would be?
I wrote for about ten years before I was finally lucky enough to land a publishing contract with Avon. At first, writing was a hobby, then when my family moved to Calgary from Ottawa, I was able to write fiction full time. I joined the Calgary Chapter of the Romance Writers of America, which is an incredibly dedicated, supportive group of writers. I began submitting my work to agent's editors and contests, and I joined a wonderful critique group.
There's a huge learning curve on the pre-published side of writing a book, and there's another one after. It's not just a hobby anymore. Now it's my career. I had to learn how to do revisions and copy edits, and juggle deadlines. An author must do a lot of promotion, both of themselves and for their books, and I had to find out how that worked. Like learning anything new, it's been a fascinating process.
How many books did you write before you sold?
I have a massive pile of manuscripts in my basement, both finished and unfinished! Four or five are actually complete. When I got serious about actually being published, I realized that I had to finish what I started. It took several years of writing full time, honing my craft and my pitching skills before I got an offer. There were nibbles along the way, like positive feedback from agents, editors and writing contests that kept me going and made me feel like I was getting closer. That's the key: persistence, continual improvement, and most importantly, submitting your work.
Can you tell us a little bit about your debut release, SECRETS OF A PROPER COUNTESS? How did you come up with the idea?
Secrets started as something fun to write during the summer of 2008, while I was working on a more serious story. It was meant to be light, funny and help me improve my skill at writing sex scenes. Along the way, I fell in love with the characters and realized I wanted to make this book much more than it was. I added an intrigue plot, made the characters deeper and more interesting, put in some great secondary characters, and kept the sex.
I've always loved fairy tales, and I often use the themes of well-known stories. Isobel's story in Secrets follows Cinderella—complete with a magical ball that changes the heroine's life, a wicked mother-in-law, and a hero who must find the mystery woman who stole his heart at the ball, and left without telling him her name…
Blackwood's character is based on an old movie, 'The Scarlet Pimpernel'. In the movie, Sir Percy plays the fool to hide the fact that he's actually a clever spy. Delicious danger lurks around every corner for Sir Percy, just as it lies in wait for Blackwood.
Do you have a daily ritual to get you into the 'writing zone'?
I drop my daughter at school, give the dog a run on the way back, and then I come home to work. I spend about four or five hours a day writing. Once I'm focused, the time flows by unnoticed.
What do you like to do in your spare time outside of writing? How do you stay inspired?
I have many hobbies and interests. I hook rugs from old wool sweaters, I love to bake and garden. I have four cats, one big dog and two teenagers that keep me busy. I volunteer as often as possible at my daughter's school.
I find inspiration everywhere! I love watching people and making up stories about what they're doing or where they're going (this is lots of fun in airports, but less amusing at the grocery store). The past always offers inspiration. The true stories from history are so good, and they make a wonderful backdrop to build a story around! For example, the intrigue plot in Secrets of a Proper Countess is based on real historical events. Louis XVIII of France lived in exile in England during Napoleon's reign. For Secrets, I invented a plot to kidnap him and return him to France that Blackwood must foil.
What is the most difficult part of your writing journey? What is the most exciting part?
The most difficult thing about writing, and this is probably true for any writer, is facing the rejections that come on the way to 'yes'. Remember, aspiring writers, the keys are persistence, improvement and submitting your work.
I love the process of writing a book. From outlining the plot, and choosing names, to researching the history and getting that all-important opening line perfect, I love every bit of it.
There have been so many exciting moments for me as a writer… the Call, the moment I set eyes on my gorgeous book cover design, holding the first copy of my book in my hands, reading the first book review, and release day. These moments make the struggle for the right words, the rejections, the angst, and all the uncertainty worthwhile.
What personal goals have you made for yourself this year?
Beyond my goal of writing two new books, I've joined Weight Watchers (and lost 15 pounds so far!), and I plan to attend the Romance Writers of America National convention in New York City this summer (I hope I'll see you there!). I've already accomplished my goal of learning how to use Facebook and Twitter, and since I'm horribly tech challenged, that's a very proud accomplishment for me!
Tell us one thing or habit that you have that no one knows!

I'm the biggest chicken in the world, but I'd love to try skydiving!
What last word do you have for your readers?
I hope you like reading Secrets of A Proper Countess as much as I enjoyed writing it! I would love to hear your comments, good and bad. Please drop me an e-mail at [email protected]
What should we expect from you in the future?
My next book, The Price of Temptation, is coming from Avon in January 2012.
Evelyn Renshaw is the hostess of the masquerade ball in Secrets, but her husband is one of the story's villains, and a traitor to his country.
In The Price of Temptation, Evelyn is a widow—or is she? Everyone, including Evelyn, wants to know if Lord Phillip Renshaw is alive or dead, since he hasn't been seen in months. His enemies are closing in on Evelyn, and time is running out as she faces ruin, scandal and deadly danger.
Captain Sinjon Rutherford needs a place to hide while he proves himself innocent of some very serious charges. He's recruited to help the Crown find Lord Phillip by spying on Lady Evelyn, disguised as her footman. But Sinjon discovers Evelyn is hiding some deep secrets of her own.
… Watch for an excerpt of The Price of Temptation on my website in the next few weeks!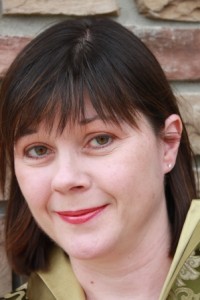 Lecia Cornwall lives and writes in Calgary, Canada, amid the beautiful foothills of the Canadian Rockies, with four cats, two teenagers, a crazy chocolate lab, and one very patient husband. She is hard at work on her next book.

Want to learn more about Lecia? Visit her online at www.leciacornwall.com