Author of the Month, Karenna Colcroft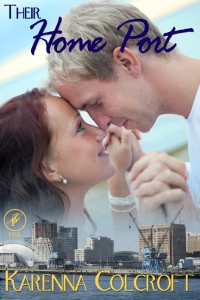 Karenna Colcroft has been writing since she was five years old. In 2006, she began writing erotic romance on a dare from a friend, and she was hooked. Her first e-book was published in 2009, and since then she has been published by companies including Pink Petal Books, Ellora's Cave, Noble Romance, and Siren Publishing. Karenna lives in the northeastern US with her two children, her real-life romance hero husband, and two cats, one of whom tries to sometimes read over her shoulder. Fortunately, the cat is over eighteen in cat years.

When Reesa Boyd goes on a date with yet another Mr. Not-Quite-Right, she doesn't expect to end the day with a job offer from the owner of Marine Tow, a marine assistance towing company.
On her first day of work, she meets Micah Ward, son of the Marine Tow owner and the company's best captain. And the man who steals Reesa's heart. Although the instant attraction between them catches her off-guard, she's willing to open herself to the possibility of a relationship with him.
During a tropical storm, Marine Tow's boats are cut loose and Micah takes off alone to recover them. Will he make it through the storm, or will Reesa lose the first man she's truly loved?
Available from Pink Petal Books


How long have you been writing before you were published? Was it everything that you thought it would be?
I started writing when I was five, and even then I knew I wanted to be published some day. My first publication, a phonics-based reading program, was published when I was 32. After that, I didn't have anything else published until my first erotic romance in 2009, when I was 38. So it was a lot of years.
So far being published has been amazing. I didn't realize how much work an author has to put into promotion, but other than that it's been everything I imagined.
You started out writing young adult romance and along the way you tried your hand at erotic romance and this genre took off for you. Do you have any plans to get back to writing YA?
Actually, I still write YA under a different name. In that genre, I have two books out now, another coming March 17, and three contracted beyond that.  My YA isn't romance, though. Most of it's urban fantasy, some of which has romantic elements, and one of the contracted books is contemporary YA with very little romantic content.
Was it difficult to switch gears or did you find it an easy transition?
Between YA and erotic romance? I think the most difficult part has been keeping track of which name I'm supposed to be using. "Karenna Colcroft" is a pen name, and I write YA under a variation of my real name. I have, however, been known to send emails to YA author loops with my Karenna Colcroft signature, and I once posted a blog post on my Karenna Colcroft site that was supposed to have gone on my YA author site. As far as writing both, though, I haven't really had any trouble switching between the two. Right now I'm working on two erotic romances and a YA novel, usually doing a little bit on each one every day, and I haven't had any difficulty switching off.
Can you tell us a little bit about THEIR HOME PORT? How did you come up with the idea?
THEIR HOME PORT is about Reesa Boyd, a woman who's found a whole lot of Mr. Wrongs in her search for Mr. Right. After another failed date, she meets Erland Ward, the owner of a marine assistance towing company, a company that goes out on the water to assist pleasure boaters who have run out of gas, are having engine problems, etc. Erland offers Reesa the opportunity to work in the company's office. On her first day there, Reesa meets Micah Ward, Erland's son and one of the company's captains. The chemistry between Reesa and Micah is instant.
The idea for this one was pretty easy for me. My husband works for his father at a marine assistance towing company, and I work in the company's office, though that isn't how my husband and I met. I'd been wanting to base a story around that idea, and then this one came along. My husband beta-read it for me to make sure I had the marine stuff correct, especially the radio communications, and afterward begged me never to ask him to beta read again. He also insists on mispronouncing Micah's name; he says "Mick-ah." LOL
Do you have a daily ritual to get you in the "writing zone"?
No, I don't. Every morning I sit down at my computer and check emails. Some days I manage to transition straight into writing or revising; other days my head just isn't there in the mornings, so I dub around online or do other things around the house. I work part-time outside the home for my father-in-law, as I mentioned, but my schedule there is flexible and, especially in the winter, not many hours a week, so I still have plenty of time to write. It's just that sometimes my brain isn't in writing mode, and I've found that it's best not to force the writing.
What do you like to do on your spare time outside of writing? How do you stay inspired?
Between writing, raising my kids, and working, I really don't have much spare time! I enjoy reading, mostly urban fantasy though I do read some romances, especially ones written by people I've "met" online. I enjoy spending time with my kids and my husband; sometimes that time is just us sitting around watching TV together, but it's still fun.
As for inspiration for my writing…honestly, I don't know. I've been writing most of my life, and I still haven't figured out where some of the ideas come from. They're just there, but that's the most fun part of writing for me.
What is the most difficult part of your writing journey? What is the most exciting part?
The most difficult part was conquering my fear that no one would like my work enough to publish it. And honestly, I still worry about that every time I submit something, either that the publisher will think it's awful or that no one will buy it once it's published. The most exciting part, every single time, is receiving a contract offer, with receiving edits a close second.
What personal goals have you made for yourself this year?
I have a lot of writing goals. As for personal, non-writing goals, the main one is to take care of my own health and to keep improving as a parent and a wife. My husband and I are coming up on our first anniversary (April 17), and I'm still learning how to be part of a healthy marriage.
Tell us one thing or habit that you have that no one knows!
I'm very, very fidgety and find it almost impossible to sit still. I have a stress ball that I keep nearby to keep my hands busy, and I'm often jiggling my leg or shifting position. Even when I'm writing, I'm fidgeting, and sometimes I even get up and walk around my apartment for a couple minutes to "get the wiggles out", as my daughter puts it.
Any last words for your readers?
I love to hear from readers, so please feel free to stop by my website, http://karennacolcroft.com, and leave a comment, or to friend me on Facebook or follow me on Twitter. I'd like to thank all my readers for reading my books and encouraging me to keep writing.
What should we expect from you in the future?
I have quite a bit coming up. For romance, I don't have any releases scheduled after THEIR HOME PORT. But I have an MFM contemporary novel under contract with Passion In Print Press; an M/M shifter novel under contract with MLR Press; and an MF fantasy romance novella under contract with Pink Petal Books. I recently submitted an MF contemporary novella to Ellora's Cave, and I'm working on a contemporary novella for Pink Petal and a contemporary novel.
On the YA side, as I mentioned, I have a book coming out March 17. I also have one scheduled in May; one in July; and one that doesn't have a release date yet. And I just submitted another which is tentatively scheduled for September. The March and July releases are part of a series, and the May and September releases are part of a different series; both series are urban fantasy. The one without a release date is a stand-alone YA contemporary novel. (I realize I haven't given my YA author name here; if you'd like to find out more about my YA, please feel free to contact me and I'll give you that name and my YA website link.)