Reviewed! Butterfly Swords by Jeannie Lin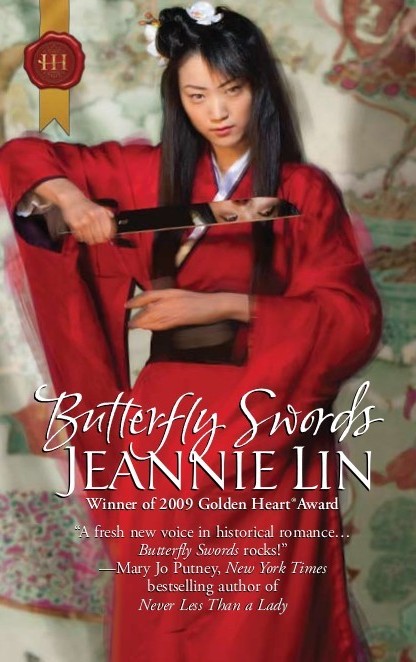 Title: Butterfly Swords
Author:Â Jeannie Lin
Publisher: Harlequin Historical
Publication date: October 1, 2010
Category: Historical Romance
Reviewed by: Jax Cassidy


* * * *
This is the first Harlequin Historical I've read and I'm delighted to say it won't be the last. Jeannie Lin's debut novel BUTTERFLY SWORDS is an incredibly visual read. Cinematic and as vivid as the characters she's written. It brought back so many fond memories of my love for Chinese cinema growing up. This story was beautifully written and although it possessed a love story, the root of it was a personal journey of love and loss for the heroine Ai Li. She is a smart, sassy, and strong character with the ability to wield her butterfly swords with eloquence and surety. Her spirited fighting skills, while engaged with the handsome foreigner Ryam, managed to capture his interest and his heart.
The Tang Dynasty setting was a breath of fresh air–and who doesn't love a sexy bad boy who is eager to tame the feisty heroine (at least in his bed)? This story had plenty of action, intrigue, loyalty and passion. I can't wait to see more from this Golden Heart winner and I'm excited that she's helped revived historicals outside of the Regency and Victorian era! Well done, Ms. Lin!

* * * * * *
BLURB:
During China's infamous Tang Dynasty, a time awash with luxury yet littered with deadly intrigues and fallen royalty, betrayed Princess Ai Li flees before her wedding.
Miles from home, with only her delicate butterfly swords for defense, she enlists the reluctant protection of a blue-eyed warrior….
Battle-scarred, embittered Ryam has always held his own life at cheap value. Ai Li's innocent trust in him and honorable, stubborn nature make him desperate to protect her–which means not seducing the first woman he has ever truly wanted….