Spotlight On, Mindy Klasky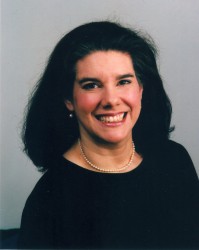 Mindy Klasky learned to read when her parents shoved a book in her hands and told her that she could travel anywhere in the world through stories. She never forgot that advice. Mindy's travels took her through multiple careers — lawyer, librarian, and full-time writer — and a number of literary genres. In addition to her Mira and Red Dress Ink books (the As You Wish series and the Jane Madison series), Mindy has written six traditional fantasy novels (including the award-winning, best-selling The Glasswrights' Apprentice), short stories, and nonfiction essays. In her spare time, Mindy quilts, cooks, and tries to tame the endless to-be-read shelf in her home library. Her husband and cats do their best to fill the left-over minutes.
You can learn more about Mindy by visiting her website:
http://www.mindyklasky.com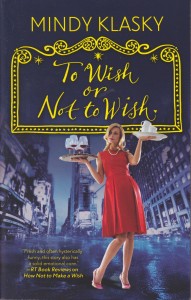 **Mindy is giving away a copy of her current release TO WISH OR NOT TO WISH to one luck winner. If you'd like to leave a comment, you'll be added to our random drawing. Winner will be contacted via email, so be sure to provide your email if it's not linked to your profile.**

You're a graduate of Princeton University and an attorney, what made you take that plunge to write romance?
I've always read a wide variety of books, both for serious learning and for fun. Over the years, my "fun" reading has ranged from fantasy to mysteries to romance. When I started writing, my stories were strongly tilted toward my childhood reading (mostly fantasy), but as I continued to develop stories, I found them leaning more and more toward romance. I still enjoy combining different genre elements in the novels I write!
What has been the toughest challenge in your publishing journey?
The publishing world is never steady – things are never 100% wonderful or 100% hopeless. I find it challenging to stay positive, when I don't have a lot of control over the "hopeless" parts, and I'm constantly trying to find new pathways to the "wonderful" parts.
We love stories about "the Call", so how exciting was yours?
My agent sent me email at the end of a workday, telling me that he had an editor at Penguin interested in my first novel (THE GLASSWRIGHTS' APPRENTICE.) I was jumping for joy, until I realized that the date was April 1. I did not sleep that night, wondering if my agent was the cruelest man in the entire world. I was thrilled to discover that he was not, when I reached him the next morning, and he confirmed the sale!
How did you come up with the fun and quirky story ideas? Which has been your favorite book to write?
My ideas are a mix of lots of things – books that I've read, places that I've journeyed, dreams I've had, etc. While I start with an outline for each novel, I tweak it as I go along, especially as I discover the specific ways that each character reacts to the world around her.
It's hard to name a favorite of all my books – they're each my "children", in a way. I'm especially fond of TO WISH OR NOT TO WISH, because of the way it folds together many of my recurrent themes – food (the hero runs my dream restaurant), theater (I once planned on becoming a professional stage manager), and magic (Teel the genie grants wishes.) I truly enjoyed wrapping up all those disparate threads with the great big, glittery bow of a Broadway musical based on an American classic play.
What makes a good writer/agent/editor relationship?
I find it extremely important to remember that my relationships with my editor and my agent are professional. While I am friendly with both my editor and my agent, neither is my friend. Neither is responsible for listening to my complaints about my love life, my diet struggles etc.; rather, each is a highly-skilled individual who knows the best about his/her field and how that expertise has an impact on my field of writing and publishing novels.
What is the biggest misconception you've come across about being a romance author?
I constantly struggle against the stereotypes – both of romance novels (as mindless drivel held together by a couple of mediocre sex scenes) and of romance readers (as ignorant lovelorn spinsters.) I love turning those misplaced expectations upside down – my Jane Madison books rely heavily on Shakespeare, and my As You Wish books regularly allude to masters of the theatrical world.
If you were a nail polish color, what would it be called and why?
Blushing Fire Engine. I'm a contrast – my basic nature is shy and retiring (the blushing part), but I enjoy making a splash in public, especially with a new book (the fire engine part.)
What would people be most surprised to learn about you?
I am actually quite shy, and I find it difficult to interact with people, especially with strangers. (Once I'm at a conference, though, I shrug on my "professional" armor, and I extrovert with the best of them!
What advice do you have for unpublished writers?
Write. And read. Know your market, and know your own skill set, constantly striving to polish your own innate abilities to match specific swaths of the market. And then, write some more. And read some more. Lather, rinse, repeat.
Any words for your readers?
I love hearing from readers! Please don't be a stranger – comment on this post, ask me questions, and stop by regularly at my website: www.mindyklasky.com
RD speed round:
One word you don't use enough: "love" – my characters feel it and act about it, but they don't say it often.
One word you overuse: "And then" – I go through every manuscript to search for the phrase, before I submit the pages to my editor!
Would you spend a day out with Jane Austen's Mr. Darcy or Helen Fielding's Mark Darcy? Mark, please. (And I'm not just saying that because it's my husband's name.)
If you had a dinner date with a celeb, which actor would you choose? Jon Hamm – cute and able to have an intelligent discussion
Favorite exotic cuisine: Szechuan Chinese
Favorite mixed drink: Vodka tonic with lots of lime.
Swimming with the dolphins or a dancing on a raft during Carnivale? Dolphins. (Wild horses couldn't get me on the raft!)
One book you'd have with you on a deserted island? War and Peace – I've never made the time to read it, and it should last a while!
What's the most adventurous thing you'd ever do? Share my "most adventurous thing" with thousands of RD readers!
Brooding alpha hero or chivalrous sexy genius? Chivalrous genius, please. But I might write about the alpha guy for a book or two!
………………………………