Interview with Stephanie Draven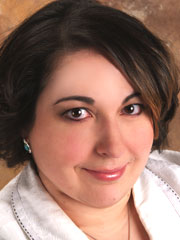 Stephanie Draven is currently a denizen of Baltimore, that city of ravens and purple night skies. She lives there with her favorite nocturnal creatures–three scheming cats and a deliciously wicked husband. And when she is not busy with dark domestic rituals, she
writes her books.
Stephanie has always been a storyteller. In elementary school, she channeled Scheherazade, weaving a series of stories to charm children into sitting with her each day at the lunch table. When she was a little older, Stephanie scared all the girls at her sleepovers with ghost stories.
She should have known she was born to hold an audience in her thrall, but Stephanie resisted her writerly urges and graduated from college with a B.A. in Government. Then she went to Law School, where she learned how to convincingly tell the tallest tales of all!
A longtime lover of ancient lore, Stephanie enjoys re-imagining myths for the modern age. She doesn't believe that true love is ever simple or without struggle so her work tends to explore the sacred within the profane, the light under the loss and the virtue hidden in vice. She counts it amongst her greatest pleasures when, from her books, her readers learn something new about the world or about themselves. Stephanie also writes historical fiction as Stephanie Dray and has a series of forthcoming novels from Berkley Books featuring Cleopatra's daughter.
Website: http://www.stephaniedraven.com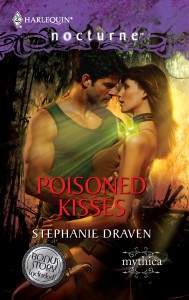 Your novels for Harlequin's Nocturne line showcases myth and ancient lore that gives the stories an added flavor. What inspired you to come up with the concept for POISONED KISSES?
When it comes to fantasy, some people are drawn to dwarves and elves. Some people are drawn to vampires and werewolves…I'm drawn to classical western mythology. The idea that I could pull that into paranormal romance was exciting. I'll always be grateful to Harlequin for being so open-minded about the subjects they're willing to let me tackle.
You also have several historicals coming out from Berkley under the name Stephanie Dray. These books have a unique twist and the first one involves Cleopatra and Mark Antony's daughter. How much research did you have to do and what drew you to the story?
The twist in my historical fiction series for Berkley is that it reflects the world of Cleopatra Selene not as we see it looking back, but as the ancients would have experienced it. Egyptians believed in magic and were avid practitioners. What's more, the ancient Romans feared and loathed Egyptian magic. So I made it real.
As for the research, I'm a little embarrassed to say how long it took me. Let's just say…years. Many years. This is probably because I can't read Latin or Greek. Having to rely upon English translations of everything put me at a disadvantage, but I now know enough useless trivia about the Augustan Age to thoroughly annoy my friends and family.
We love stories about "the Call", do you remember what you were doing or how you felt?
Yes, I do. Because I was sick with the stomach flu! When my agent first called to tell me that I'd sold POISONED KISSES to Harlequin Nocturne, I may have muttered something like, "I think I have to throw up." (Full story here.)
How is it writing for the Nocturne line? What advice do you have for those wanting to write for Harlequin's paranormal line?
One of the things I love most about the Nocturne line is the way my editor has embraced all kinds of risk-taking from me. There's always a subversive element in my stories and HQN has never balked. I feel as if my editor, Tara Gavin, really tries to push the envelope and I love that about her. For those who would like to write for Nocturne, I recommend that you plot first, write swiftly, and be concise. I've also written a little tip-sheet for aspiring Nocturne authors.
Please tell us a little about your current release and what should we expect to see from you in the future?
POISONED KISSES is the story of Kyra, underworld nymph and rebellious daughter of Ares. In her ongoing struggle against her father, she sets out to assassinate a notorious shape-shifting Hydra. When she meets Marco Kaisaris, she realizes that he's not the monster she thinks he is but even if he doesn't break her heart, he still might be the death of her.
I have two more stories in the Mythica series coming down the pike. The first is SIREN SONG, a novella which should be out this winter. The second is another full-length novel about a modern day Minotaur, and that should be out next autumn. I'm still searching for a title for that one!
All authors have a particular scene or character(s) they adore, who are yours? Why?
Oh, gosh. This is such a hard question for me because there are so many authors that I adore. It's probably easiest if I talk about the stuff that I've read most recently and loved. To that end, I should mention Jeannie Lin's TAMING OF MEI LIN, because that story had it all. It left me a little bit smarter, a little bit excited, and with a big grin on my face.
What are you reading right now?
Due to overlapping deadlines and an overwhelming feeling that I'm in way over my head, my reading time has been restricted to the treadmill recently. So if it isn't something I have in e-book form or if it isn't something that unfolds quickly, I've had to set it aside. To my surprise, I've been entirely enraptured by a Regency Romance by Victoria Dahl. Her A LITTLE BIT WILD has kept my attention even while working out. I'm so much in love with its scandalous heroine and adoring hero!
What is the biggest misconception you've come across about being a romance author?
That we make a lot of money. I know some romance writers do, but I'm betting that if romance authors actually clocked up their hours and divided it out to find out their hourly wages, it would make us weep!
What would people be most surprised to learn about you?
That I used to be an organized person with a very clean house. I used disk defragmenter. I used to bake my own bread and host cookie parties and get all my Christmas cards out way ahead of time. For the last two years I've been living in complete chaos, so I'm sure no one would believe that I once lived an orderly existence!
If you were a nail polish color, what would it be called and why?

Sunrise Suprise. Because it's always a shock to me when I'm alert and awake before sunrise.
What advice do you have for unpublished writers? Any words for your readers?

Advice for unpublished writers: know the market, know the market, know the market! As for my readers, I have only three words for you: I love you!
* * * *
RD Speed Round:
Man in uniform or a man good with his hands?
I refuse to believe that these things must be mutually exclusive!
Thigh highs or au naturale?
Depends on if you're staying in bed or actually trying to walk anywhere.
Tattoos or piercings?
Piercings. They can close up if you change your mind!
Whipped cream or ice cream?
Ice Cream.
Naughty or nice?
Naughty.
Coffee or tea?
Tea. Iced. Hot. Earl Grey. It's all good.
Cosmopolitan or beer?
Neither. I embarrass myself enough sober!
Tropical island or mountain cabin?
Tropical Island. As a writer I spend most of my time with cabin fever.
Sexy stilettos or flip flops?
Neither. Hate the little thong between the toes on flip-flops and cannot walk in stilettos. But if I could, I would. Oh, I would.
Holey Jeans or casual khakis?
Jeans. God bless denim.