Author of the Month, Donna Grant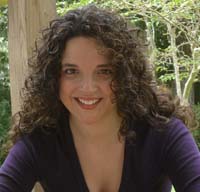 Bestselling author Donna Grant writes historical paranormal romances for St. Martin's Press. She lives in Texas with her husband and two kids. Come visit her on the web at www.donnagrant.com.
**Donna Grant will be giving away a copy of FORBIDDEN HIGHLANDER to one lucky commenter. Please leave your eMail addy if it is not associated with your username link.**


We love stories about "the Call". Do you remember what you were doing at the time or how you felt?
When I got my first epublishing contract, we'd finally been able to come home a month after Hurricane Rita because our house was being fixed. I was sitting on the couch with my laptop too afraid to open the email.  LOL
For my first NY contract, I was at the Romance Writers of America conference at the Literacy Signing autographing books when my agent let me know the editor who had my submission had called to say they wanted the book and would be in touch after RWA. I was flying high the rest of the conference. 🙂
You started out in ePublishing and had a series of successful releases before selling to NY.  How has your journey been?
Just as everyone goes about writing a story differently, everyone's journey in publishing is different. My goal was always NY, but I thought the experience with an epublisher could only help.  And it did.  It was a stepping stone for me, but it's not for everyone. At the time, I was frowned upon because I was epublished. There were times when the road was bumpy, but I never gave up. And when I signed the contract for my Dark Sword series with St. Martin's, all the hardships had been worth it.
With anything there are highs and lows. Its part of publishing, but being able to do something I love helps me pick myself off the floor when I've hit rock bottom. 🙂
How does it feel to see your Highlander series take off?
My heart and soul are poured into my Dark Sword series. Those Highlanders are my life, and I'm delighted beyond words to see them on the bookshelves. Once again I'm doing something a bit different by writing historical paranormal, I get to mix my love of medieval Scotland and Highlanders with that of fantasy/paranormal.
Please tell us a little about your current release and what should we expect to see from you in the future?
My current release is WICKED HIGHLANDER, the third book in my Dark Sword series about a group of Highlanders with primeval gods inside them that give them powers and immortality to battle an evil Druid.  This book is about Quinn, the youngest of the MacLeod brothers, and how he must overcome the demons of his past to have the future with the Druid mate he's destined for.
In January I'll be a part of the Mammoth Book of Scottish Romance with my story FOREVER MINE.  The novella isn't part of my Dark Sword series.
Then in April 2011 the fourth Dark Sword book, UNTAMED HIGHLANDER, releases followed in November 2011 with SINFUL HIGHLANDER.  May 2012 is book 6, DARKEST HIGHLANDER, and books 7-10 will follow with back to back releases.
All authors have a particular scene or character(s) they adore, who are yours? Why?
Hands down, my favorite character so far is Hayden (UNTAMED HIGHLANDER Apr 2011).  I didn't want his story to end. He was so tormented that I couldn't wait for him to have his HEA.  And the fact that his heroine was just as strong as he was only made their story better. It's also my editor's favorite story of the series as well!
What are you reading right now?
Larissa Ione's SIN UNDONE.  Love her Demonica series. 🙂
What is the biggest misconception you've come across about being a romance author?
That every sex scene I've written I must have performed. As if a murder writer commits the murders he writes about. 
What would people be most surprised to learn about you?
LOL.  That I used to have to sit on books when I began driving my dad's full size truck to be able to see over the steering wheel.
If you were a nail polish color, what would it be called and why?
Mystic Fantasy – because I love paranormal/fantasy and I like myths and legends. 🙂
What advice do you have for unpublished writers?
Never give up. Keep your dreams in front of you and put your heart and soul into obtaining them, no matter how long it takes.
Any words for your readers?
I'm humbled by your support!  Thank you for everything. 😉

AOTM WORKSHOP:
DATES: NOVEMBER 8 – 10, 2010
TOPIC:Â The Write Way
Think its too confusing to write a series? Think you'll never be able to remember all the little facts needed from one book to the next? Having a cohesive grasp on your series world and characters can make writing the series so much more enjoyable.
Join bestselling author Donna Grant as she explores a variety of techniques that can help you build – and retain – your series.
**Workshop is featured in our FORUM for current members only. At this time, membership is closed through the New Year.**