Spotlight On, Tawny Weber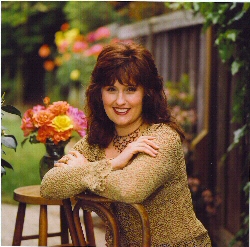 Tawny Webber is usually found dreaming up stories in her California home, surrounded by dogs, cats and kids.  When she's not writing hot, spicy stories for Harlequin Blaze, she's shopping for the perfect pair of boots or drooling over Johnny Depp pictures (when her husband isn't looking, of course).  In September 2010, her eighth Blaze, RIDING THE WAVES hits the bookshelves.  Come by and visit her on the web at www.tawnyweber.com


**Tawny is giving away a book from one of her backlist. If you'd like to leave a comment, you'll be added to our random drawing. The lucky winner will be contacted via email, so be sure to provide your email if it's not linked to your profile.**

Most people may not know that you have a connection with Romance Divas. You've been a member for many years and have also graciously donated time to help our Mentor Program. We've seen your rise to success and becoming one of the staple authors for Harlequin. How was this journey and was it everything you thought it would be?
I love the Divas. You have such a fabulous community there! OMG I love the term rise to success 🙂  And while I'm definitely still working on that journey, I do love where I'm at. Writing for Harlequin has always been my dream and it really is as great as I'd hoped. The Harlequin team (editors, art dept, eHQ, all of it) are so nice and all seem focused on the same goal, helping authors build their careers and put out great books.
You've written almost a dozen (Harlequin) Blazes, how has your journey been with this publisher? Any advice for authors trying to break into category romances?
Harlequin –and Blaze especially—Rocks I consider my editor one of the best in the business. She's not only given me opportunities to push my own writing boundaries (just yesterday I agreed to do an Online Read for November. 10k. OMG talk about focusing on character and pace, huh? I'm so excited) but she knows my writing strengths and pushes those, but also knows my weaker areas and in each book, pushes me to face and overcome them. Yep, she's my dream editor for sure LOL.
Category romance is a fabulous place to write. But writing category isn't just writing a shorter single title story – and I think as long as a writer understands that distinction, they'll have an easier time trying to break in. My standard advice is to read the books. Read the lines that appeal to you and see where you might fit. Not just for a single book idea, but where you can imagine yourself writing dozens of stories. I might have a great single dark paranormal idea, and try for Nocturne, but if it sold, I'd be up a creek because I'm really not a dark para type of writer. Blaze, for me, was perfect because the focus is on strong heroines, everyday heroes (hot, sexy, incredible and hunky, still. But not necessarily fantasy heroes, although a few of them do find their way into some of the Blazes) and a sexy hook. Not sex, but a sexy hook. It's a fine line, but the sexy hook is what carries the entire story. It's what provides the impetus to conflict, feeds the conflict and eventually resolves the conflict.
Harlequin provides so many opportunities and options for writers to join them. eHarlequin's forums and community, various contests and an easy submission process.
We love stories about "the Call", do you remember what you were doing or how you felt?
LOL – oh yeah. I'll never forget that moment. It was Memorial Day and I was asleep. Because it was a holiday, my husband was home. I slept through the ringing, but he came in, nudged me and said "Get up, the caller ID says Harlequin." I blame my sleep-fogged state for a pathetic lack of screaming, dancing or insane glee over the news that I'd sold. I just calmly got the details, thanked the editor and hung up. I hadn't written down any details since the hubby was hugging me the whole time (whether he was excited for me or just keeping me from falling back onto the pillows, I'm still not sure) Then I think I went into shock I tried to call friends and share the news, but tell ya what, most people party on Memorial Day. So after a dozen unconnected calls, I started seriously wondering if it'd really happened. I emailed the editor to confirm, and refused to announce the news until after I'd gotten a reply so I knew it was real. I think that was her first clue that I'm a smidge neurotic.
I've heard the Blaze line is changing directions and will become less erotic but still hot. The stories will be focusing more on the hero and heroine's relationship, etc. Are you able to elaborate on this?
Blaze is, first and foremost, a romance. Sexy romance. Hot, wildly erotic and intense romance. But the romance has to be front and center. So if the characters are having sex (and they should be… quite often ) that scene is there because it moves their relationship forward.
Really, Blaze romances are emotional journeys that include a whole lot of great sex.
Please tell us a little about your current release. How did you come up with the concept?
RIDING THE WAVES is out now. It's a forbidden fantasy story, featuring an uptight, undersexed astrophysicist heroine who decides to live out her sexy beach vacation fantasy and have a fling with a very sexy boy toy who she thinks is a surf instructor at the resort. She cuts the fling short when she realizes that she's falling for a guy who she's sure would have nothing to do with the 'real her'. Back home, she gets a big surprise. Her hot, sexy boy toy is actually acclaimed astrophysicist and her new partner. She ends up learning that the 'real her' is actually a lot stronger, sexier and more complex, than she'd given herself credit for.
As for the concept, I started out knowing I was writing a forbidden fantasy, so I spent some time mulling what fantasies would be fun to explore. The younger man boy toy really appealed to me (maybe it was all the Robert Pattinson craziness that was going on at the time LOL). From there, I asked myself what kind of heroine would be least likely to give in to that fantasy, and Drucilla was born 🙂
What should we expect to see from you in the future?
Lots of books, I hope 😀 I have the Online Read on eHarlequin in November that ties in with the MUST HAVE BEEN THE MISTLETOE Christmas anthology in December. My story in the anthology is called BABE IN TOYLAND – only my heroines toys are of the adult nature (yet, still misfits LOL).
Next year, I have a military hero featured in BREAKING THE RULES, which is out in February, a 24 Hour blackout reunion story titled JUST FOR THE NIGHT. Later, in December 2011 and January 2012, I have connected stories about a family of con artists that I'm hoping will spark a series. Nothing like naughty characters
If you weren't a writer what would career path would you choose?
I'm a Reiki Master and a tarot reader, as well as a certified hypnotherapist. I'd be doing something in that arena if I wasn't writing.
What are you reading right now?
Happier by Tal Ben-Shahar because I focus on non-fiction when I'm on deadline. As soon as I turn this book in, though, I have Kristin Higgin's ALL I EVER WANTED waiting for me.
What is the biggest misconception you've come across about being a romance author?
That I make tons of money. And that I'm desperate for story ideas – because I swear, as soon as someone hears I write, they just have to tell me all about their idea for a great book and how they'd let me have a cut of the money if I want to write it for them.
What would people be most surprised to learn about you?
Hmm, good question. Maybe that I'm really a quiet introvert in real life?
This month, RD will have a little fun with our authors. We're starting a 'getting to know you round'.
Man in uniform, or man in business suit? Uniform!
Thigh highs or au naturale? In bed? Thigh highs, of course.
Tattoos or piercings? Oh, tough choice. I'll go with piercings since they are easier to change.
Whipped cream or ice cream? Whipped, all the way.
Naughty or nice? My books? Naughty. Me? Nice.
Coffee or tea? Tea, iced.
Cosmopolitan or beer? Cosmo if there aren't any margaritas around.
Tropical island or mountain cabin? Sand, surf and sun!!! Tropical, for sure.
Sexy stilettos or flip flops? Again in bed? Stilettos for all occasions.
Holey Jeans or casual khakis? Holey jeans. Stilettos just don't look right with khakis
If you were a nail polish color, what would it be called and why?
Tawny Sunset. It'd be multi-toned, changing with the turn of a hand, and look better at night.
What advice do you have for unpublished writers?
Set a career goal for yourself, one that you love. And never give up until you achieve it!
Any words for your readers?
Readers rock! I love you all!!!
Interviewed by Jax Cassidy