Reviewed! Poisoned Kisses by Stephanie Draven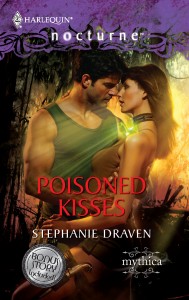 Title: Poisoned Kisses
Author:Â Stephanie Draven
Publisher: Harlequin Nocturne
Publication date: October 1, 2010
Category: Paranormal Romance
Reviewed by: Jax Cassidy


* * * *
I'm new to the Harlequin Nocturne books and the few that I've read have been disappointing. However, Stephanie Draven's debut novel POISONED KISSES is an exception. From page one, this book is action-packed and intense. The characters are deeply damaged and emotionally flawed…yet exceedingly sexy. Marco is the perfect brooding hero and Kyra is a kick-butt heroine that you'd want in your corner during a bar fight. Although I enjoyed the read, I felt it was weighted by the action and war in Rwanda storyline. I would have loved to see more of the relationship building and romance but I understood her motive and the importance of the action-driven storytelling. There was a purpose for these scenes and I understood why it was an integral part of the story.
Ms. Draven's voice is smooth and engaging. The action sequences would make for a great television show and if you're wanting a typical Harlequin romance, you won't get it from this book. It's high concept and high-octane with a splash of sexiness that will keep you entertained. I'm looking forward to reading more paranormals from Ms. Draven. I love her unique twist on Greek mythology and the creative characters she weaves.


* * * *
He can wear the face of anyone who has ever hurt him…
This former soldier-turned-gun-runner thinks his true identity is safe, but a mysterious woman is about to force him to face the tragic past he thought he left behind.
She can disguise herself as the only woman he's ever loved…
It's not easy to be a Daddy's Girl when your father is Ares, Greek God of War. To thwart her father and all those who serve him, Kyra intends to assassinate a modern day hydra. To kill him, she needs to seduce him, but Marco Kaisaris isn't the monster she thinks he is–and even if he doesn't break her heart, he may still be the death of her.
Can they see past each other's masks to find a love that's more than skin deep?