Interview with Jeannie Lin, Part I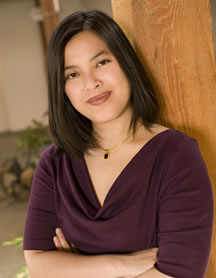 Jeannie Lin grew up fascinated with stories of Western epic fantasy and Eastern martial arts adventures. When her best friend introduced her to romance novels in middle school, the stage was set. Jeannie started writing her first romance while working as a high school science teacher in South Central Los Angeles. After four years of trying to break into publishing with an Asian-set historical, her 2009 Golden Heart® winning manuscript, Butterfly Swords, sold to Harlequin Mills & Boon.
Find out more about Jeannie Lin online at http://www.jeannielin.com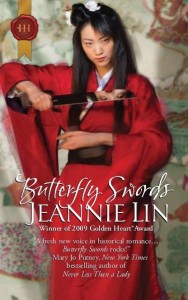 **Jeannie is giving away a copy of her current release BUTTERFLY SWORDS and the eBook THE TAMING OF MEI LIN. If you'd like to leave a comment, you'll be added to our random drawing. Winners will be contacted via email, so be sure to provide your email if it's not linked to your profile.**

I'm very excited to have Jeannie visit us at Romance Divas. Not only is she a friend, but a talented author and it's been amazing to watch her career explode. I met her years ago at my local LARA chapter and this shy, delicate flower has transformed into a savvy promoter, social butterfly, and inspired many others who have written the book of their heart to continue to take chances. Jeannie is an author to keep an eye on and I certainly see great things from her in the future.
* * * * *
You're an author that has really proven that taking chances and writing what you love pays off. Not only did you win the Golden Heart for BUTTERFLY SWORDS but you also sold the same week to Harlequin during the RWA conference 2009. We love stories about "the Call". Do you remember what you were doing or how you felt at that time?
I do remember because I was in the middle of a Pilates session and doing crunches with some diva buddies: Eden Bradley, Sandra Barkevich, MG Braden and Christina Cross. I think Vivienne was there too. When the phone rang, I jumped up to grab it and everyone got real quiet. I think I had a delayed reaction because I was very calm. I took notes about who I was supposed to meet that week and where I was supposed to go. When hung up and announced that I was going to be a Harlequin author, everyone ran up and hugged me. All the divas then marched me down to get my First Sale ribbon and I remember tearing up in the elevator when I finally realized it was going to happen. I wanted to run around and hug everyone in sight.
Your debut novel is getting serious buzz. Some believe you're creating a new trend with this type of Asian historical. Is it added pressure knowing that this could draw attention to this genre where others have tried previously and were unsuccessful in gaining an audience?
Dear Author started raving about the book before anyone had seen anything. I remember Jane tweeting that she "hoped it didn't suck" and I think she wrangled my editors into handing over a copy. When they told me this, I seriously hoped it didn't suck either. I do feel normal author worries about whether the book will sell given that Asian historicals haven't sold well in the past. So the buzz actually gives me hope.
The thing about the pressure is there's not much for me to do now other than promote and pray. So I don't feel pressure as much as I feel a huge sense of anticipation and antsyness. The book is printed up now, with all its good parts and bad, quirks and flaws. I can't fix it anymore.
Did you ever imagine that your Tang Dynasty historicals would be so well received and embraced? What was it about this time period that inspired you to create such an amazing world?
When I think of how many people are stepping up to support Butterfly Swords, it makes me want to cry. These are people who know nothing about me and who are not my friends or my mom. That's so wonderful, so absolutely wonderful.
What really inspired me to go to the Tang Dynasty were all those movies I saw in my childhood: Legend of the Condor Heroes, Heaven Sword and Dragon Sabre. And there was this fantastic series about the Empress Wu of the Tang Dynasty and her daughter, Princess Tai Ping. Hours and hours of Hong Kong serials, burned into my brain. All that drama and angst! So perfect for romance.
What should we expect to see from you in the future?
I have more Tang Dynasty stories to tell. I'm playing right now with some of the paranormal elements of wuxia. It's a series that involves Taoist sorcery and demons and jiangshi and it's so much fun. One day, when I'm brave enough, I'll finally write the women's fiction that me and the Little Sis have been planning.
What is the biggest misconception you've come across about being a romance author?
That selling one book means I'm on the fast track to bestsellerdom and the rest is easy.
What would people be most surprised to learn about you?
I'm alpha dog fierce…despite the crying and the unbridled sentimentality.
I can imagine your books being made for film due to the epic storytelling. If you could cast the characters for this BUTTERFLY SWORDS, who would you choose for the hero and heroine?
A huge costume drama with lots of gratuitous cinematography! Hee hee. I wrote up a blog that will post on Vauxhall Vixens later in October. My top choices are Ewan MacGregor and Marjorie Liu for Ryam and Ai Li. Maybe younger versions though. Russell Wong would make a killer Li Tao.
What is the most extreme thing you've ever done and what did it teach you about yourself?
I joined with a group of teachers who were trying to change the world and we wrangled together a small learning community at one of the toughest schools in the nation. Basically it was a school within a school. It took a lot of balls and smarts to do it, and some days it just tore your heart out. We made a lot of mistakes, but we also accomplished some great things. The students loved us for it, some teachers and administrators hated us for it. I learned that it takes a certain sort of person to seek that kind of challenge and risk.
If you were a nail polish color, what would it be called and why?
Ruby Dragon Red. Umm…cause I like dragons and it sounds cool? Ruby Dragon is my nickname over at the Ruby-Slippered Sisterhood.
What advice do you have for unpublished writers?
Keep writing forward. Everything is fixable.
Any words for your readers?
I hope you enjoy! The next book is even better. 🙂