Interview with Janet Mullany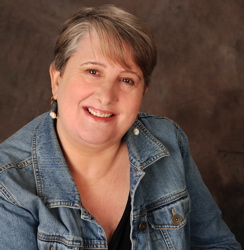 Janet Mullany was raised in England by half of an amateur string quartet and now lives near Washington, DC. Persecuted from an early age for reading too long in the bathroom, she still loves books and is an avid and eclectic reader. She never once thought of being a writer when she grew up, but has worked as an archaeologist, classical music radio announcer, arts administrator, and for a small press. She writes funny Regencies for Little Black Dress, historical erotic romance for Loose-Id, and this fall has simultaneous releases from HarperCollins and Harlequin that both put a paranormal spin on Jane Austen.
To learn more about Janet, visit her at:


**Janet is giving away a copy of BESPELLING JANE AUSTEN and JANE AND THE DAMNED. If you'd like to leave a comment, you'll be added to our random drawing. Winners will be contacted via email, so be sure to provide your email if it's not linked to your profile.**

We love stories about "the Call", so how exciting was yours?
Stammering (on my end) and incompetent (also on my end) with a phone call that disconnected four times (wiring problem) ; then the editor very kindly offered to call me on my cell, not realizing that I'm a total idiot with a cell phone. My last call story, which was really more of a chat, was with the editor of JANE AND THE DAMNED, and mostly mutual happy squeals that we were working together again. She was the editor who bought THE RULES OF GENTILITY (HarperCollins, 2007).
Please tell us a little about yourself and your current release.
JANE AND THE DAMNED is a book about Jane Austen as a vampire during a French invasion and mostly takes place in the city of Bath in 1797. I had a lot of fun with my vampires, the Damned, who live openly in society and have their own standards of behavior and etiquette. There's lots of biting and fighting and some romantic stuff but it's not technically a romance. I'm someone who writes to entertain herself and if I sell it and entertain readers, that's good. I'm originally from England but I've lived here for … a long time.
What should we expect to see from you in the future?

Right now I have a novella, LITTLE TO HEX HER, in the anthology BESPELLING JANE AUSTEN, an anthology headlined by Mary Balogh where we put our paranormal spins on our favorite Austen novels. I have another novel about Jane and the Damned, set in 1810 when she's living at Chawton and seriously writing, sometime in 2011, no title as yet. In Spring of 2011, from Little Black Dress (UK), a Regency chicklit called MR. BISHOP AND THE ACTRESS (It's an English joke. If you add "as the actress said to the bishop" to any innocent sentence, quite frequently it gives it an entirely different meaning. It's rather like adding the words "in bed" to a fortune cookie.) And I have the first of two erotic contemporary novels coming from Harlequin Spice in August, 2011, TELL ME MORE.
Has publishing been everything you thought it would be?
It's a bizarre, unpredictable, mysterious business. Now I don't even try to understand it.
What is the biggest misconception you've come across about being a romance author?
That somehow my life bears some relation to what I write about. I write fiction. Sad to say, I don't have a stable of handsome young men on call…
If you were a nail polish color, what would it be called and why?

Easily distracted red, which I think speaks for itself.
What would people be most surprised to learn about you?

That I don't read much romance. Mac data recovery
What advice do you have for unpublished writers?

Finish the (expletive) book, send it out, start another, and read as much as you can, particularly outside the genre.
Any words for your readers?

Thank you!
* * * * *
RD speed round:
One word you don't use enough: parasol
One word you overuse: Actually, it's actually. Oops.
Would you spend a day out with Mr. Darcy or Mr. Rochester? Mr. Darcy. Mr. R. would probably lock me in the attic.
Cocktails with any actor, who would it be? Laurence Olivier. I loved his autobiography. Pity he's dead.
Favorite exotic cuisine: Vietnamese.
Favorite mixed drink: an English drink called a Pimm's Cup. It's based on gin and has lots of fruit in it. Yum.
A trip to the Pyramids or a trip to the Rainforest? Pyramids. I've been wanting to go for years.
One book you'd have with you on a deserted island? Collected Jane Austen.
What's the most adventurous thing you'd ever do? Become much more politically active.
Brooding alpha hero or chivalrous sexy genius? Chivalrous sexy genius. Or even just a man who reads!