Author of the Month, Miranda Neville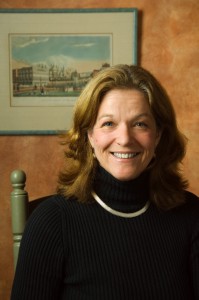 Miranda Neville is the author of historical romances set in Regency England. She grew up in England and spent her youth devouring historical novels. After studying history at Oxford University, she spent several years writing catalogues of rare books and original letters and manuscripts for Sotheby's auction house in London and New York. Later she worked as a journalist and small business owner before discovering the delights of writing fiction. Always a sucker for happy endings, a few years ago she decided to try her hand at romance. How hard could it be? Several manuscripts under-the-bed (or deep in the hard drive) later, HarperCollins bought Never Resist Temptation, published in 2009 by Avon Books. The Wild Marquis appeared in March 2010 to be followed later this month by The Dangerous Viscount. She now lives in beautiful rural Vermont with her daughter, a college student and confirmed drama queen.
More information about Miranda may be found at www.mirandaneville.com.
**Miranda will be giving away 1 copy of her latest release here on the RD blog and 1 copy during her workshop on the Romance Divas FORUM. Please comment to be eligible for the random drawing. Winner will be contacted via email so please provide this info if it is not attached to your user link. **


We love stories about "the Call", what were you doing at the time and how did you feel when it happened?
I always feel my call story is rather undramatic. My agent called one morning to say a couple of editors had turned down my book. Later that afternoon I was sitting at my desk, feeling depressed and trying to write, when she called again with the news that Avon had made an offer. I was kind of numb at first, then of course I called everyone and screamed and drank champagne.
Please tell us a little about your current release.
THE DANGEROUS VISCOUNT is the second in my Burgundy Club series. Sebastian Iverley is not your typical hero. To be blunt, he's a bit of a nerd, Regency style, and he has always avoided women until he falls for Diana Fanshawe, a beautiful widow. When he learns Diana has been using him to attract his hated cousin, the nerd swears revenge. With the help of his fellow club members (lots of opportunity for male banter) he gets an extreme makeover. Sebastian cleans up well, turns into a real hottie and the sparks fly. I loved writing this couple: Diana is much less sophisticated than she thinks, while Sebastian is much less clueless than he appears.
Do you think you'll branch out and write other genres other than historicals?
I haven't any plan to do so, but never say never.
What should we expect to see from you in the future?
I've just finished the third Burgundy Club book, to be published next summer, and there's one more for me to write.
If you weren't a writer what would career path would you choose?
I have to laugh! Being a writer has been almost an afterthought careerwise. I came to fiction relatively late. But writing historical romance is my best job yet. Now I've always wished I could be an opera singer, but I never had the necessary talent (like a basic ability to sing in tune!)
What is the biggest misconception you've come across about being a romance author? I find people are interested in what I do and curious to know more about the business of romance writing, about which they know absolutely nothing. I am often asked if I have to write to a formula, if there is a set of rules that we all have to follow. You know, there are days that the Muse isn't cooperating and computer screen frighteningly blank when a formula would be nice ("I'm on page 42 so it's time for the first kiss")
If you were a lipstick color, what would it be called and why? Oh boy! That's a difficult question. OK, here goes: Crimson Rose Twist – deeply romantic with a touch of sarcasm.
What are you reading right now?
A medieval historical by my CP, getting it ready to send to her agent. She isn't published yet but it won't be long! For entertainment I'm reading Katharine Ashe's Swept Away by a Kiss, a really fun high-drama Regency.
What would people be most surprised to learn about you?
I'd rather eat fruit than chocolate. And yes, I know this fact could get me thrown out of the romance writers' guild.
What advice do you have for unpublished writers? Finish your book. The one novel that is absolutely never going to sell is an unfinished one. And when you've finished it, start the next. Every book you write will be better than the last. One day you may be pleased your first manuscript didn't sell (I am). Or you may be pleased when it does sell and you have the follow up book already written.
Any words for your readers?
Thank you reading my books. And please feel free to tell me what you like or don't like (particularly the former!) or ask me any questions. All writers know a huge amount about their characters that never get into the book. I love chatting about them. Send me an email: miranda (at) mirandaneville.com

AOTM WORKSHOP: DATES: SEPTEMBER 21-23
TOPIC:Â Motivation and Voice: Character Autobiographies
Ever got to page 75 and wondered who the heck these people are? Get your characters ready to drive your plot. Establish their motivation and conflict from page 1. Develop a distinct voice for each of them. Avoid Back Story Dump. Learn how to write your characters' autobiographies and do all this, plus clean your bathroom and achieve World Peace.
**Workshop is featured in our FORUM. Required registration. Become a member and participate for free.**