Spotlight On, R.G. Alexander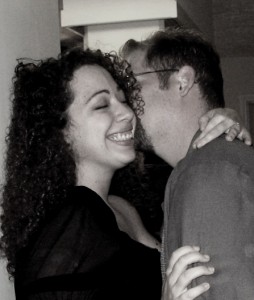 R.G. Alexander has lived all over the United States, studied archaeology and mythology, been a nurse and a vocalist, and now, a writer. She is happily married to a talented chef who is her best friend, her research assistant, and the love of her life.
If you would like to find out more about R.G., go to www.rgalexander.com or visit her group blog at www.smutketeers.com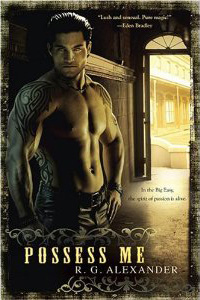 **R.G. is giving away copy of POSSESS ME. If you'd like to be added to the random drawing, please post a comment and provide your email address if it is not linked to your username. For US Residents only.**

We love stories about "the Call", so how exciting was yours? Being a Romance Diva member, how did you share this news?
Honestly it was kind of like my wedding-it all happened in a blur and its hard to remember everything. Every email or phone call was something new and exciting, including names I'd hardly dared imagine would be used in connection with mine. Harlequin Spice, Berkley etc. My one small novella suddenly became 3, and I was contracted for an actual book. I do remember being on the phone a lot with Eden Bradley as she reminded me to breathe. And that none of it felt real or complete until I'd shared it with the divas. 🙂
How has it been for you to jump from ePublishing to NY print? What are you doing to prepare yourself?
Well, there has been a lot of nail biting and hair loss–lol. No, actually its wonderful. I'm a big proponent of having my cake and my e-cake too. *wink* The biggest difference are the time lines and the control factor. With e-publishing your hand is in your book from start to finish, cover to blurb, and you have a fairly quick turn around for book releases and responses. NY print you have deadlines, and some input on cover and blurb. You get to panic for a year before it comes out, and write proposals (something I'm admittedly stinky at). But you also get to work with AMAZING people. I love love love Kate Seaver, my editor. Its a crazy process, all of it, but now that I've done it, I couldn't imagine doing anything else.
What do you think is the most important thing to focus on when your first novel POSSESS ME drops on August 3rd, 2010?
My upcoming deadline August 9th. And then the one after that. 🙂 After all the promotion online, and the heeding of publicist advice, in the end there isn't a lot you can do. Something you created is out in the world and it will sink or soar depending far more on reader's reactions than on any creative media blitz… I do a lot of positive visualizing and my husband gives me chocolate. That helps.
Your new book focuses on the world of voodoo. How were you able to make it sexier versus the normal misconceptions of it being scary?
When I first got the idea I was truly hesitant for that very reason. Wasn't voodoo about zombies and being buried alive? Then I thought about vampires-traditionally they are ancient corpses who live off human blood to survive. When you say it like that it doesn't sound very sexy, does it?
And yet, vampires are some of the sexiest romance heroes out there.
Thankfully, my characters were persistent and I found out through my research that–as with every religion–voodoo has layers of light and dark. It isn't as scary as it appears, it is actually a fascinating amalgam of tribalism, animism, catholicism and ancestor worship. And there are more similarities to old folk legends and myths we all know than most would imagine-so I stayed away from some of the more graphic rituals, and focused on that. I think it stayed sexy because Bone Daddy (the voodoo spirit, or Loa in question) can't help but be anything but.
Can you tell us a little bit about POSSESS ME?
Well, let me give you the blurb.
In the Big Easy, there's a legend women long for: a sexual voodoo spirit who can fulfill their darkest fantasies. And in these three steaming-hot novellas, he helps two New Orleans couples achieve the ultimate satisfaction…and may even find it himself.
In Release Me, Allegra heads down to New Orleans to heal her wounds, but she never expects to lose her heart to such a quiet, troubled man as Rousseau. She's even less prepared for the scorching, sexual spirit within him-and what he can do to her…
In Reclaim Me, Ben has loved Michelle as long as he can remember. But his beautiful artist has a way of running away from life-and what the pair could be. Leave it to the infamous spirit to help Ben prove to Michelle where she belongs: in his embrace…
In Redeem Me, it's All Saints' Day, the one day the voodoo spirit can walk the world in the flesh. When he bumps into Bethany, she might just be the reincarnation of a girl he once loved. Passion ignites, but can the couple overcome past mistakes and have a real chance at love?
What should we expect to see from you in the future?
Well, I have several ongoing series with Samhain Publishing online, WICKED BAD-the sequel to WICKED SEXY-comes out in September, and MY DEMON SAINT-the sequel to MY SHIFTER SHOWMANCE comes out in November of this year. Next year I will be very busy writing in anthologies with other wonderful authors like Eden Bradley and SL Carpenter, and I should have two more books out with Berkley Heat: my Sedona anthology about three friends and THREE SINFUL WISHES, and the sequel to POSSESS ME called TEMPT ME.
Hopefully I will continue to be blessed with work for the foreseeable future.
What is the biggest misconception you've come across about being a romance author?
That it isn't hard work. That it's not real writing. That it's not a viable career choice. You name it. No one knows until they try to write one story, and after the first keep writing, write on a deadline, write when you're sick or your husbands sick or someone in your family is dying. No one who hasn't tried it can understand. Is it worth it? Without a doubt. But its not easy.
We always think this gives our readers insight on the author…If you were a nail polish color, what would it be called and why?
Barely There. haha. I'm not saying I'm flighty or anything. But without my husband I would no doubt be walking around blind, shoeless and locked out of my house. I'm a little too lost in my own head. I'm more of a clear polish kind of girl anyway. Except for conference *wink*
What would people be most surprised to learn about you?
Despite my forgetfulness, I have an insane memory for song lyrics, television themes and commercial jingles. Once a song gets in my head, I usually remember it forever. I so could be on Name That Tune.
What advice do you have for unpublished writers?
Keep writing. It took 7 months for me to get a response to my first submission. A year for it to release. I am NOT a patient person. But Crystal Jordan, a fellow diva, told me to keep writing. You get faster, ideas flow, you learn-plus it helps distract you from the fun waiting around part of being a writer. I'm not sure who said it first, but I heard it from Nora Roberts. "You can't edit a blank page."
Also seek out readers. Other authors you can critique with. Editing yourself is like singing in the shower. You may think it sounds amazing, but before you go on American Idol, you should probably get a second opinion from someone who isn't a blood relative.
Oh and last but not least, be persistent. Take NO in stride. If it is what you want, go after it and don't hold back until you get that YES.
Any words for your readers?
THANK YOU. Seriously. Thank you for the emails, the support, for caring about what happens to the side characters. Thank you for letting me share my imaginary friends with you. It means more to me than you could ever know.
Interviewed by Jax Cassidy